There's a warning from Thames Valley Police for people to check their home security after a series of burglaries at homes in Bishop's Stortford.
Eight burglaries were reported between Wednesday, September 14th and Friday, September 16th.
They happened in Parsonage Lane, Manston Drive, Blackbushe and Rochford Road late at night into the early hours.
On each occasion the burglars have got in through the front door and items such as handbags, wallets, purses, DVDs and a games console have been taken.
"A black or dark coloured Astra or Focus with two white men in has been seen in the area in recent nights in suspicious circumstances and I would be keen to hear from anyone who may have seen his vehicle, specifically if you noted the number plate or part of it."
– Detective Constable Dieter Sweeting, Thames Valley Police
Make sure you double-lock any PVCu doors by lifting the handle and locking it (to engage the security features) before you go to bed or leave your home (if you remove the key make sure you have a fire escape plan).
Check all doors are locked and all windows, including those upstairs, are secure before you go out.
Consider installing alarms and 'dusk to dawn' security lighting.
Secure your rear garden - lock your shed, shut and lock any gates and keep fences maintained. Don't leave ladders and tools outside - they could be used by a burglar.
Use timer switches on lamps to give the impression somebody is at home.
At home, keep all loose valuables out of sight of any would-be thieves.
Don't leave any boxes which advertise to thieves what's available in your home outside by the dustbin. Where possible, keep your wheelie bin a good distance behind the gate or fence to prevent them being used to get into the garden.
Post code marking your valuables with a UV pen and registering them on a free property database can work as a deterrent to thieves and can increase the chances of your property being recovered if it is stolen
People in Essex have been rallying around a war veteran who had his life savings stolen.
Read the full story ›
Advertisement
Hertfordshire police say damage to a number of shops in Bishop's Stortford overnight between the 6th and 7th of November was 'mindless vandalism'.
Four shops in the town were targeted, including Keech Hospice in Potter Street, Scope, Urban and Spa in Devoils Lane and Crew Clothing in South Street.
Nothing was stolen but damage was caused.
"This mindless vandalism has left the businesses targeted with hefty and unnecessary repair bills. We are linking the incidents and I would like to trace the person responsible as soon as possible."
– PC Stephen Gent, Hertfordshire police
Anyone with information is asked to contact Bishop's Stortford Safer Neighbourhood Team via the non-emergency number 101.
Fire crews have fought a blaze overnight at a college in Bishop's Stortford.
Around 40 firefighters were called to Bishop's Stortford College on Maze Green Road at around 3am.
23 pupils and staff were evacuated from the building but no-one was injured.
An investigation into the cause of the blaze is under way.
Passengers using Stansted Express services will face delays until around 11pm after cows were struck by a train.
Trains are unable to run between Bishop's Stortford and Stansted Mountfitchet.
Services affected:
Abellio Greater Anglia services between London Liverpool Street and Cambridge
Stansted Express between London Liverpool Street and Stansted Airport
National Rail say that trains running through Bishop's Stortford will be disrupted until 10pm tonight.
Services to Stansted Airport and Cambridge are being affected.
It's after cows ventured onto the tracks. Four animals are thought to have died.
Advertisement
Cows were running loose in Bishop's Stortford this afternoon after straying away from a nearby field.
A herd ventured onto the train tracks at Cannons Mill Lane in the town.
The British Transport Police say that some of the animals were hit.
Three of the cows then made their way towards the high street.
They were eventually caught by officers in the South Road area.
A stockman has now been called to come and collect them.
The incident has caused big disruption for trains hoping to come through the town, with problems expected until 10pm at least.
Trains are running an hour late, while other services may be cancelled altogether.
There's rail disruption on Abellio Greater Anglia trains between London Liverpool Street and Bishop's Stortford and between Liverpool Street and Cambridge due to overhead line problems at Broxbourne.
The issue is also affecting the Stansted Express serving the airport.
Services may be cancelled or delayed by 60 minutes. Disruption is expected until midday.
#Broxbourne - We have ordered replacement buses to run and expect them to be at Bishops Stortford within the hour. RH
#Broxbourne - Services FROM Cambridge, Stansted Airport, Bishops Stortford & Broxbourne TO Liverpool St are being disrupted by this problem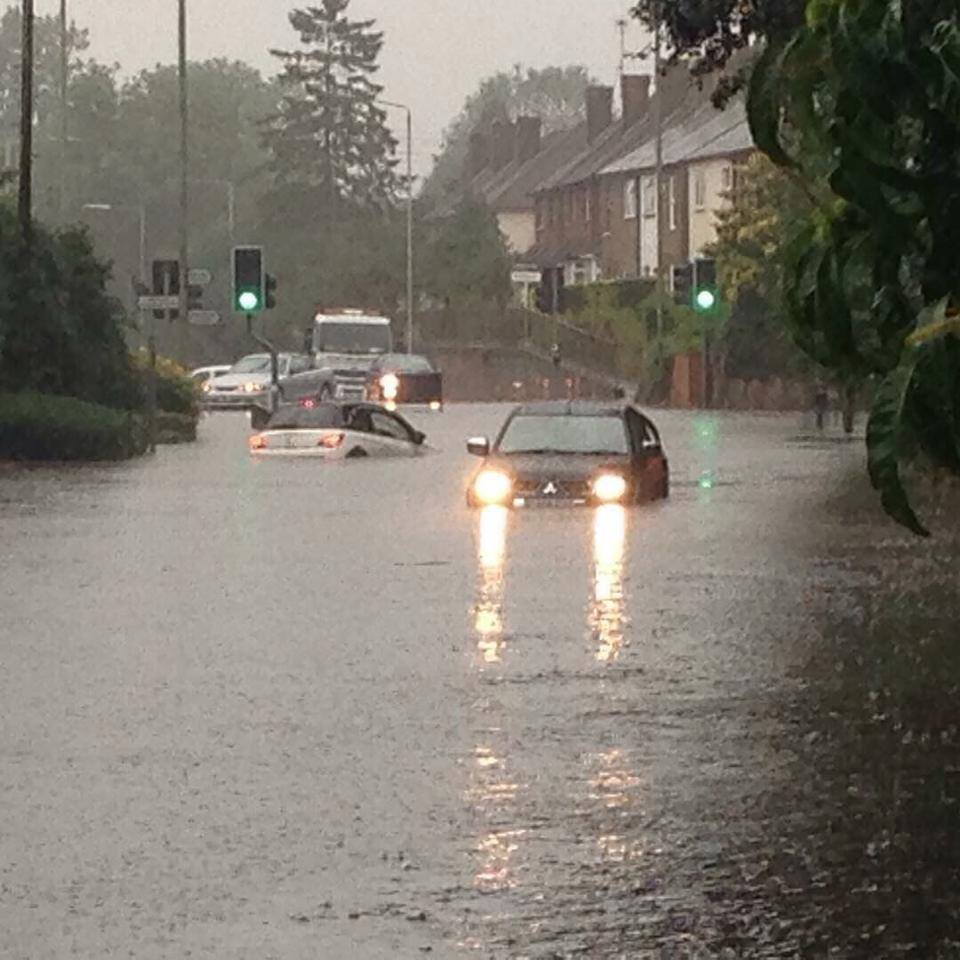 Reports are coming in that roads in Bishop's Stortford have been closed down because of flooding.
Police are warning drivers not to attempt to pass through it. They say a critical incident plan is in place.
Roads blocked are thought to include Stansted Road and Parsonage Lane.
Stansted Road is shut. DO NOT ATTEMPT TO DRIVE THROUGH IT. A critical incident plan is in place. http://t.co/nLaPqc1HwT
A man from Bishop's Stortford has been jailed for three years for causing injuries to a child in his care.
The boy was four-months old when he was taken to Princess Alexandra Hospital in Harlow after a sudden fit. He was found to have various injuries to his body and a CT scan revealed a bleed to the brain.
Matthew Challis, 34, of Kingsmead Road, was arrested and later charged with causing serious physical harm to a child by means of an unlawful act.
Challis was found guilty following a trial at Chelmsford Crown Court on Wednesday, June 10. He had claimed the injuries to the child, who was alone in his care at the time, were accidental.
"Matthew Challis has continued to maintain his innocence and disputed medical evidence which concluded that the baby had been shaken and the injuries he sustained were not accidental."

"The boy is being monitored and we will have to wait and see whether the injuries he sustained at the hands of Matthew Challis have any lasting impact on his life moving forward."
– Dc Ian Forsith
Load more updates