Anglia Late Edition looks ahead to next week's Budget and hears from Members of the Youth Parliament from the East of England.
Read the full story ›
Norfolk County Councillors have voted to increase council tax by nearly 5% in order to fund services for vulnerable people
Read the full story ›
Advertisement
Cambridgeshire County Council has warned it has had to make "tough choices" ahead of announcing its latest budget today.
The authority is due to reveal its spending plans for the next financial year and 2017/18.
Voluntary organisations fear they - and the people they support - could suffer as a result of the "difficult decisions" the council says it has had to make.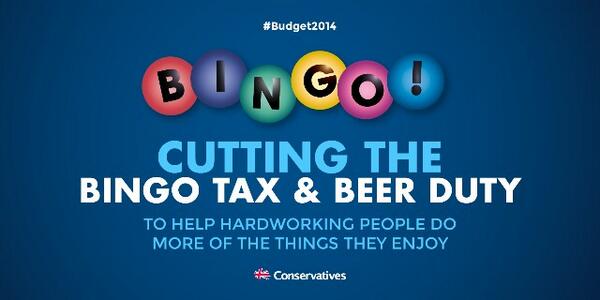 An advert by the Conservative Party highlighting changes to bingo and beer taxes has been described by Labour has patronising.
In the budget a 1p cut in beer duty and a halving of the tax on bingo to 10% was announced.
We want to know what you think. Will cutting the tax on bingo and beer make a difference to you? Do you think the advert is patronising?
Let us know by emailing anglianews@itv.com
Delighted that in Budget the Gov has announced it will ensure offshore bookies pay levy – something I have pushed for http://t.co/0fJfXZDcwd
Income tax threshold up to £10.5k, more apprenticeships, and support for small businesses to invest. #budget2014
Advertisement
Today George Osborne will set out his fifth Budget, billed by many as his last chance.
Read the full story ›
Chancellor George Osborne paid tribute to the heroism and courage of Lance Corporal James Ashworth.
The Corby soldier was awarded a posthumous VC for his courage after he was killed on patrol with the 1st Battalion The Grenadier Guards in Helmand Province last June.
He was protecting his comrades when he died.
The Chancellor mentioned the 23-year-old when announcing that the Military would receive the full recommended increase in "X-Factor" payment in May and to be exempted from changes to progression pay.
Full budget coverage can be seen here.
Hundreds of civil servants across the region are expected to take part in a budget day strike today.
The Passport Office in Peterborough is one of the offices likely to be affected by the industrial action. A demonstration is also expected outside the tax office in Norwich.
The strike has been called by the Public and Commercial Services Union which is unhappy with plans to restructure pensions and terms of employment.
Load more updates