Cambridge United have confirmed that Chairman Dave Doggett has resigned as Chairman of the Football Club and member of the Board with immediate effect.
The news came just hours after the U's lost at home to Welsh side Newport.
A further statement from the club is expected to be released later today.
There was a double celebration for Cambridge University as both the men and women recorded victories in this year's Varsity matches.
Read the full story ›
Advertisement
Cambridge University has received one of its biggest ever donations.
£85 million has been given by the estate of Ray Dolby - the man behind Dolby Sound - who did his PhD there. The money will be used to redevelop the Cavendish lab where he studied.
It will be named the Ray Dolby Centre. His son said many of his father's ideas came from his time at Cambridge.
My father's time at the Cavendish provided him with an environment where he got a world-class education in physics, and many of his successful ideas about noise reduction were stimulated by his Cambridge experience.

Our family is pleased to be able to support the future scientists and innovators who will benefit from the thoughtfully designed Ray Dolby Centre.
– David Dolby
Publishers of regional title Cambridge News have been left red-faced after today's paper was printed missing the front page headline.
Piers Morgan - with his eagle-eyed editorial background - noticed the omission earlier, tweeting a cheeky guess at what tomorrow's headline could be.
Dear oh dear. I have a feeling the next issue's splash might be: 'EDITOR FIRED OVER MISSING HEADLINE.' https://t.co/txHynKMO5G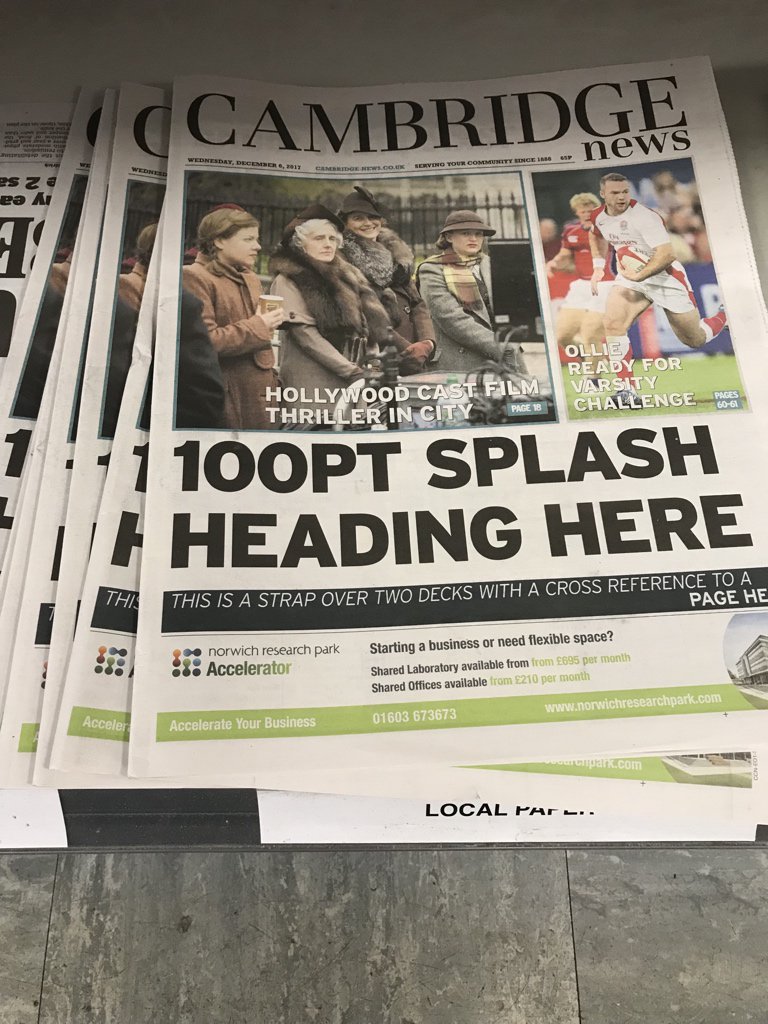 Cambridge News has since apologised to its readers for the mistake.
Due to a technical problem, the main headline did not appear on the Cambridge edition, although the correct one was printed in the Cambourne edition of the paper.
– Cambridge News.
The Toys 'R' Us store in Cambridge is one of 26 scheduled to close in Spring 2018.
It comes just months after the US-based retailer filed for bankruptcy.
In total it is understood that 500 to 800 jobs could be lost nationwide. In total at the moment they have 84 stores in the UK and employs a total of 3,200 people.
Steve Knights, managing director of Toys R Us UK, said the warehouse-style stores opened by the retailer in the 1980s and 1990s have proven "too big and expensive to run", adding that "newer, smaller, more interactive stores in the right shopping locations" were trading well.
From next spring a new stretch of railway will mean passengers travelling from Peterborough and Cambridge can access more destinations.
Read the full story ›
Advertisement
A jury has decided the death of a Cambridge University student who fell in a stair well at his college was an accident.
19 year old Thomas Millward suffered traumatic head injuries in the fall at Girton College in 2016 but no-one witnessed the incident.
An inquest in Huntingdon had heard Thomas and his girlfriend had taken a legal high called '1P-LSD' a few hours before he fell.
Click to watch a report by ITV News Anglia's Stuart Leithes
The Chancellor's budget has pledged more spending on transport and technology in the East of England with a big focus on Cambridge.
Read the full story ›
Two men who kicked a man off his bike in Cambridge and stamped on his head to rob him of his rucksack have been jailed for a combined total of eight years.
31-year old Liam Newell from Cambridge kicked the victim off his bike in Campkin Road, Cambridge and demanded his rucksack.
20-year old Daniel Clark from Bassingbourn then joined in the attack on the victim, kicking him and stamping on his head until he let go of the bag, dragging him along the floor.
Clark was arrested and admitted robbery. Newell initially denied robbery but changed his plea to guilty before trial.
Newell was imprisoned for four years and nine months while Clark received three years and eight months in a youth offenders institute.
"These men have caused the victim physical and emotional injuries and are now being punished for their actions. We will do all we can to bring the perpetrators of crimes to justice. I hope the sentence sends a clear message to anyone who thinks they can get away with this type of offence."
– Detective Constable Lesley Sonnen, Cambridgeshire police
Companies need just one Facebook like to target you as a potential customer, according to new research by researchers in Cambridge.
Read the full story ›
Load more updates