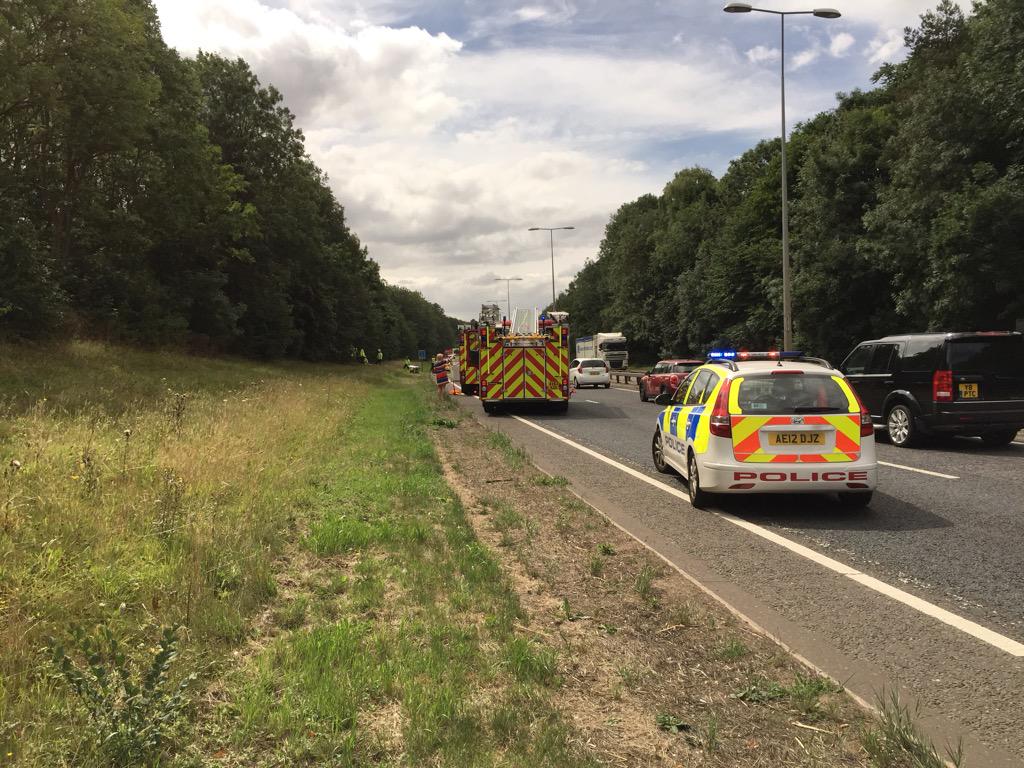 Campaigners are calling for the speed limit on the A14 to be lowered to 50 miles an hour.
It comes a week after there was widespread disruption on the road following a collision involving two lorries and a car.
The current speed limit is 70 miles and hour.
Advertisement
Patients who make unnecessary trips to A&E could be costing Cambridgeshire more than 4 million pounds a year.
The figures come from the Cambridgeshire and Peterborough Clinical commissioning group who say that they're expecting a rise in demand at A&E because of the school holidays.
The Duchess of Cambridge is now an advanced scuba diver after having successfully gained her open water qualification in Mustique.
She's now able to dive to a depth of 98 feet meaning she can keep pace with her husband, who is also an experienced diver.
Peterborough United play host to local rivals Cambridge United at Chris Turner memorial match
Read the full story ›
Advertisement
It's got to be up there as one of the most annoying sounds in modern life - the voice at a self-service check out - telling you there's an unexpected item in the bagging area.
To try and improve things, some Tesco stores in Peterborough are trialling a different voice - which is supposedly "friendlier and more helpful".
This time it's a man, rather than a woman - and it's got mixed reviews...
Click below to watch a report from ITV News Anglia's Sarah Cooper
July 2015 started with a record-breaking July heatwave but the month overall ended up cooler than normal in the Anglia region and very wet.
Read the full story ›
An international aerospace company has been fined £600,000 following the death of a contractor working in Cambridge.
Paul Bowers was working for CAV Aerospace at a building within Cambridge Airport.
He died when several tonnes of aircraft grade aluminium fell on him.
The Health and Safety executive says CAV Aerospace ignored repeated warnings about the metal being stacked too high without restrains.
The company was found guilty of corporate manslaughter and must also pay £125,000 costs.
"CAV Aerospace failed to listen to repeated warnings about the dangers they were exposing workers to when metal billets were stacked too high and without restraints.

The CAV Aerospace board did not act on requests from their local managers or an independent health and safety consultant's advice that a new stacking system was needed, as well as reducing the amount of metal billets stored, before someone got hurt.

Paul Bowers paid the ultimate price for the company's senior managers ignoring that advice and his death was entirely preventable.

Company directors and senior managers need to learn from this tragic case and take the right steps to protect their workers."
– Health and Safety Executive Inspector, Graham Tompkins
The 51st Cambridge Folk Festival is well underway and organisers say the event has sold out.
Over the course of the weekend, 14,000 people will enjoy music from the likes of Joan Armatrading, Passenger and Joan Baez.
"People are very attached to the Cambridge Folk Festival.

There are some people who have been coming right from the very first one in the 60s and they would have some amazing stories to tell you about all the ones over the years."
– Neil Jones, Cambridge Live
Load more updates