Cambridge University has received one of its biggest ever donations.
£85 million has been given by the estate of Ray Dolby - the man behind Dolby Sound - who did his PhD there. The money will be used to redevelop the Cavendish lab where he studied.
It will be named the Ray Dolby Centre. His son said many of his father's ideas came from his time at Cambridge.
My father's time at the Cavendish provided him with an environment where he got a world-class education in physics, and many of his successful ideas about noise reduction were stimulated by his Cambridge experience.

Our family is pleased to be able to support the future scientists and innovators who will benefit from the thoughtfully designed Ray Dolby Centre.
– David Dolby
Publishers of regional title Cambridge News have been left red-faced after today's paper was printed missing the front page headline.
Piers Morgan - with his eagle-eyed editorial background - noticed the omission earlier, tweeting a cheeky guess at what tomorrow's headline could be.
Dear oh dear. I have a feeling the next issue's splash might be: 'EDITOR FIRED OVER MISSING HEADLINE.' https://t.co/txHynKMO5G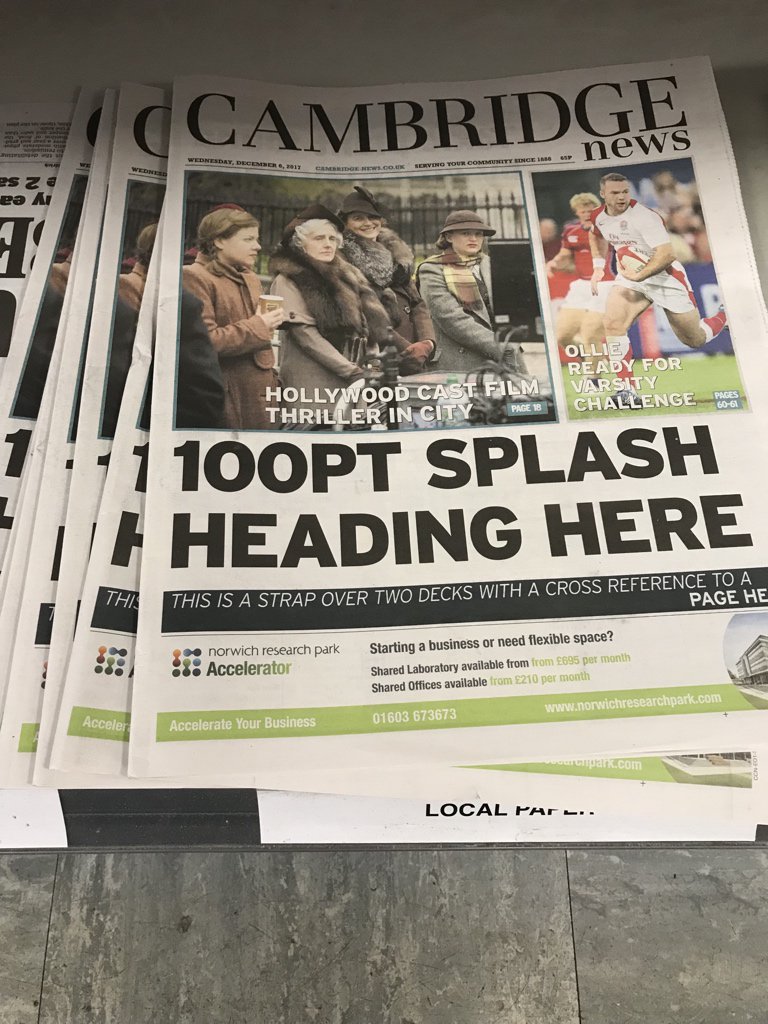 Cambridge News has since apologised to its readers for the mistake.
Due to a technical problem, the main headline did not appear on the Cambridge edition, although the correct one was printed in the Cambourne edition of the paper.
– Cambridge News.
Advertisement
The amount of water being lost through leaking pipes is on the increase.
Anglian Water say they're using the latest technology to track leaks down, while there are others like professional water diviner John Baker still using old fashioned methods
Overall leaks are up by 1.2% over the last year
Essex and Suffolk Water has seen leaks increase by 9.1%
Cambridge Water's leaks are up 8.2%
The average person uses 141 litres of water a day
"Let's face it nothing's cheaper than a pair of bent rods, it's not going to tax the water companies is it, put their profits in jeopardy."
– John Baker, Professional water diviner
John Baker admits he can't explain how his divining works. However Anglian Water says it only uses modern technology to find leaking pipes.
"Anglian Water doesn't use dowsing rods or divination, we don't issue them to our staff, we use scientific based technologies like listening sticks which are a stick which can hear leaks in water pipes and make a hissing noise, we also use digital versions and also thermal imaging drones to find leaks in our pipes."
– Sarah Dobson, Anglian Water
The Toys 'R' Us store in Cambridge is one of 26 scheduled to close in Spring 2018.
It comes just months after the US-based retailer filed for bankruptcy.
In total it is understood that 500 to 800 jobs could be lost nationwide. In total at the moment they have 84 stores in the UK and employs a total of 3,200 people.
Steve Knights, managing director of Toys R Us UK, said the warehouse-style stores opened by the retailer in the 1980s and 1990s have proven "too big and expensive to run", adding that "newer, smaller, more interactive stores in the right shopping locations" were trading well.
Peterborough GP Dr Emma Tiffin's been given a top award for her work improving mental health services in the area.
She has been named Healthcare Leader of the Year at the General Practice Awards which recognise the work of doctors across the country.
"I'm so thrilled to have won the Healthcare Leader of the Year award. The General Practice Awards attract hundreds of entries each year so it is wonderful to have been recognised in this way. I feel honoured to have won but actually this is a tribute to the wider team that has worked so hard with me to improve local mental health services for our patients and carers. I would like to thank the CCG team, our mental health provider CPFT, our local authorities, and third sector services - what a great team effort!"
– Dr Emma Tiffin
Advertisement
It has been the driest November for six years in the Anglia region which also made it the driest autumn for a similar period.
Read the full story ›
CCTV has been released of two men police would like to speak to in connection with a burglary in Cambridge.
Read the full story ›
From next spring a new stretch of railway will mean passengers travelling from Peterborough and Cambridge can access more destinations.
Read the full story ›
Load more updates