The war stories of some of the few surviving D-Day veterans will be told at an exhibition at the Imperial War Museum at Duxford.
It is part of the museum's commemoration of the 70th anniversary of the Normandy Landings.
Many of the photos show veterans returning to the exact spot where their stories unfolded in June 1944.
The Imperial War Museum at Duxford in Cambridgeshire plays a key role in the new Monuments Men film which has just been released.
The cast, crew and more than 300 extras spent nine days filming at the former wartime airfield.
Second World War aircraft and vehicles were brought to the museum to act as props and set dressing.
Duxford's historic buildings, control tower and airfield also featured in the filming.
Advertisement
Staff at a Cambridgeshire car showroom say it was lucky no-one was killed by a lorry wheel that smashed into the side of their building after coming off a passing truck.
It happened on the A505 at Duxford, but fortunately the business was closed for the New Year.
Click below to watch a report from ITV News Anglia's Stuart Leithes
Visitor and security services at Imperial War Museums are to be privatised, affecting staff in London, Manchester and Cambridgeshire.
The move will affect more than 100 staff at the war museums in London and Manchester, HMS Belfast and Churchill War Rooms in London, and Duxford air museum in Cambridgeshire.
The successful bidder for the contract is the Shield Group, with staff employment conditions protected by employment regulations.
A statement said: "This decision was based on ensuring that our long-term quality needs can be satisfied by a provider who delivers optimum value for money and also excellent career opportunities for staff."
Mark Serwotka, general secretary of the Public and Commercial Services union, said: "As the eyes of the world look to the Imperial War Museum to mark the centenary of the First World War, it is taking a major gamble with its reputation.
"We believe that gifting this work to a profit-making company will lead to jobs and standards being cut, and risks a knowledge drain from these highly-prized visitor attractions."
Advertisement
A Rolls Royce that was once owned by the renowned author Rudyard Kipling has been sold at auction in Cambridgeshire.
Read the full story ›
The Formula One test driver María de Villota, who lost the sight in one eye after a crash in Cambridgeshire, has been found dead in a hotel room. Police are calling it a "natural death".
Last year, the Spanish driver crashed at Duxford Aerodrome, while test driving for the Marussia F-1 team.
The 33-year old's body was today discovered in Spain, where she was promoting her autobiography.
Click below to watch a report from ITV News Anglia's Luke Farrington
María de Villota's manager, Mark Blundell, believes that the Spaniard would have been "the next female Formula One driver".
De Villota was found dead in a hotel room in Seville earlier this morning.
The 33-year-old's racing career was cut tragically short when she lost an eye in an accident at Cambridgeshire's Duxford Aerodrome last year.
However, Blundell believes that De Villota had the talent to become the first female driver to enter the Formula One World Championship since Giovanna Amati back in 1992.
Formula One teams and circuits have been paying tribute to former Formula One test driver María de Villota after the 33-year-old was found dead in a hotel room in the Spanish city of Seville.
Norfolk-based Lotus Cars and Silverstone Circuit in Northamptonshire were among those offering their condolences.
We are shocked and deeply saddened to hear of the death of María de Villota. Our sincere condolences to her family. http://t.co/3lH7IVJPrb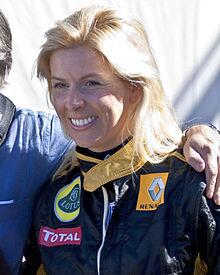 We are so very sad to hear about the passing of Maria de Villota this morning, our thoughts are with her family and friends
Load more updates