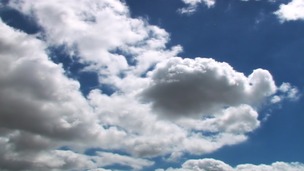 In the meteorological terms, autumn officially starts tomorrow, but it will still feel like summer in the Anglia region.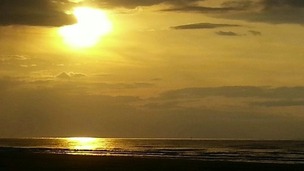 Generally dry, with some sunny spells developing on Sunday.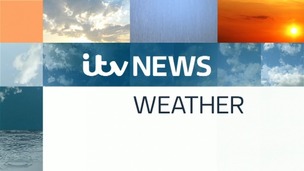 Most places will stay dry today with some sunshine but there'll be a keen breeze.
Live updates
Anglia Weather
A torrential downpour in the early hours of Monday morning made Santon Downham in Suffolk the wettest place in the UK.
Between 1am and 11am, the site in Thetford Forest had 51.2 mm (2 inches) of rain which is close to the amount it receives during the whole of an average July. During just one hour at 5am, the weather station had 33 mm (1.3 inches) of rain.
The deluge was isolated and most places in the Anglia region had little or no rain by 10am Monday morning.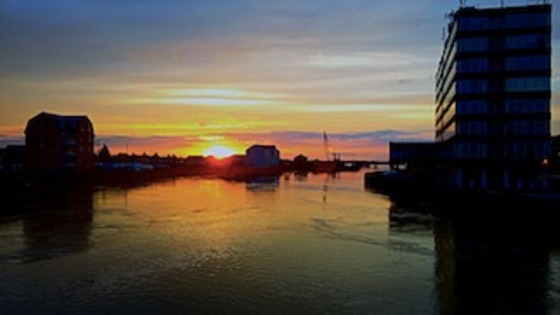 Norwich had 48.6 mm (1.9 inches) of rain on Sunday 20 July.
Rainfall totals averaged across the Anglia region during July have reached 56 mm (2.2 inches) which is 25% more rain than normal. But that average hides wide variations in the totals. Norwich has so far had 95 mm (3.7 inches) of rain during July while Bedford has had just 35 mm (1.4 inches).
The Anglia region is not as wet as July 2012 when there was 107 mm (4.2 inches) making it the second wettest July on record.
Advertisement
Pollen forecast for the East of England
Pollen forecast for the East of England
Anglia Weather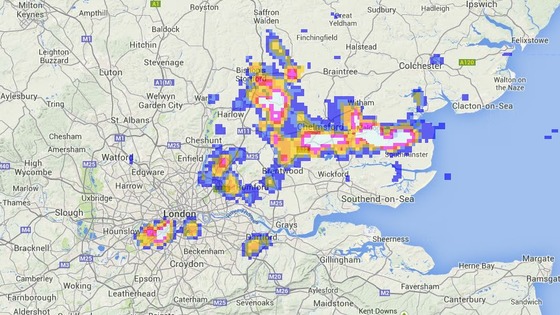 Torrential, thundery downpours are currently moving south through Essex, having developed this afternoon near Braintree. Rainfall rates greater than 32mm per hour are highlighted in white on the rainfall radar map. The Met Office issued a yellow warning earlier today for the risk of disruption due to localised heavy rain.
Read more: Met Office warns of localised heavy downpours this afternoon
Advertisement
Anglia Weather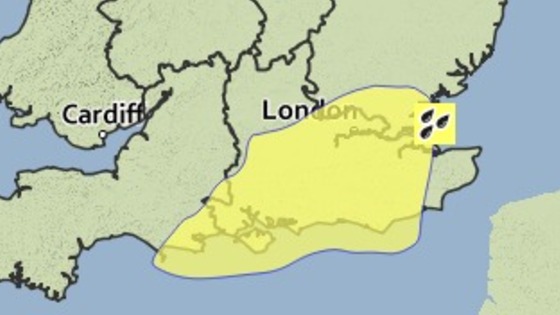 The Met Office have issued a yellow warning for southern parts of Essex, Hertfordshire and Bedfordshire this afternoon because of the risk of heavy showers or thunderstorms.
Although the majority of the Anglia region is expected to stay dry and largely sunny, some torrential downpours are possible in the south, accompanied by hail and thunder.
According to the Met Office Chief Meteorologist:
An unstable airmass across the south-east of England and with another very warm day expected, coupled with high humidity, some heavy showers or thunderstorms are likely to develop this afternoon within the warning area. As is always the case with showers, some places may see no rainfall at all, whilst others receive 20 mm or more in an hour. Hail and thunder may be an additional hazard. Showers will gradually die out this evening as temperatures decrease.
– Met Office Chief Meteorologist
First World War Centenary: ITV Anglia schools project
This tale was sent in by 14-year-old Ethan Harvey, a First World War enthusiast from The Open Academy in Norwich.
He told ITV News Anglia he wanted to tell us about a soldier who was involved in one of the most famous stories from the Great War.
And, when it comes to re-creating it, Ethan has been meticulous - right down to building his own trench.
This is the story of one soldier's life in the trenches.
First World War Centenary: ITV Anglia schools project
Earlier this year, ITV News Anglia launched its First World War Centenary School Report and asked children from across the region to tell us a Great War story from their area.
The last in our series has been made by year eight pupils at Ashton Middle School in Dunstable.
Pupils there have been looking at the stories of their school's former pupils who fought in the Great War, the sacrifices made, and what Armistice Day means to them.
Load more updates
Back to top