Advertisement
It's been the hottest day of the year so far in the UK and in the Anglia region.
A break in the clouds allowed temperatures to climb to 27.7ºC at Writtle in Essex this afternoon.
This beat the previous maximum temperature this year of 26.0ºC at Shoeburyness in Essex.
Gravesend in Kent saw the UK's hottest temperature as the mercury climbed to 27.8ºC, narrowly beating Writtle for the top spot.
Today's record is unlikely to last longer than a few days.
Although it will feel fresher at the weekend, the weather turns even hotter next week. It is now thought likely that temperatures will exceed 30ºC across large parts of the Anglia region, away from the coast.
The start of summer in the Anglia region has been on the chilly side despite the warm weather on Thursday.
Although it had reached 24°C (75°F) in Writtle, Essex by 1pm, the rest of June has so far been rather cool and early figures suggest it could even be the coldest since 1991.
What might change that is some hotter weather being forecast for early next week. Temperatures in south east England and parts of East Anglia may rise to 26-27°C.
Forecasters also say there's a small chance the thermometer could top 30°C for the first time this year.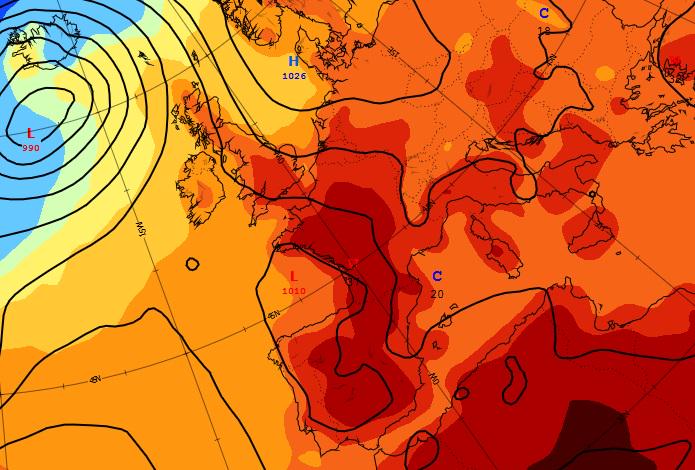 The Met Office has issued a warning of heavy rain in some parts of the region this evening.
Though many places could stay dry, heavy showers and thunderstorms are likely to develop during Saturday afternoon and last into the evening, with localised torrential downpours.The public should be aware of the risk of localised surface water flooding, as well as lightning strikes and large hail.
Advertisement
The first half of June has been colder than normal in the Anglia region although there has been plenty of sunshine.
Read the full story ›
The Met Office has issued a yellow weather warning for the risk of heavy rain, hail and lightning on Friday night into Saturday.
There is a chance of some very localised significant disruption, mainly from surface water flooding. Lightning and hail could also cause some impacts.
The warning is valid from noon on Friday 12 June until 7am on Saturday 13 June 2015
"An area of warm, very humid air is expected to move northwards across France into southern Britain later on Thursday and into Friday. Whilst isolated thunderstorms are possible from Thursday, these become more likely and potentially more severe by Friday afternoon, with the potential for 20 to 30 mm falling within an hour or so, probably on a very localised basis.

"Indications are that a more organised band of heavy rain and thunderstorms will follow by Friday evening and overnight into Saturday, bringing 25 to 50 mm of rain more widely, again with the potential for some very high short-period totals."
– Met Office Chief Forecaster's Assessment
The Met Office says given the complexity of the developments leading up to this event, ideas on areas at greatest risk of heavy rainfall and severe thunderstorms may well change, and this warning will be updated accordingly.
Today: Generally fine and mostly dry with some sunny spells, and a little cloud will develop at times through the day. Noticeably lighter winds than yesterday. Maximum temperature 19 deg C (66 deg F).
Outlook for Monday to Wednesday: Generally fine and dry but the odd shower is possible during Monday. Sunny spells making it feel reasonably warm inland, though cooler near coasts in the northeasterly breeze.
Click below to watch the forecast
It may have started with a sharp crack of thunder in some places but Friday 5 June ended up as the hottest day of the year so far.
Read the full story ›
Load more updates