Cambridgeshire Police have informed the military after a suspected grenade was discovered at Back Hill in Ely.
Officers say the device has been sandbagged and the situation is under control.
A motorcyclist has died in a crash on the A10 in Cambridgeshire.
The collision with a Ford Transit happened near Stretham at around 4pm on Wednesday 28 October.
A 35-year-old man from Ely was arrested and bailed on suspicion of causing death by dangerous driving.
Anyone who witnessed the collision is asked to contact the road policing unit on 101 or Crimestoppers, anonymously, on 0800 555 111.
Advertisement
Residents are being urged to avoid an area in Cambridgeshire after a mercury chemical spillage in Downham Road in Ely this morning.
A 75 metre cordon is in place in the area, affecting the surrounding roads- Downham Road, West Fen Road and Chapel Street.
Premises outside the cordoned area are unaffected, but residents are still asked to avoid the area.
Photo of our Hazardous Materials vehicle from the scene in #Ely. Please continue to avoid area on foot or vehicle https://t.co/oDXAYpXdsI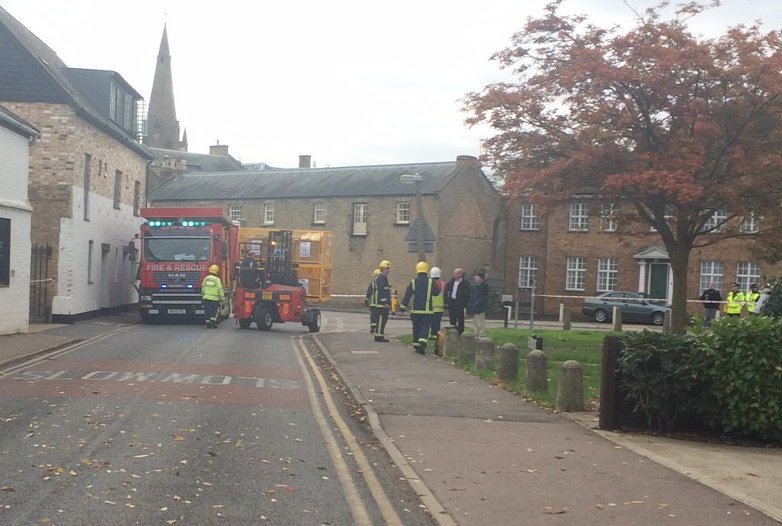 Police and fire services are currently at the scene of an chemical spillage in Downham Road in Ely, near to the junction with Cambridge Road.
Police have advised members of the public to remain inside, with windows and doors closed until further notice.
An aircraft has crashed in farmland in Cambridgeshire.
Emergency services were called at around 10.30am to Redmere near Ely.
A broken down freight train between March and Whittlesey in Cambridgeshire is affecting East Midlands and Cross Country services.
East Midlands services between Norwich and Peterborough may be delayed at short notice or cancelled.
CrossCountry services have also been suspended between Peterborough and Ely with trains now unable to run.
It's also affecting Abellio Greater Anglia services.
A recovery train is en-route and engineers are assessing the problem.
Advertisement
MPs and business leaders are calling on the Government to press ahead with a £35 million upgrade to the Ely North Junction.
It's claimed the improvements to the rail route would attract more firms to the area and would also enable faster rail journeys to London.
The group laid out the plea in an open letter to the Transport Minister Patrick McLoughlin.
"This is a vital investment which represents superb value for money, and given that the business case for it has already been fully established, it needs to be given the green light now."
– Henry Bellingham MP
Crime writer James Runcie, the author of the popular 'Grantchester' novels, has been attacked in Cambridgeshire, Police have revealed.
Read the full story ›
An 8-year old boy from Ely has raised £2,250 for charity by walking for twenty minutes a day through the whole of his summer holidays.
Alfie McCreadie came up with the idea after being bullied about his weight.
He decided he wanted to raise money for Great Ormond Street Children's Hospital.
84 people turned up for Alfie's final 20 minute walk at the weekend in Ely.
"It was quite a spectacular site seeing all these people young and old walking around the green cheering Alfie on."
– Hannah McCreadie, Alfie's mother
Hannah McCreadie, Alfie's mum, says his fitness has improved and they are overwhelmed by the support people have showed him.
"I'm very happy I have completed my challenge. I've done a great thing for charity, raised lots of money and I'm really happy."
– Alfie McCreadie
Two men who posed as tourists and base jumped of Ely Cathedrals west tower have been caught on camera.
These pictures were taken at around 2pm on Saturday when the daredevils threw themselves almost 215 feet from the West Tower - parachuting on Cross Green
Once landed the pair ran way down The Gallery.
The two men involved had booked tickets for an organised tour tower. The tours are very popular and take place daily in groups of up to 14 people escorted by an experienced guide. The Cathedral says that on this occasion the guide had no idea of their intentions to jump and could not have foreseen this incident.
"Ely Cathedral takes the safety of their visitors, staff and volunteers very seriously. They are currently reviewing their policies, along with other Cathedrals and significant landmarks in the UK, to ensure this type of activity does not happen again. It is a blessing no one was hurt. "
– Spokesperson, Ely Cathedral
Police said although not illegal they do not advise people put themselves in danger.
Load more updates