There are fears that a £35m upgrade to one of our region's main railway junctions could be delayed even longer than was feared.
Work to expand the capacity and increase the frequency of trains through Ely in Cambridgeshire was due to be finished by 2017.
Now it will be 2019 before Network Rail even begins a new feasibility study into the plans.
It comes after a report raised concerns that a number of level crossings around Ely would not cope with the upgrade.
Today the MP for South West Norfolk Elizabeth Truss met with Network Rail, to push for the improvements to come sooner.
Click below to watch Emily Knight's report:
Commuters in West Norfolk may have to wait another 10 years for twice-hourly trains between London and King's Lynn, after it was announced major improvements to the junction at Ely North will be delayed.
Network Rail say the £35 million upgrade, which was set to start in 2016 and is key to the introduction of the new service, has been put back to at least 2019, when the next funding period starts.
It follows a review carried out by the company's chairman.
More: Companies 'refusing' to employ Abellio Greater Anglia commuters, MP claims
Advertisement
An Cambridgeshire flight instructor is hoping to win gold at the prestigious World Air Games in Dubai next month.
Read the full story ›
A strong cannabis smell wafting through a primary school was discovered by police to be a wild flower.
Cambridgeshire Police were called to a primary school after parents and teachers noticed the pungent aroma in the car park.
They found the smell at Rackham Primary School in Ely, on Wednesday, was coming from a wild flower, the phlox, which has an 'almost identical smell'.
A Cambridgeshire Police spokesman said: "We can happily reassure the community there isn't cannabis production going on in that area.
"Although the plant looks entirely different to cannabis in appearance - it would certainly give a false positive to the most sensitive of noses.
Usually found in North America, the phlox has a smell so similar to cannabis that it has previously fooled police sniffer dogs.
Cambridgeshire Police have informed the military after a suspected grenade was discovered at Back Hill in Ely.
Officers say the device has been sandbagged and the situation is under control.
A motorcyclist has died in a crash on the A10 in Cambridgeshire.
The collision with a Ford Transit happened near Stretham at around 4pm on Wednesday 28 October.
A 35-year-old man from Ely was arrested and bailed on suspicion of causing death by dangerous driving.
Anyone who witnessed the collision is asked to contact the road policing unit on 101 or Crimestoppers, anonymously, on 0800 555 111.
Advertisement
Residents are being urged to avoid an area in Cambridgeshire after a mercury chemical spillage in Downham Road in Ely this morning.
A 75 metre cordon is in place in the area, affecting the surrounding roads- Downham Road, West Fen Road and Chapel Street.
Premises outside the cordoned area are unaffected, but residents are still asked to avoid the area.
Photo of our Hazardous Materials vehicle from the scene in #Ely. Please continue to avoid area on foot or vehicle https://t.co/oDXAYpXdsI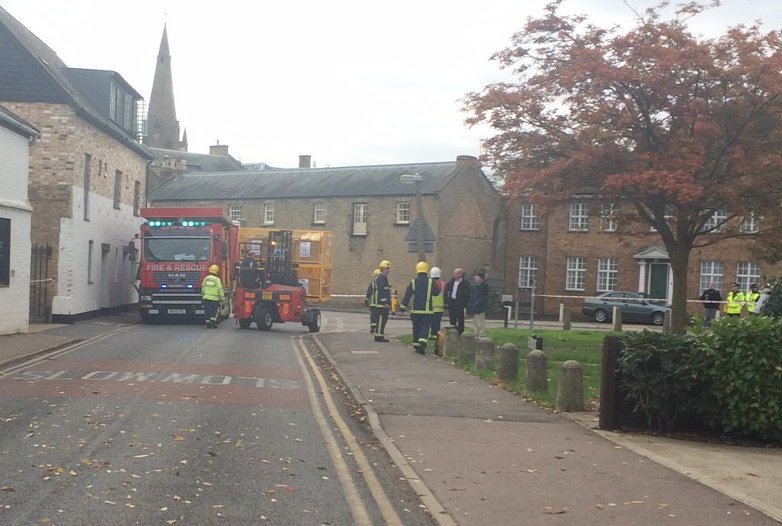 Police and fire services are currently at the scene of an chemical spillage in Downham Road in Ely, near to the junction with Cambridge Road.
Police have advised members of the public to remain inside, with windows and doors closed until further notice.
An aircraft has crashed in farmland in Cambridgeshire.
Emergency services were called at around 10.30am to Redmere near Ely.
A broken down freight train between March and Whittlesey in Cambridgeshire is affecting East Midlands and Cross Country services.
East Midlands services between Norwich and Peterborough may be delayed at short notice or cancelled.
CrossCountry services have also been suspended between Peterborough and Ely with trains now unable to run.
It's also affecting Abellio Greater Anglia services.
A recovery train is en-route and engineers are assessing the problem.
Load more updates