With every good heatwave in the British summer there is nearly always a spectacular thunderstorm or two.
The early hours of Saturday 4 July saw widespread electrical storms across East Anglia.
At Hitchin in Hertfordshire there was 35 mm of rain, which is more than normally falls in two weeks in July.
The overnight deluge make it the wettest day of the year so far in the East of England.
Rainfall totals in the Anglia region in the 12 hours to 10am on Saturday
21.4 mm in Bedford
21.2 mm in Woburn, Bedfordshire
17.6 mm in Monks Wood near Sawtry, Cambridgeshire
15.0 mm in Harpenden, Hertfordshire
13.6 mm in Holbeach, Lincolnshire
11.8 mm in Wattisham, Suffolk
8.0 mm in Writtle, Essex
7.2 mm in Cambridge
3.8 mm in Norwich
Advertisement
The start of July could see the hottest day in East Anglia for nine years if temperatures rise above 33.4°C.
Read the full story ›
Abellio Greater Anglia and Network Rail are warning there could be some delays in train services because of the hot weather.
Tomorrow (Wednesday) some services will have speed restrictions imposed.
"As a result of the high temperatures forecast for Wednesday 1 July, speed restrictions will be in place between London Liverpool Street and Shenfield / Southend Victoria for some of the day. These are measures introduced by Network Rail to protect the infrastructure. To assist in minimising delays, there are also some alterations planned to the evening peak timetable. We would like to apologise to customers for any inconvenience these temporary timetable changes may cause."
– Abellio Greater Anglia spokesperson
Following a cool summer so far, a brief blast of heat is expected during the next few days - peaking on Wednesday. The weather charts below show how hot it could get where you are.
Many inland and western parts of the Anglia region will reach or exceed 30ºC.
Somewhere in Hertfordshire, Bedfordshire, or Northamptonshire could reach 33ºC - the highest temperature for two years.
There's a small chance that the mercury will rise to 34ºC - making it the hottest day since 2006.
For relief from the heat, you'd need to head to the east coast, where an onshore breeze will keep temperatures in the low to mid 20s Celsius.
Advertisement
It's been the hottest day of the year so far in the UK and in the Anglia region.
A break in the clouds allowed temperatures to climb to 27.7ºC at Writtle in Essex this afternoon.
This beat the previous maximum temperature this year of 26.0ºC at Shoeburyness in Essex.
Gravesend in Kent saw the UK's hottest temperature as the mercury climbed to 27.8ºC, narrowly beating Writtle for the top spot.
Today's record is unlikely to last longer than a few days.
Although it will feel fresher at the weekend, the weather turns even hotter next week. It is now thought likely that temperatures will exceed 30ºC across large parts of the Anglia region, away from the coast.
The start of summer in the Anglia region has been on the chilly side despite the warm weather on Thursday.
Although it had reached 24°C (75°F) in Writtle, Essex by 1pm, the rest of June has so far been rather cool and early figures suggest it could even be the coldest since 1991.
What might change that is some hotter weather being forecast for early next week. Temperatures in south east England and parts of East Anglia may rise to 26-27°C.
Forecasters also say there's a small chance the thermometer could top 30°C for the first time this year.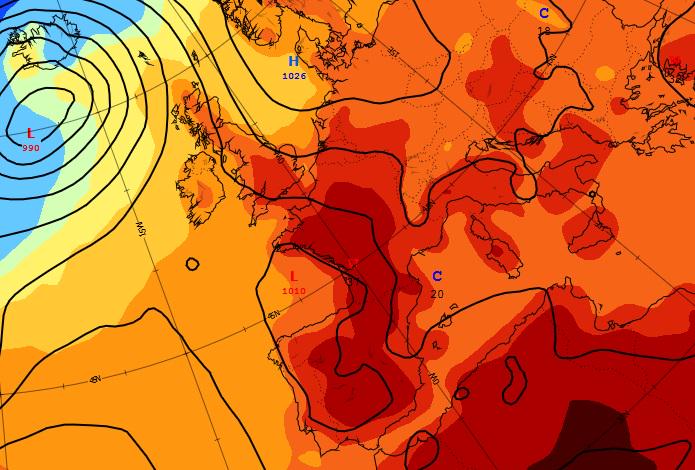 Load more updates