A Met Office yellow weather warning is in force for heavy rain and in the risk of flooding in parts of the Anglia region on Wednesday.
The warning is valid until 3pm and covers Milton Keynes, Northamptonshire and parts of Cambridgeshire, Bedfordshire and Hertfordshire.
The Met Office says persistent rain, heavy at times, is expected from the early hours of Wednesday, continuing during the morning before slowly easing in the afternoon.
Accompanied by windy conditions, this rain is likely to produce some flooding and difficult driving conditions.
"A depression developing west of Britain during Tuesday afternoon is expected to reach southwestern UK late on Tuesday evening or very early Wednesday and then continue slowly eastwards into southern England before turning south and gradually moving away into France later on Wednesday.

"The associated frontal system is expected to be an active feature associated with some heavy rain and hill snow, whilst the highest winds are expected in the southwestern quadrant of this depression.

"Widespread rainfall accumulations of 20 to 30 mm are expected, and very locally 50 to 60 mm could fall."
– Met Office Chief Forecaster's assessment
Spectacular displays of the Aurora Borealis, otherwise known as the Northern Lights.
Read the full story ›
Advertisement
The Met Office has issued a yellow warning for snow and ice for the East of England.
The warning covers Cambridgeshire, Essex, Norfolk and Suffolk from 7pm tonight until tomorrow morning.
There also a warning of ice covering the same period for Bedford, Cambridgeshire, Central Bedfordshire, Essex, Hertfordshire, Luton, Peterborough, Southend-on-Sea and Thurrock.
You can find more details on the Met Office website by clicking here.
The Met Office has issued an ice warning for the East of England tonight.
It covers Bedford, Cambridgeshire, Central Bedfordshire, Essex, Hertfordshire, Luton, Norfolk, Peterborough, Southend-on-Sea, Suffolk & Thurrock from 2100 Sat 05 March to 0900 Sun 06 March.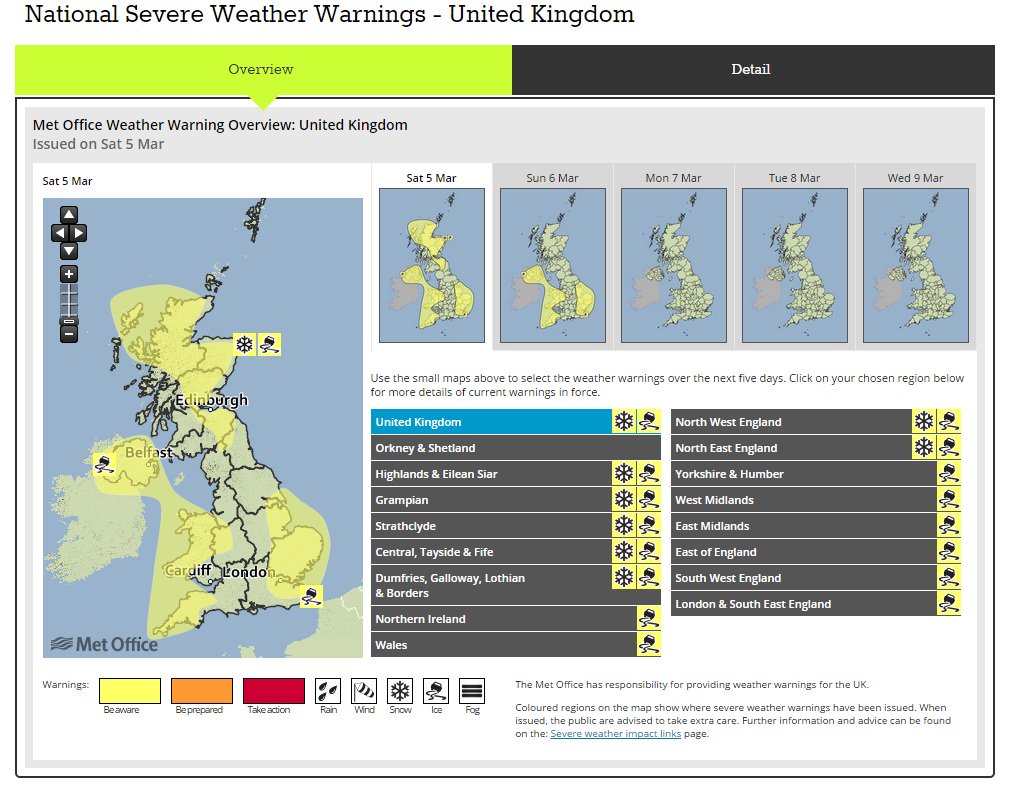 Any rain will soon clear away eastwards, then mostly dry with some bright or sunny periods. Feeling a little chilly.
Read the full story ›
This video footage of a snow shower over Norwich was captured by the roof camera on top of the ITV Anglia newsroom and Weatherman Aidan McGivern's mobile phone.
The large, wet flakes settled briefly onto cars and grass surfaces before melting. More wintry weather is expected during the next few days, keep up to date here.
Viewers pictures of the dramatic weather elsewhere in the Anglia region are shown below. You can send your pictures of angliaweather@itv.com.
Advertisement
It's been the mildest winter ever recorded in the Anglia region with temperatures 2-3°C above normal.
Read the full story ›
Weatherman Aidan McGivern looks at some of the latest techniques for coping with the Winter Blues or Seasonal Affective Disorder
Read the full story ›
It's barely felt like winter this year with only brief spells of cold weather and it's likely the season will be the mildest on record.
Read the full story ›
ITV News is investigating the impact flooding at the end of 2015 could have on insurance premiums - whether or not your area was affected.
Read the full story ›
Load more updates