300 jobs at Chelmsford's newest shopping centre go up for grabs today (29 April).
The city's new John Lewis store is launching a huge recruitment drive this morning before it opens in September.
It's part of the £120 million Bond Street development that is being built there.
"The opening of the John Lewis store in the Bond Street development will be a major boost to the city."
– Councillor Neil Gulliver, cabinet member for planning and economic development at Chelmsford City Council
East Anglia's farmers say the current cold snap is having a detrimental impact on their crops.
Drilling for sugar beet is behind schedule and many asparagus growers are well behind schedule.
Algy Garrod grows asparagus at Bawdeswell near Norwich. Although it's on sale at his farm shop, that's a variety grown under polythene at a nearby farm.
Algy doesn't cover his which is why there's very little sign of growth.
"We've probably missed ten days of picking already," he said.
What he needs is several days of warm weather.
"Cold weather slows everything down; drops the soil temperature. In the last few days we've had frost, hail sleet and snow. The asparagus tips would explode with an improvement but there's little sign of it at the minute."
The immediate outlook isn't encouraging. Cold, showery weather is forecast for the Bank Holiday weekend - a bit of a concern for the region's tourist industry after a disappointing Easter.
Advertisement
A health watchdog has told Colchester Hospital it must form a long-term partnership with Ipswich Hospital in order to improve.
Colchester has been in special measures for more than two years and initial findings from a recent inspection show services are still not good enough.
The Care Quality Commission says a long term partnership with Ipswich is the best to improve care for patients.
"We are all agreed that a long term and sustainable improvement can only be assured if the trust works with another organisation. We fully support the partnership with Ipswich hospital and will support both organisations in making this a success for the people and staff in Colchester and Ipswich."
– Jim Mackey, Chief Executive of NHS Improvement
A horticulturist from Essex is hoping to grow the world's biggest pumpkin from a seed bought for £1,250.
Matthew Oliver, who works at the Royal Horticultural Society Garden Hyde Hall in Chelmsford, has been given the challenge by gardening experts Thompson and Morgan.
He has six months to produce the prize fruit which must weigh in at more than 165 stone.
The seed he will be using came from a 1054kg giant - produced by a Swiss grower two years ago.
Here's Liz Summers' report:
5pm: Day one of the junior doctors strike has officially ended.
The industrial action doesn't appear to have driven up hospital waiting times or caused any problems of note so far.
Junior doctors are expected to walk out again on Wednesday between 8am and 5pm.
Kate Prout reflects on how our hospitals coped in the east:
Sarah Cooper reflects on how hospitals coped in the west.
A train driver who was taken seriously ill before arriving at a station has died from a suspected heart attack.
The 56-year-old driver, who has not yet been named, was driving a c2c train from Essex to London on Monday night.
Shortly before arriving at Barking station at 8.45pm he was taken ill and the ambulance service said the man was pronounced dead at the scene.
Kevin Frazer, c2c Delivery Director, said: "The thoughts of all the driver's colleagues and friends at c2c are with his family at this difficult time.
"Thank you to all our passengers for their understanding last night while we helped support the ambulance service and British Transport Police in their efforts."
Advertisement
A footballer from Essex says he's lucky he wasn't blinded when glass from a broken changing room window went into his eye.
Read the full story ›
Internet users are being advised to "date safe" following a national increase in reports of crimes initiated via internet dating.
Bedfordshire police recorded 39 crimes in the last two years - all relating to the use of internet dating sites - six of these were serious sexual offences.
More than half of parents in the East of England are worried their child will not be ready to start school at the age of five, according to charity Action for Children.
It has led the group to call upon the Government to offer more support to parents.
The charity says many children have not developed good enough communication skills to cope with the school day.
A postbox at Dunmow in Essex has been taped off to allow birds to finish nesting inside.
It was spotted by Dan Jennings, who put this picture on Twitter.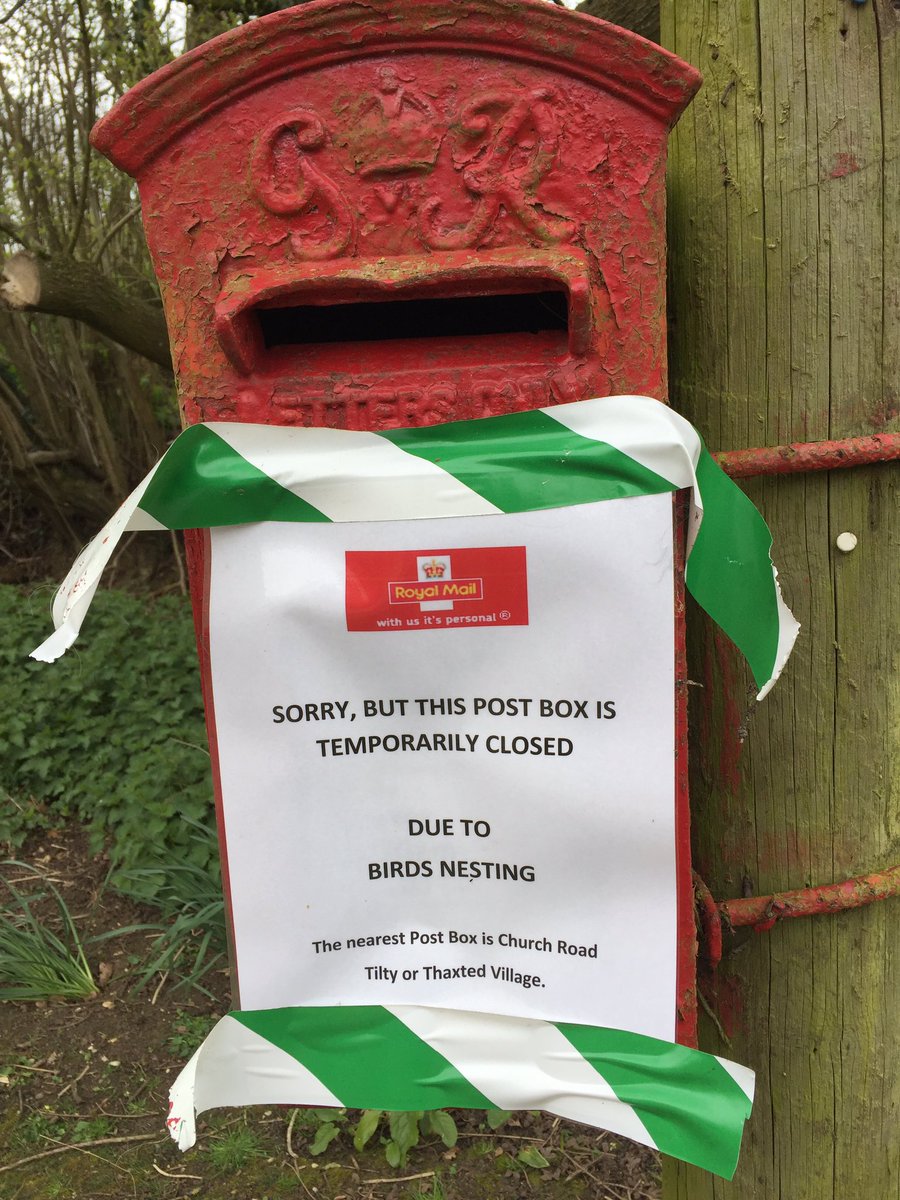 Load more updates