More than half of parents in the East of England are worried their child will not be ready to start school at the age of five, according to charity Action for Children.
It has led the group to call upon the Government to offer more support to parents.
The charity says many children have not developed good enough communication skills to cope with the school day.
A postbox at Dunmow in Essex has been taped off to allow birds to finish nesting inside.
It was spotted by Dan Jennings, who put this picture on Twitter.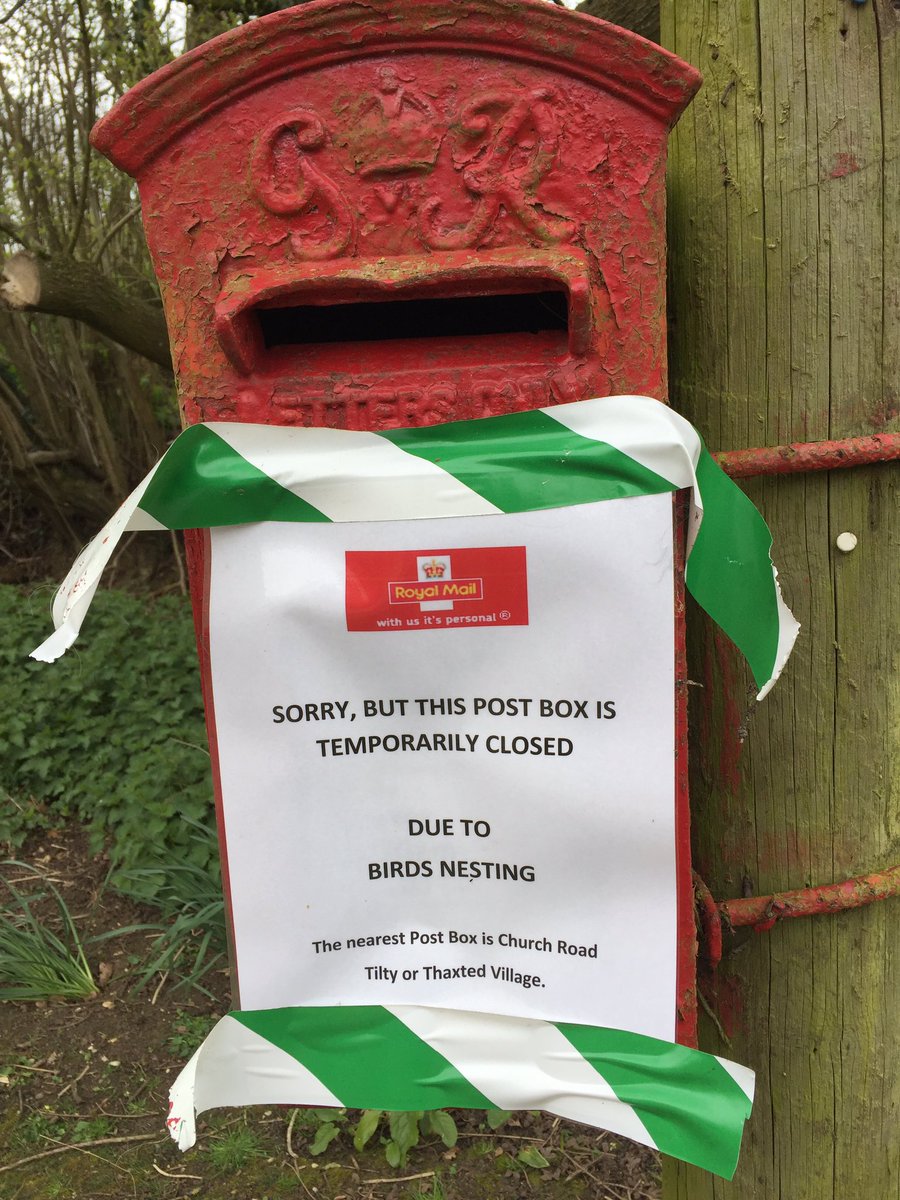 Advertisement
Essex Police are appealing for help from the public to trace a man wanted for failing to appear at court.
Gintaras Grigonis failed to attend Basildon Crown Court on March 27, 2015 after being charged with rape.
The 43-year-old was last known to be living in Aveley and has connections to Tilbury, London and Kent.
He is white, 5ft 8ins tall, with short dark hair and blue eyes.
The bodies of a man and a dog have been found in a burned-out caravan near the Essex coast.
Essex Police are investigating the fire, which is thought to have happened overnight on Saturday on land off Maldon Road in Bradwell.
Officers say the man is thought to be 23, and from Hertfordshire.
A post mortem examination is to be carried out tomorrow. The death's being treated as unexplained.
A public consultation looking at what cuts Essex Fire Service should make finishes today.
It has to save £7 million a year until 2020, and for the past 12 weeks local people have been able to have their say on how best to achieve that.
There are three options: The first proposal, saving £8.6million, would axe 210 full-time firefighter posts, leaving 360 full-timers, and remove the second fire engine from seven stations, including Southend and Rayleigh.
Proposal two, saving £6.4million, would axe only 138 full-time firefighters and remove second engines from only five stations.
A third option, to save £10million, would scrap 234 fulltime firefighter roles and remove second engines from seven stations.
Police say a teenage driver was tasered by thieves who then stole his car in Essex.
The robbery happened in Creekview Road at South Woodham Ferrers on Wednesday night.
The victim, an 18-year-old man was driving in a red Ford Fiesta when a man walked into the road at around 11.30pm.
The driver stopped the car and a second man opened the passenger door and tasered him. The victim fell from the car and was then assaulted by both men with a baseball bat. The men then stole the car and a mobile phone. The car was found a short time later abandoned.
The victim was taken to hospital with a head injury.
Advertisement
Police are searching for a man who robbed a woman by a cashpoint in Colchester.
The 67-year-old victim was near the Co-op store off Blackthorn Avenue on Thursday April 21 at around 4.30pm.
She was approached by the man as she went to use the cashpoint machine outside of the shop. He grabbed her arm and snatched her purse from her hand before running off in the direction of Blackthorn Avenue.
The man is described as white, aged around 19, 5ft 6in tall and of stocky build. He was wearing a dark grey hooded top and dark trousers.
"The victim was not physically hurt but to be confronted and robbed in this way has left her extremely shaken and upset. We urgently need to find this man and arrest him."
– Investigating officer, Detective Sergeant Lydia George
Detectives have condemned burglars who stole a car belonging to a terminally ill man.
Burglars jemmied open the front door of a house in The Greenways, Coggeshall, sometime between midnight and 7.30am today, Friday April 22.
They stole a handbag containing a purse, bank cards and a white iPhone 4, and a white Ford Cougar Titanium. They also stole a walking frame, which was inside the car.
Any burglary is distressing, but this was a particularly callous crime in that the victim, who is aged in his 70s, has cancer and his wife is now unable to drive him to hospital appointments. "I am appealing for witnesses who saw anyone acting suspiciously in the area at the time of the burglary, or saw the car being driven away or since the incident."
– PC David Smith, of Braintree CID
A musician from Braintree, who set up a petition to save a homeless shelter in the town, has gathered more than 5,7000 signatures in less than a week.
Aaliyah Wood is a member of the Braintree Sound Academy which is in the same building as the Braintree Foyer.
The shelter may have to close if Essex County Council votes to cut funding for vulnerable young adults in a cabinet meeting next month.
A proposal on how we support young people with housing needs will be considered by Cabinet in May.

As yet, no decision has been made, but whatever the outcome we will continue supporting our most vulnerable young people.

We are continuing to engage extensively with service providers across Essex, including Braintree Foyer, to meet that aim.

I appreciate the concerns raised, but no decision has been taken on the future support services at Braintree Foyer.
– Cllr David Finch, Leader of Essex County Council
Load more updates