Officials investigating a fire which destroyed a historic town centre building in Fakenham are appealing for witnesses to send in their photos of the blaze.
The Original Factory Shop caught fire on Sunday morning as shoppers began to arrive.
Two people had to be rescued from flats above the store and five families have been left homeless.
Norfolk Fire Service wants people to send in photos and videos to kingslynnadmin@fire.norfolk.gov.uk
A store destroyed in a blaze over the weekend continued to smoulder today as fire fighters said the building was unlikely to be saved.
Read the full story ›
Advertisement
Staff at the Original Factory Shop in Fakenham have been praised for leaving the building so quickly once the fire alarm sounded.
Marketing Director Colin Leggatt said workers got shoppers out and left immediately without going back for their possessions. Phones, car keys and bags were all burned.
Mr Leggatt said the company was trying to find work for the 12 employees at its other branches in Dereham and Snettisham while it looks for other premises in Fakenham. It'll hold a staff meeting tomorrow.
Staff are also being offered counselling to help them come to terms with Sunday's blaze. The company says work to find out what started the fire may take some days.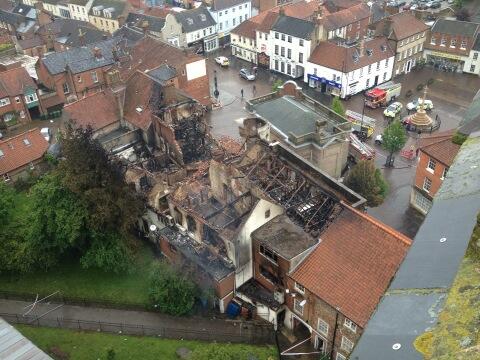 Firefighters who spent all weekend tackling a blaze in Fakenham town centre have released photographs showing what they had to deal with.
Read the full story ›
Experts are to be called in to demolish the remains of historic buildings ravaged by fire in Fakenham.
The old Aldiss building on Upper Market Place is a smoking ruin after Sunday's fire. More than ninety fire fighters brought it under control. Crews were at the scene overnight.
People were led to safety from flats in the row but no-one was injured. Norfolk's Fire chief said the buildings could not be saved.
Advertisement
Norfolk's Chief Fire Officer Nigel Williams has spoken of the challenges of fighting the Fakenham fire and what lies in store in the days ahead. You can see pictures here of the devastation left by the blaze in Upper Market Place.
One fire crew will remain at the scene on standby throughout the night.
Load more updates