Firefighters took more than three hours to get a blaze at a derelict factory in Suffolk under control.
Crews were called just after 8.30pm yesterday and a total of nine pumps were sent to deal with the fire at Factory Lane in Brantham, near Manningtree.
The blaze was under control by 11.45pm but firefighters remained on the scene over night.
Firefighters in Norfolk have spent the night tackling a major blaze at a former hospital.
At its height, eight crews were on the scene at Macmillan Way in Little Plumstead, near Norwich, attempting to get the fire under control.
People living nearby were asked to keep their windows and doors closed.
Firefighters were first called out at 1.45am this morning but remain on the scene.
So sad, why would someone do this, lovely old hospital building. Old Hall, Little Plumstead https://t.co/aUvPrykiZE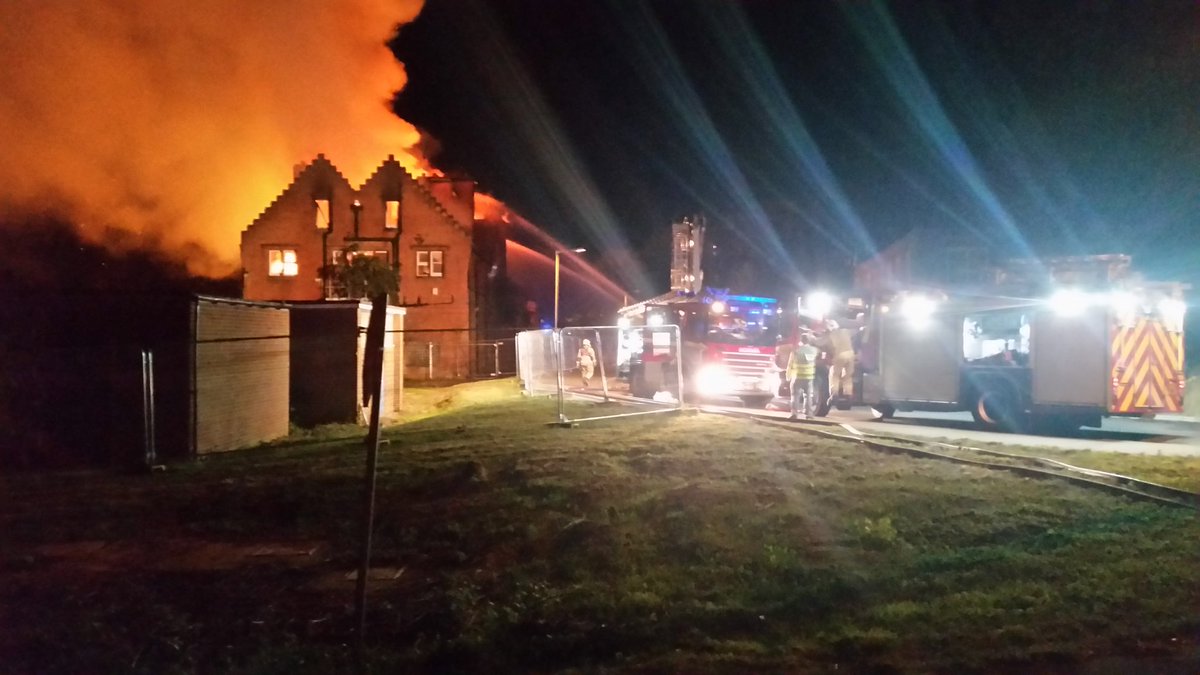 Advertisement
Firefighters expect to remain on the scene of a fire at a scrapyard in West Norfolk over night.
At its height there were 13 pumps from across Norfolk, Suffolk and Cambridgeshire and a number of specialist appliances at the site at Station Road in West Dereham, near Downham Market.
The fire involved 700 tonnes of rubbish and waste.
Just two crews and a high-volume pump remain on the scene but the brigade expects to be there throughout the night to keep the fire under control and stop it spreading.
Firefighters in Norfolk are urging people living near a large scrapyard blaze to keep their windows and doors shut.
Several fire engines are on the scene at Station Road in West Dereham, near Downham Market.
Crews were called out at about 6.15am today and expected to remain there for most of the day.
A woman had to be rescued from a kitchen fire at her home at Woburn Sands in Bedfordshire over the weekend.
Read the full story ›
Advertisement
The future of Essex's fire service will be decided today when the local Fire Authority meets.
It will discuss the results of last month's public consultation which backed the loss of up to 140 jobs.
The service has to save £7m every year until 2020.
A Suffolk market town will no longer lose its fire engine after the county's fire service scaled back proposed cuts following a public consultation.
But the decision to retain a crew at Sudbury will mean communities elsewhere - including Ipswich and Lowestoft - will be hit instead.
Suffolk fire service needs to save £1.3m and is still short of that target.
Watch Serena Sandhu's report below.
More than 20 firefighters in Cambridgeshire are tackling a large house fire in Girton.
The blaze, at Thornton Road, has been described as "well-developed" and has spread into the attic.
Crews from Cambridge, St Neots, Huntingdon, Papworth and Burwell are at the scene.
A 30-year-old woman killed by a flat fire in Essex was "in the later stages of pregnancy", police have confirmed.
Read the full story ›
Load more updates