A flooding hotspot in the Uttlesford area of Essex is to benefit from a portion of £19 million of funding for flood protection schemes.
Eight schemes are set to take place across Essex in the next five years. The first area to benefit will be Old Mead Lane in Henham which is notorious for flooding during heavy wet weather.
The work will include replacing pipes and installing brick walls and ditch work around homes. The second phase will install a series of flood fences and flood gates to the previously flooded properties.
"After identifying a number of flood protection schemes across the county, we are really pleased to be making a start on helping homeowners to further protect their properties from flooding.

"The village of Henham is the first of many to be progressed forward and we look forward to embarking on more protection schemes in the future."
– Cllr Roger Hirst, Essex County Council
All routes leading to a busy roundabout in Colchester are due to fully re-open almost five days after a water main burst on the site.
Motorists have been experiencing severe delays along all four approach roads to the Maldon Road roundabout since Monday morning.
Anglian Water say they had to restrict traffic to one lane for 'safety reasons' while they fixed 30ft of pipe and excavated 100 tonnes of material.
Advertisement
The Met Office has issued a yellow weather warning for heavy rain in Cambridgeshire, Lincolnshire, Norfolk, Northamptonshire, Rutland and Suffolk.
The weather warning is valid until 4pm on Wednesday 7 October 2015
The Met Office is warning that further slow-moving bands of heavy rain are likely to continue into Wednesday and it could cause localised minor flooding.
The Met Office says: "The public should be aware of the risk of minor disruption to travel due to localised surface water flooding."
"Low pressure looks like maintaining some heavy rain within its circulation for a time during Wednesday, these slow-moving.

"Upwards of 30 mm could fall in a few places. Conditions are expected to ease during the afternoon."
– Met Office Chief Forecaster's assessment
Firefighters in Essex have been working on new ways to reduce the risk of flooding in Canvey Island in Essex.
In July 2014 people living on Canvey were rocked by an enormous amount of rain. A month's worth fell in the space of a few hours causing many homes and businesses to flood.
It was a stark reminder of the storm surge that hit the island in 1953 killing 59 people.
Essex Fire and Rescue Service is looking a new ways of draining the area.
Click below to watch a report by ITV News Anglia's Liz Summers
Residents in Lowestoft in Suffolk are counting the cost of a summer soaking after nearly a month's worth of rain fell in 24 hours.
Read the full story ›
The Anglia region has a had a proper summer soaking with nearly a month's worth of rain falling in just 24 hours.
The wettest place so far is Norwich which more than 40 mm (1.6 inches) in the 24 hours at 6am on Saturday. The usual monthly rainfall in July in the Anglia region is 51 mm (2 inches).
The heavy rain sparked flash flooding in Bishop's Stortford in Hertfordshire where police warned motorists not to drive through deep water on the roads.
Rainfall totals in the Anglia region in the 24 hours to 6am on Saturday 25 July 2015
42.2 mm at Norwich airport
40.2 mm in Wattsiham, Suffolk
39.2 mm in Higham, Suffolk
36.2 mm in Charsfield, Suffolk
33.4 mm in Cavendish, Suffolk
32.0 mm in Writtle, Essex
29.0 mm in Shoeburyness, Essex
27.4 mm in Andrewsfield near Braintree, Essex
24.0 mm in Cambridge
23.6 mm in Bedford
21.4 mm in Northampton
Advertisement
Up to 30 mm (1.2 inches) of rain fell in the Anglia region on Friday 24 July 2015 and in some places a fortnight's worth of rain has fallen in just 12 hours.
Harpenden in Hertfordshire saw more than 30 mm of rain between 9am and midnight on Friday. That was on top of more than 50 mm (2 inches) that fell during torrential downpours and thunderstorms last Friday.
Rainfall totals between 10am and 10pm on Friday 24 July 2015
28.0 mm in Woburn, Bedfordshire
26.8 mm in Harpenden, Hertfordshire
24.2 mm in Charsfield, Suffolk
24.2 mm in Higham, Suffolk
23.2 mm in Cavendish, Suffolk
22.6 mm in Writtle, Essex
22.6 mm in Sawtry, Cambridgeshire
21.8 mm in Stowe, Buckinghamshire
21.0 mm at Norwich airport
19.2 mm in Northampton
18.4 mm in Bedford
17.0 mm in Cambridge
In an average July, 51 mm of rain falls in the Anglia region during the entire month.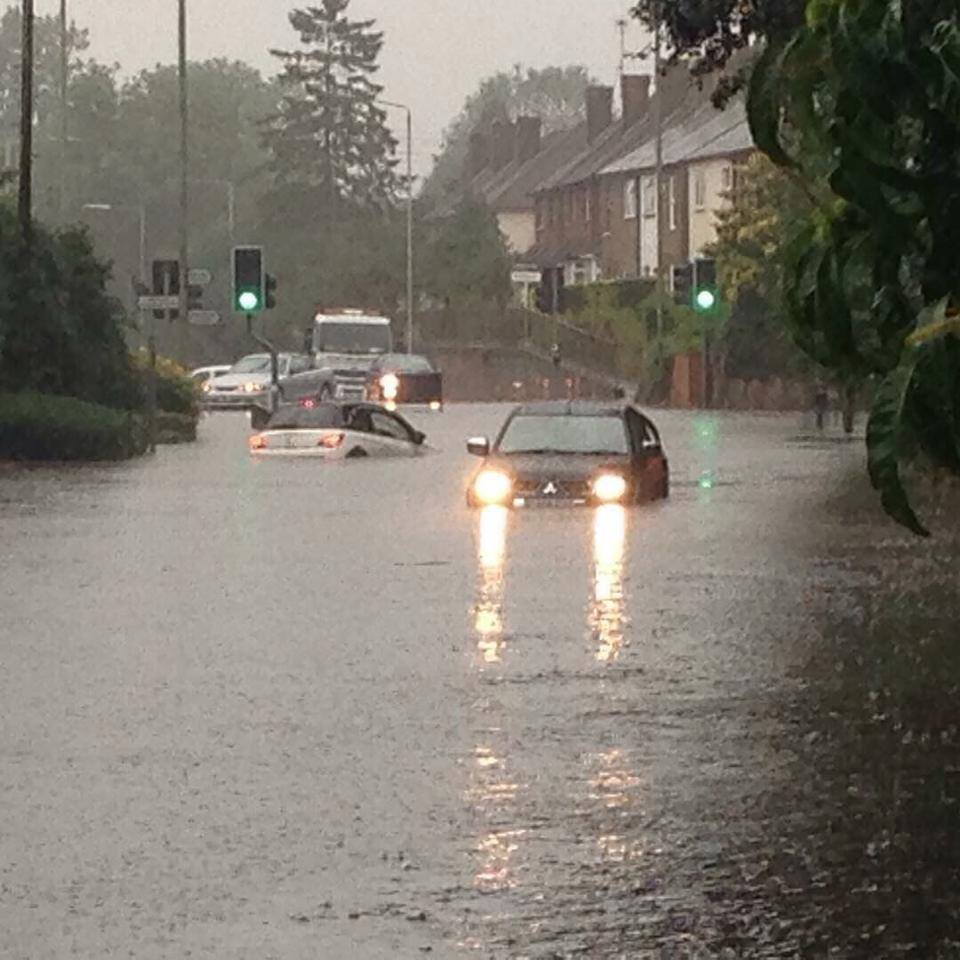 Reports are coming in that roads in Bishop's Stortford have been closed down because of flooding.
Police are warning drivers not to attempt to pass through it. They say a critical incident plan is in place.
Roads blocked are thought to include Stansted Road and Parsonage Lane.
Stansted Road is shut. DO NOT ATTEMPT TO DRIVE THROUGH IT. A critical incident plan is in place. http://t.co/nLaPqc1HwT
The Environment Agency is warning that the rainfall will bring a risk of localised surface water flooding, particularly for parts of Norfolk, Suffolk and Essex.
The Agency says it is monitoring the situation closely and supporting local authorities who will respond to any reports of surface water flooding. There are teams out on the ground working to reduce the risk of flooding, but the Environment Agency will issue flood alerts and warnings for rivers if required.
"Heavy rainfall on Friday night into Saturday brings a risk of surface water flooding for parts of south and east England. If you're driving away for the summer holidays, as always, please remember not to drive through flood water. People are urged to check their flood risk on our website, especially if you're holidaying in an area where you're not familiar with the flood risk."
– John Curtin, flood risk manager at the Environment Agency
A band of torrential rain and strong winds has swept across the Anglia region bringing down trees and causing localised flooding.
The video below shows the rain blowing horizontally across the street in Norwich city centre at 3pm.
Northamptonshire Police have reported very windy conditions across Daventry and South Northants with four reports of fallen trees.
Norfolk Police have issued warnings to drivers via Twitter:
#NorfolkRoads high winds have brought a number of trees down- drivers slow down- you don't know what is just around the corner
We are getting several reports of trees down across the county, due to adverse weather. Drive according to conditions #NorfolkRoads
The chart below shows where lightning has struck in the Anglia region in the hour to 1520 hrs.
Load more updates