River levels are still high in parts of the region after the heavy rain at the weekend.
Read the full story ›
The Environment Agency still had 15 flood warnings and 27 of the lower level flood alerts in place early on Monday morning after a weekend of heavy rain.
More than a fortnight's worth of rain fell in a day on Sunday in some parts of the Anglia region. It ran off already saturated ground and into swollen rivers.
It's expect that water levels will begin to fall during Monday as a mainly dry and sunny day is forecast.
Temperatures fell below freezing in the early hours of Monday in some parts of the Anglia region.
Send your images of any flooding in your part of the region to angliaweather@itv.com
Advertisement
Two weeks' worth of rain has fallen in just 24 hours across some parts of the Anglia region and triggered a number of flood warnings.
Read the full story ›
There's a warning of difficult driving conditions after more than 30 mm (1.2 inches) of rain has fallen in some parts of the Anglia region during Sunday.
There surface water flooding in many areas and the Environment Agency has issued a flurry of flood warnings and flood alerts as some rivers burst their banks.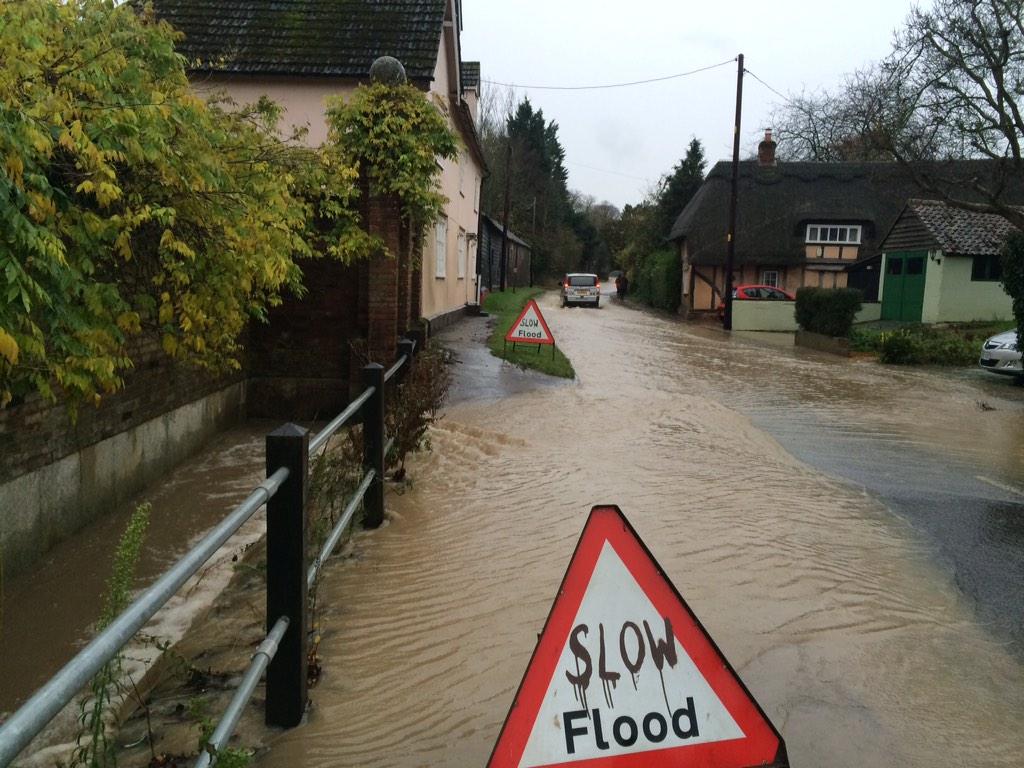 Share your pictures of any flooding with ITV News Anglia by emailing angliaweather@itv.com
Parts of East Anglia are facing flooding along some roads with some properties at risk as river levels rise. Up to 25 mm (1 inch) or rain has fallen since midnight which is the amount that usually falls in two weeks.
Trains services have been suspended in Norfolk because of flooding at Worstead on the line between Norwich and Sheringham.
By 3pm, the Environment Agency had issued four flood warnings and 15 lower level flood alerts.
Rainfall totals in the Anglia region on Sunday until 3pm
28 mm at Higham near Bury St Edmunds, Suffolk
24 mm in Santon Downham, Suffolk
23 mm in Norwich
21 mm at Andrewsfield near Braintree, Essex
20 mm in Weybourne, Norfolk
19 mm in Writtle, Essex
18 mm in Cambridge
13 mm in Bedford
9 mm in Northampton
Abellio Greater Anglia services between Norwich and Sheringham have been suspended due to flooding at Worsted.
Advertisement
The Environment Agency has issued flood alerts for parts of the Anglia region as a Met Office weather warning for rain remains in place.
Read the full story ›
As thousands of tonnes of Norwegian rock arrives at Lowestoft to build sea defences we ask the experts is it the best way to combat erosion?
Read the full story ›
The Waveney MP has called on the government to start work on protecting Lowestoft from the kind of storm surge that hit the town in December 2013.
Conservative MP Peter Aldous urged the Environment Secretary, Norfolk MP Liz Truss, to ensure that a flood alleviation scheme starts in 2015.
He said it would protect businesses from flooding and bring new investment and jobs to the town.
"This work is very important to the future of Lowestoft. It will provide long term protection to those residents and businesses who were so badly affected by last December's Storm Surge and will also give proper protection to the area surrounding the port, thereby enabling vital investment to take place which will help bring jobs to the town."
– Peter Aldous MP
Load more updates