Up to 30 mm (1.2 inches) of rain fell in the Anglia region on Friday 24 July 2015 and in some places a fortnight's worth of rain has fallen in just 12 hours.
Harpenden in Hertfordshire saw more than 30 mm of rain between 9am and midnight on Friday. That was on top of more than 50 mm (2 inches) that fell during torrential downpours and thunderstorms last Friday.
Rainfall totals between 10am and 10pm on Friday 24 July 2015
28.0 mm in Woburn, Bedfordshire
26.8 mm in Harpenden, Hertfordshire
24.2 mm in Charsfield, Suffolk
24.2 mm in Higham, Suffolk
23.2 mm in Cavendish, Suffolk
22.6 mm in Writtle, Essex
22.6 mm in Sawtry, Cambridgeshire
21.8 mm in Stowe, Buckinghamshire
21.0 mm at Norwich airport
19.2 mm in Northampton
18.4 mm in Bedford
17.0 mm in Cambridge
In an average July, 51 mm of rain falls in the Anglia region during the entire month.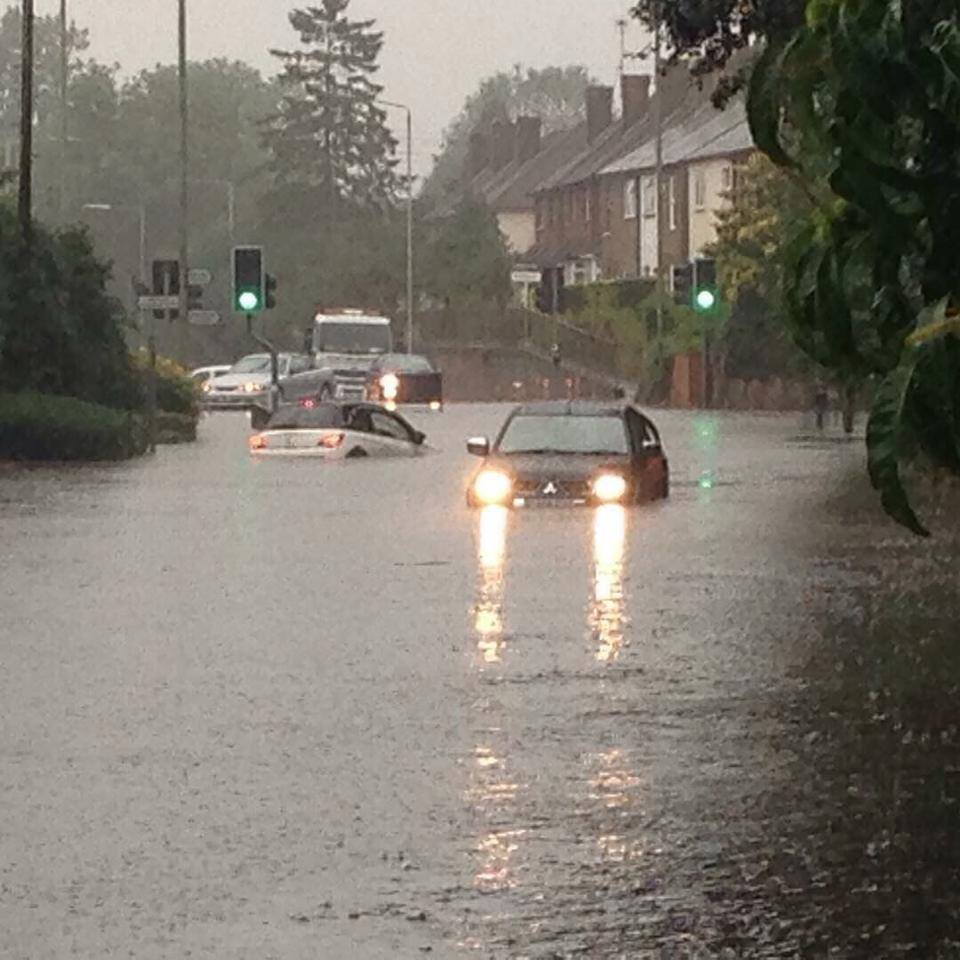 Reports are coming in that roads in Bishop's Stortford have been closed down because of flooding.
Police are warning drivers not to attempt to pass through it. They say a critical incident plan is in place.
Roads blocked are thought to include Stansted Road and Parsonage Lane.
Stansted Road is shut. DO NOT ATTEMPT TO DRIVE THROUGH IT. A critical incident plan is in place. http://t.co/nLaPqc1HwT
Advertisement
The Environment Agency is warning that the rainfall will bring a risk of localised surface water flooding, particularly for parts of Norfolk, Suffolk and Essex.
The Agency says it is monitoring the situation closely and supporting local authorities who will respond to any reports of surface water flooding. There are teams out on the ground working to reduce the risk of flooding, but the Environment Agency will issue flood alerts and warnings for rivers if required.
"Heavy rainfall on Friday night into Saturday brings a risk of surface water flooding for parts of south and east England. If you're driving away for the summer holidays, as always, please remember not to drive through flood water. People are urged to check their flood risk on our website, especially if you're holidaying in an area where you're not familiar with the flood risk."
– John Curtin, flood risk manager at the Environment Agency
A band of torrential rain and strong winds has swept across the Anglia region bringing down trees and causing localised flooding.
The video below shows the rain blowing horizontally across the street in Norwich city centre at 3pm.
Northamptonshire Police have reported very windy conditions across Daventry and South Northants with four reports of fallen trees.
Norfolk Police have issued warnings to drivers via Twitter:
#NorfolkRoads high winds have brought a number of trees down- drivers slow down- you don't know what is just around the corner
We are getting several reports of trees down across the county, due to adverse weather. Drive according to conditions #NorfolkRoads
The chart below shows where lightning has struck in the Anglia region in the hour to 1520 hrs.
Flood warnings have been posted for tidal rivers and around the East Anglian coast because of the unsettled weather and high tides.
Read the full story ›
A Flood Warning has been issued by the Environment Agency for the River Wid from Ingatestone to, and including Writtle.
The Agency says river levels continue to rise slowly from Saturday's rainfall and that flooding is expected for Stock Lane, Ingatestone is at risk and properties at Hylands Mill and around Writtle Bridge.
Over the next 24 hours the forecast is for no significant rain and river levels are expected to fall.
Advertisement
A Flood Warning has been issued by the Environment Agency for the North Bank Road alongside the River Nene, east of Peterborough and west of Dog-in-a-Doublet Sluice.
Flooding is expected for the North Bank Road alongside the River Nene to the east of Peterborough and the West of the Dog-in-a-Doublet Sluice during times of tide lock.
"Heavy rain on Saturday has caused river levels to rise on the River Nene. During periods of high tide the river will be unable to discharge into the sea, resulting in tide lock conditions. This is likely to lead to localised flooding at North Bank Road."
– Environment Agency
There are also more than a dozen Flood Alerts in force across the Anglia region.
After a night of heavy rain and, in some places, snow, rivers have been put under strain. Flood warnings have been issued by the Environment Agency in parts of Cambridgeshire.
More than a fortnight's worth of rain fell in some areas in just 12 hours making it the wettest day since August.
In the 24 hours to 9am on Saturday, Holbeach in Lincolnshire had 28 mm (1.1 inches) of rain while Norwich recorded 27 mm.
Ellington, Hamerton and the Alconburys
Flooding is expected for Hamerton, Upton, Alconbury, Alconbury Weston and Ellington
"Water levels along the Alconbury and Ellington Brooks continue to rise following last night's rain. At Hamerton levels are still rising but may peak in the next few hours. At Alconbury Weston levels have risen fast and may continue to rise and stay high for some hours. This water will then make its way down to Alconbury and Brampton through the day keeping levels high."
– Environment Agency
An overnight flood warning on the Chediston watercourse at Halesworth was lifted at 9.35am on Saturday.
There are also several of the lower level Flood Alerts in place on rivers in Cambridgeshire, Norfolk and Suffolk.
River levels are still high in parts of the region after the heavy rain at the weekend.
Read the full story ›
The Environment Agency still had 15 flood warnings and 27 of the lower level flood alerts in place early on Monday morning after a weekend of heavy rain.
More than a fortnight's worth of rain fell in a day on Sunday in some parts of the Anglia region. It ran off already saturated ground and into swollen rivers.
It's expect that water levels will begin to fall during Monday as a mainly dry and sunny day is forecast.
Temperatures fell below freezing in the early hours of Monday in some parts of the Anglia region.
Send your images of any flooding in your part of the region to angliaweather@itv.com
Load more updates