Stevenage driver Lewis Hamilton has finally agreed a new contract with Brackley-based Mercedes.
After months of speculation, he's now signed a three-year deal.
The World Champion will apparently pick up at least £25million a year.
That would make him the highest-paid British sportsman, ahead of Real Madrid star Gareth Bale.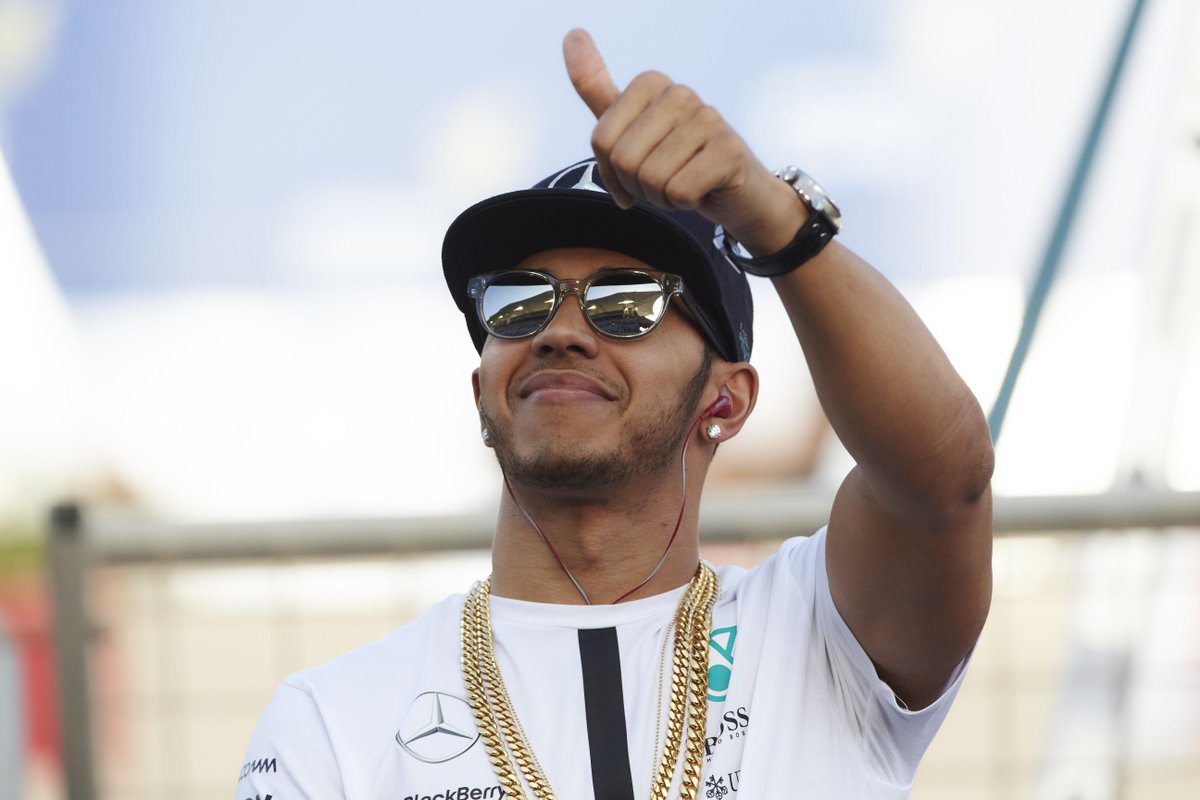 Stevenage's Lewis Hamilton's has been voted as the BBC's Sports Personality of the Year.
The Formula One world champion was presented with the award at a ceremony in Glasgow last night.
He beat golfer Rory McIlroy and runner Jo Pavey to the prize, claiming 34% of the votes.
"I am really, really taken aback. I am overwhelmed and feel so honoured.

When I was growing up in Stevenage, of course I wanted to be a racing driver and be the best in the world but I didn't ever contemplate all the people who would support or follow me. I just wanted to be the best."
– Lewis Hamilton, BBC Sports Personality of the Year winner
Advertisement
Lewis Hamilton has urged former team McLaren not to ditch Jenson Button.
Hamilton has backed his former team mate after rumours McLaren look set to make a move for Fernando Alonso.
Hamilton, who partnered Button at McLaren for three years from 2010-2012, believes the decision should be a no-brainer decision for Group CEO Ron Dennis.
Jenson is better than most of the (current) drivers. He's a great driver, still one of the strongest drivers here, and he's had an amazing career. He's also a decent guy, so it doesn't correlate... If I had a team, I would want him in it because he's a great asset for any team, so I hope it's not the case (he is leaving).
– Lewis Hamilton
Hamilton, meanwhile, heads into Sunday's Brazilian Grand Prix full of confidence.
"In these next two races I'm going to do everything I can, and whatever the result at the end, it is the way it is, but I will know I did everything I could."
A memorial is being held today to celebrate the life of triple Formula One World Champion Sir Jack Brabham who died of kidney disease in May.
The event at Silverstone is due to be attended by some of the greatest names in Motorsport including Sir Stirling Moss, Sir Frank Williams and Sir Jackie Stewart.
Lewis Hamilton and team mate Nico Rosberg will hold clear-the-air talks following yesterdays Hungarian Grand Prix.
Hamilton refused to give way to Rosberg on lap 51 despite team orders to do so - a decision backed by Niki Lauda.
Going into the break with eight races remaining, Hamilton now trails Rosberg by just 11 points.
Rosberg has made it clear he feels Hamilton was in the wrong said: "Lewis didn't let me by, although he was ordered to so, so that's obviously not good and we need to discuss that internally."
Lewis Hamilton says his third place in the Hungarian Grand Prix proves he won't crack under pressure.
At the Hungaroring, a fuel leak caused a fire that wrecked his car, and given the damage and subsequent re-build he was forced to start from the pit lane.
A spin on lap one in wet conditions only compounded Hamilton's woes, yet in the face of adversity he again rose to third for the Brackley-based Mercedes team.
There was also controversy as he was asked to move aside for Rosberg at one stage, with the duo on different strategies.
Hamilton refused, which proved crucial as he managed to keep Rosberg behind him in the dying moments of the 70-lap race when the German was on a charge on fresh tyres.
"I saw one story that I would crack under the pressure, well these last two weeks have shown that's not the case, that I'm still in the fight and raring to go.

This break will be good for me now to re-energise, get fit, and with the car lighter (in the absence of the FRIC suspension system) I can maybe put some weight on and come back stronger, both physically and mentally."
– Lewis Hamilton
Advertisement
Lewis Hamilton has been backed for his decision to ignore team orders at yesterday's Hungarian Grand Prix by Mercedes' Niki Lauda.
The Austrian former World Champion Niki Lauda said he would have done the same thing had he still been racing.
Now Brackley-based Mercedes appear poised to ban such orders after telling Hamilton to allow team-mate and title rival Nico Rosberg to pass him at the Hungaroring.
Running third and fourth at the time on lap 51, both drivers were still in the hunt for the win, albeit Rosberg was on a completely different strategy and required Hamilton's compliance in order to take the chequered flag.
Stevenage-born Hamilton, however, stood his ground, going on to finish a remarkable third following his pit-lane start, whilst Rosberg had to settle for fourth.
Hamilton's is now just 11 points behind Rosberg in the standings.
Mercedes non-executive chairman Lauda, a three-times champion said:
"This race, with the safety car at the start and the wet conditions, was a completely different one.

So every minute you had to decide something different, and in this stress the team told Lewis he should let Nico by because he was on softer tyres and had to come in (pit again) anyway.

But in Lewis' position he was clear if he (Rosberg) had been in the DRS zone, Nico one second behind, he would have let him by.

But Nico never got that close. Therefore I understand why Lewis questioned the decision. He is fighting for the championship.

The call, which came out of panic as we were trying to make up for what we were losing, was unnecessary.

Looking back, Lewis did nothing wrong from my point of view. If it had been me, I would not even have answered the radio.

It is important Lewis said 'no, I'm racing my team-mate'. He did the right thing."
– Niki Lauda
The British Grand prix takes place at Silverstone this weekend, and the team based closest to the circuit are hoping one of their drivers will come out on top.
Sahara Force India has been at the home of british motorsport for seven years and know that a strong showing on Sunday will help them to keep on progressing.
"Last year we finished 6th, so our objective is to be 5th or higher this year and I think we're well on our way to achieving that - although it's early and there's still a lot of races left," Chief Operating Officer Otmar Szafnauer told ITV News Anglia.
The boss of Milton Keynes-based Red Bull Racing says Daniel Ricciardo's first F1 win is testament to the teams youth development programme.
In his 57th grand prix, Ricciardo took full advantage of a bad day at the office for Mercedes to claim his maiden triumph by taking the chequered flag in Canada on Sunday at Montreal's Circuit Gilles Villeneuve.
Christian Horner said: "It is a very special day in his life and career, and I am sure it will probably take a while for it to sink in.
"It is also a fantastic testament to the junior programme that we are discovering young driver talent on merit, like Sebastian and Daniel.
Lewis Hamilton will be training on a virtual simulator ahead of the Austrian Grand Prix.
Hamilton will have to learn quickly to get up to speed with Austria as it is a circuit he has never encountered before.
The Red Bull Ring circuit will host its first Grand Prix since 2003 next weekend.
Years and years and years ago, when I was 13 to 15, I drove it in a computer game, and I've obviously seen it on TV," said Hamilton.
"But once I get on the sim I'll learn it quickly. It shouldn't be a problem.
Mercedes driver Hamilton said the team will also be trying to work out what caused the problem in the Canadian GP last Sunday.
"I have a lot of training planned and I'll be in the simulator, and the team will be flat out trying to understand and fix for the next race the issue we had."
Load more updates