A teenager who fell ill after the Latitude festival in Suffolk at the weekend may have died from blood poisoning, according to organisers.
The 17-year-old boy passed away after being airlifted to hospital from the site at Henham Park.
A spokesperson for the festival said the teenager died of an "isolated medical condition", possibly blood poisoning.
The death is not being treated as suspicious.
A teenager has died after becoming ill at Latitude this weekend.
The man, who was in his late teens, had to be air lifted to hospital from the festival site at Henham Park near Southwold at about 4.30pm on Saturday.
Organisers confirmed he had died in the early hours of this morning due to an "isolated medical condition".
It happened as more than 35,000 people attended each of the festival's three sold-out days.
Advertisement
A teenager is in a fighting for his life in hospital this morning after becoming ill at Latitude this weekend.
He had to be air lifted to hospital from the festival site at Henham Park, near Southwold, at about 4.30pm on Saturday.
A spokesman for the East Anglia Air Ambulance said he had become "acutely unwell and was treated on the scene by EAAA medics".
The man, who is in his late teens, arrived at the Norfolk and Norwich University Hospital just after 5pm.
Lightning became part of the entertainment last night at Latitude Festival in Suffolk as the crowds watched former Blur frontman Damon Albarn.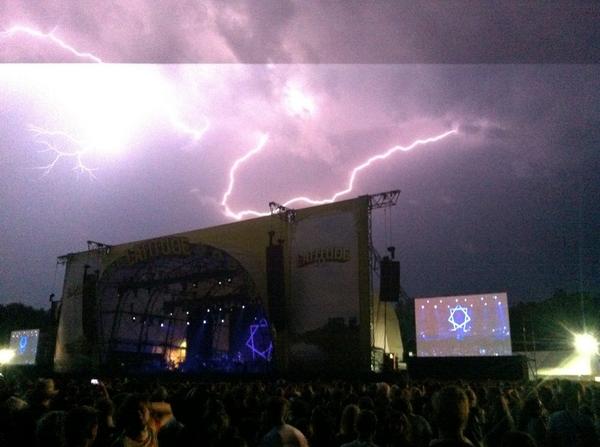 Thousands of people have been descending on Henham Park near Southwold in Suffolk for the Latitude Festival.
The event, in its ninth year, kicks off tonight with headliner, Lily Allen. The singer stepped in at the last minute to cover sickness.
The weekend is a mixed bag of arts, comedy, music and according to the forecast, weather too.
Latitude attracts some big names - this year they've got Chrissie Hynde, Alison Moyet and locals like Emma Freud and her partner, Richard Curtis.
"We have dance, we have West End shows on the Waterfront stage, we have a huge kids' area which is a festival within a festival really. There's something for everyone. Kids come, babies come, even my granny is here. So everyone turns up"
– Jennifer Roberts, Latitude
Click below to watch a report from Latitude by ITV News Anglia's Kate Prout
Latitude have suggested alternative routes to avoid delays on the A12 at Yoxford following a serious collision earlier.
If you are on the A12 stay on this route to travel to the festival site. There are diversions in place which will take you from Saxmundham via the B119 to Framlingham Castle where you can pick up the A1120 to Yoxford.
If you are travelling from the direction of London, Essex or Ipswich please use the A14 towards Bury St Edmunds and then turn off on to the A143 to Beccles, from here you can follow festival signage.
Advertisement
A man's in a life threatening condition following a crash between a car and lorry at Yoxford in Suffolk this afternoon.
The driver of the car has been airlifted to Addenbrooke's Hospital in Cambridge.
The lorry overturned into a nearby field, but the driver wasn't hurt.
Police have had to close a northbound stretch of the A12 at Yoxford, but the southbound carriageway is also being affected.
The closure is causing disruption for traffic heading to the Latitude Festival at Henham Park near Southwold.
Drivers are being told to avoid the area and the road is expected to be closed until at least 7pm.
Pop star Lily Allen will headline the opening night of the Latitude Festival in Suffolk after indie band Two Door Cinema Club pulled out of the event.
The decision comes after the band's singer, Alex Trimble, announced he was too ill to perform at the Henham Park arts and music festival.
Allen, whose latest album is entitled Sheezus, stepped in at the last minute to fill the slow.
The outspoken star sent her best wishes to the performer and said she was looking forward to taking to the stage at Henham Park.
She said: "So sorry to hear about Alex from Two Door Cinema Club. However I am more than happy to step in."
"I've never been to Latitude but I hear it's fabulous and I can't wait to get my heels on for some serious dancing action on Friday evening - so, so excited."
– Lily Allen.
Two Door Cinema Club issued a statement, saying: "It is with a heavy heart that we are going to need to cancel our upcoming shows at Latitude and Bournemouth Academy.
"Alex collapsed at Seattle airport on the way to London and has been hospitalised with a chronic stomach complaint.
"We are devastated to have to cancel shows that we were so looking forward to. We can only apologise and hope for your understanding at this time."
Melvin Benn, managing director of Festival Republic which runs the event, said he was sad that Two Door Cinema Club had been forced to cancel their performance "under advice of doctors".
He added: "We wish Alex all the best and a speedy recovery.
"We are honoured that Lily Allen is able to step in at the last minute and would like to thank her for filling the headline slot.
"After her show-stopping performance at Glastonbury Lily was a natural choice, the Latitude audience are in for something really spectacular."
Organisers of the Latitude Festival in Suffolk are encouraging local bands to play the Alcove Stage in July.
Read the full story ›
The final line-up of Suffolk's Latitude Festival will be announced today.
Blur frontman Damon Albarn, from Colchester, Manchester band James and Billy Bragg are among those already confirmed for the weekend event at Henham Park near Southwold.
Comedians Dara O'Briain and Jack Dee, as well as designer Vivienne Westwood and photographer David Bailey, are also set to make an appearance.
The festival takes place on Thursday July 17th to Sunday July 20th.
Load more updates