FA Chairman Greg Dyke has been to Lowestoft - where the FA has pumped some cash into a new centre for young footballers
Read the full story ›
The chairman of the Football Association Greg Dyke has been touring sports facilities in Lowestoft which he hopes will ultimately help protect the future of the game.
He was looking around the new pavilion at Dip Farm and the all weather pitch at Kirkley and Pakefield Community sports and social club.
The FA says it is committed to investing in grassroots football and that these two projects are examples of the work that is going on to improve standards.
Click below to watch a clip with Greg Dyke.
Advertisement
Three masked men burst into a house on Blyford Road in Lowestoft shortly before 5pm yesterday (Saturday) and assaulted the homeowner before stealing a quantity of prescription drugs and running off.
From the information we have, it appears these men spoke with foreign accents. We're looking to hear from those people who saw these men running off from the property which is near the Premier Inn. Although this was clearly a nasty experience for the homeowner, this was a targeted attack and so these three men do not pose a risk to the wider community.
– Det Sgt Matt Adams, Suffolk Police
Officers are now examining CCTV to see if the assailants have been captured on camera. The homeowner, a man in his 40s, suffered a minor injury to his leg.
Football Association chairman Greg Dyke was in Lowestoft today to open new FA funded football facilities. The new pavilion at Dip Farm will improve the matchday experience for local league sides and improve accessibility for disabled fans and women.
Mr Dyke also watched an FA Skills session taking place. The FA is funding two other facilities in the town including the construction of an all weather, floodlit, pitch which has enabled the launch of a 9 aside Monday night league.
A blow for the burgeoning professional career of Suffolk boxer Anthony Ogogo.
The Olympic bronze medallist from Lowestoft has had surgery to relieve pain in both of his Achilles tendons.
Ogogo's won all seven of his fights since turning professional in 2012 but pulled out of a contest in Las Vegas last year.
His tweet from the operating table suggests he is in good spirits though.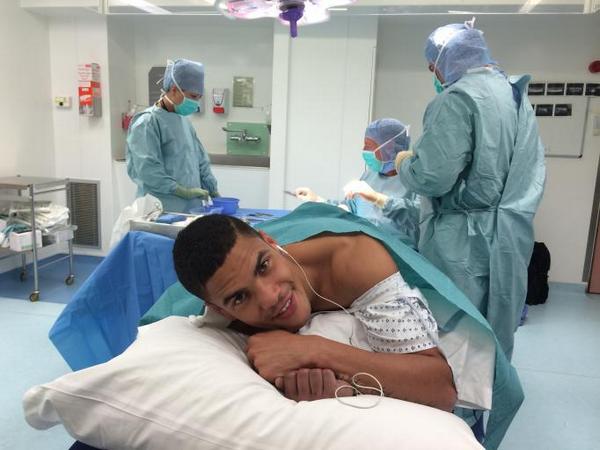 A man has been taken to the James Paget Hospital in Gorleston after being stabbed in Lowestoft.
Emergency services were called at around 3:45pm this afternoon to reports a man in his 20s had been stabbed in the St Peter's Street in the town.
Anyone with information about this incident is asked to contact police on 101.
Advertisement
A 38-year-old man will appear in court in Suffolk today accused of spraying a woman in the face with a corrosive liquid.
The alleged incident took place in Lowestoft, on Thursday and the victim, in her 20s, had to be taken to hospital with injuries to her face and neck.
Leon Thompson, 38, of Alma Road, Lowestoft, has been charged with throwing a corrosive fluid with intent to disfigure and cause GBH.
He will appear before Ipswich Magistrates today.
A 25-year-old man arrested in Lowestoft yesterday for conspiracy to commit grievous bodily harm remains in custody at the Great Yarmouth Police Investigation Centre.
Police have arrested a second man in connection with a chemical attack on a woman in Lowestoft on Thursday.
A 25-year-old man was arrested in Lowestoft on Friday afternoon on suspicion of conspiracy to commit grievous bodily harm.
He has been taken to the Great Yarmouth Police Investigation Centre for questioning.
A 38-year-old man arrested on Thursday for grievous bodily harm remains in custody.
A woman in her 20s remains in hospital with serious burns to her face, neck and chest following a chemical attack in Lowestoft on Thursday.
A corrosive liquid was squirted in the face of the victim at about 8.20am at London Road South.
A 38-year-old man remains in police custody after being arrested on suspicion of grievous bodily harm.
So far, officers have found two sports-style bottles matching a description given by a witness but have yet to determine whether they were used in the assault. They have been sent for forensic testing.
Police are continuing to urge members of the public not to pick up any discarded bottles in the area but to call police on 101.
Police in Lowestoft are urging people not to pick up any discarded sports bottles as they investigate a chemical attack in the town.
Officers were called to London Road South in Lowestoft at 8.20am after a woman suffered facial injuries when liquid was squirted in her face.
It is thought the substance was corrosive.
A witness has described the liquid being squirted from a sports-style bottle, possibly a Lucozade bottle.
Police are searching the area around London Road South, The Avenue, All Saints Road and along an alleyway behind the Kirkley cemetery to try to find the bottle which may still have some of the liquid inside.
Load more updates