A man has died in a house fire in Lowestoft.
Police found the body of the man at a property on Oulton Road North this morning.
Officers say they don't know yet what caused the blaze and an investigation's underway.
The road surrounding the house is still closed.
AKD Engineering Limited in Lowestoft is to close at the end of June 2015, which means 113 employees will be without work.
The decision follows 'several years of substantial losses, compounded by the current downturn in the oil and gas sector.'
"Despite a restructuring programme last year to keep the business going, market conditions mean that this is no longer realistic.

"Our thoughts are with our dedicated employees and their families and we will do whatever we can to assist them through this very difficult period".
– AKD's Managing Director Andrew Quayle
AKD Engineering has been in operation for 60 years, originally manufacturing Diesel engines for the local ship building industry, before becoming an engineering services provider to the Oil and Gas industry.
The Unite union called the news 'a massive body blow' to the workforce and their families, and for the local economy on the Norfolk/Suffolk border.
"We will be seeking an urgent meeting with senior management to see what options may be available to save or relocate these jobs. "This closure is an indication that nationally economic recovery is still very much centred on London and parts of the south east. We can ill afford to lose such skilled engineering jobs in this predominately rural area.

"We will be working closely with our members and all interested parties in the coming days and weeks to explore all employment opportunities for these workers."
– Unite regional officer Miles Hubbard
Advertisement
Singer Lil' Chris - who was found dead last week - suffered with depression and mental health issues for years, his family said.
Read the full story ›
The family of Lil' Chris have paid tribute to the Suffolk singer who was found dead last week.
24 year old Chris Hardman was found dead at a property in Lowestoft last Monday.
He became famous after he starred in the Channel 4 series Rock School when he was a pupil at Kirkley High in Lowestoft. He went on to have a successful solo career.
"Chris was a huge personality who will be missed by everyone who knew him. He was a hugely creative person who used this side of his personality to make others smile, to cheer people up, and to make others feel better. If he wasn't bringing joy through music he was telling jokes or pulling pranks. He was the sunshine on a rainy day, and could make friends the minute he walked into a room, making everyone smile with his gorgeous, cheeky face.

A real people person, he would always take the time to stop and talk, no matter who or when, and we are proud that he was so well thought of by all who knew him. So many commented on what a lovely, well brought up person he was, so polite and kind and a pleasure to know.

Chris had struggled with mental health issues and depression in recent years. He was committed to helping others find better ways of overcoming this illness and publicly said he wished to find a cure. Despite this, his concern was always his family and his friends, whose happiness was his priority.
– The Hardman family
A little girl from Suffolk who called for an ambulance while her mum was having a seizure, has been recognised for her bravery.
Read the full story ›
McBusted drummer Harry Judd has hailed his friend Lil' Chris as an "amazing guy" and "talented kid" following news of the Suffolk singer's death.
The 24-year-old from Lowestoft was found dead in the town on Monday morning.
Officers are not treating the death as suspicious.
McBusted recently performed a song in tribute to the singer because he used to support their former band McFly.
Now, Harry Judd has been sharing his memories of their time together.
Click below to hear the interview with Harry Judd
"Never has a support act had such an impact on us as a band.

We used to have him on stage with us, we'd never done that before. He was such an amazing guy."
– Harry Judd, McBusted drummer
Advertisement
Pop band McBusted played an emotional rendition of '(You Gotta) Fight for Your Right' in honour of their friend Lil' Chris last night.
Read the full story ›
People living in Lowestoft have been reacting to the death of singer Lil' Chris.
24 year old Chris Hardman became famous after he starred in the Channel 4 series Rock School when he was a pupil at Kirkley High in Lowestoft. He went on to have a successful solo career.
He was found dead yesterday morning. Police are investigating his death but say there are no suspicious circumstances.
Jim Rice has been in Lil' Chris's hometown of Lowestoft where people have been left shocked by his death
Rock legend Gene Simmons has paid tribute to Lil' Chris the singer he discovered on the hit show Rock School. Simmons formed a band from youngsters at Kirkley High School in Lowestoft for the Channel 4 programme. Lil' Chris real name Chris Hardman went on to have a successful solo career. The 24 year old was found dead in Lowestoft on Monday. Late this afternoon Simmons tweeted "He was loved. RIP Lil' Chris"
Sad to report Lil Chris from the Gene Simmons Rock School TV show, has passed on. He was loved. RIP, Lil Chris. http://t.co/ODlHs1bX6y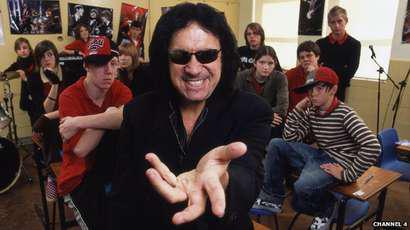 Lil Chris's former manager Alan Dodgeon has been paying tribute to the 24 year old after he died in Lowestoft
Read the full story ›
Load more updates