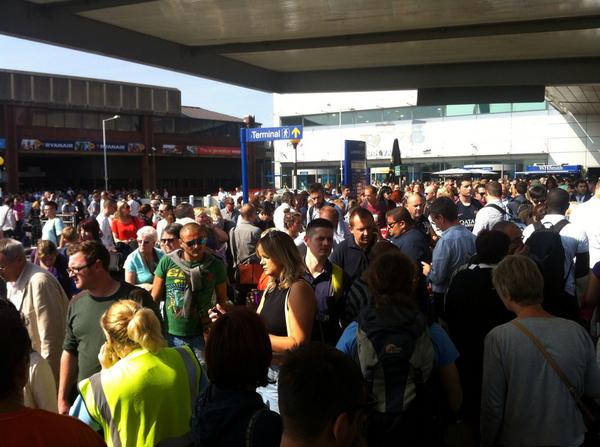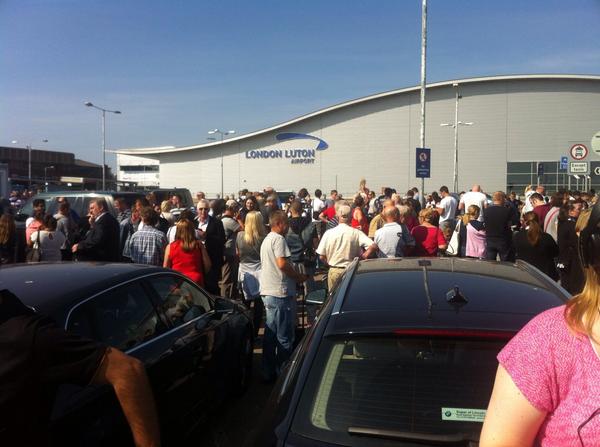 Advertisement
Luton airport in Bedfordshire has been evacuated following a security alert, disrupting air travel for thousands of passengers.
Pictures posted on Twitter showed travellers massed outside the terminal at Luton airport.
A spokeswoman for the airport said: "London Luton Airport has evacuated the terminal building after a suspicious item was found in the security search area.
"The decision has been taken with the police to ensure the safety and security of passengers and staff. Further updates regarding the security and operations at the airport will be provided as soon as possible."
More than five thousand jobs are set to be created at Luton airport which has been given the green light for a massive expansion
Read the full story ›
A 48-year-old man has been charged with attempting to smuggle cocaine worth £40,000 in the UK through Luton Airport.
Andrew Chitedze, of Bosman Road, Dalston in London, was arrested by Border Force officers last month.
He had just arrived on a flight from Madrid and is suspected of attempting to smuggle an estimated 1kg of cocaine, with a potential street value of £40,000.
Chitedze was later charged with attempting to import a class A drug.
He appeared before Uxbridge Magistrates on Friday and was remanded in custody until February 13th when he will appear at Isleworth Crown Court.
Luton Airport has helped the Sue Ryder charity raise more than £100,000 over the past two years.
Airport managers are thanking their staff, passengers and supporters for contributing to the appeal.
The money raised will fund more than 12,000 hours of care which the Sue Ryder charity can provide.
Advertisement
Plans to expand London Luton Airport have been approved by Luton Borough Council.
It means the airport will be able to increase capacity from 12 to 18 million passengers a year.
We have committed to developing an Airport which everyone in the local area will be proud of and passengers from all over the world will enjoy visiting.

In the year of our 75th Anniversary this is an exciting milestone for all of us at the Airport, the local area, and the millions of passengers who use us for business travel, to visit friends and family or to get away on holiday."
– Glyn Jones, Managing Director of the Airport
A decision is expected to be made today on the expansion of Luton Airport.
Luton Borough Council, which is a shareholder in the airport, is expected to approve increasing passenger capacity from 12 million to 18 million a year.
The council has received 455 objections.
Some councillors have complained about the timing of the meeting just before Christmas when some are away.
Staff at Thomson Airways will be showing off the company's new Boeing 787 Dreamliner aircraft at Luton today.
Carrying 291 passengers it will offer a greater range and more long haul destinations from the airport.
The company says pollution and noise levels will also be much lower than older aircraft.
A Council meeting in Luton this week will consider an application to increase the capacity of London Luton Airport from 12 million to 18 million passengers a year.
Officers are recommending approval for the application at the meeting on Thursday which will be held at Luton Town Hall at 4pm and is open to the public.
Load more updates