A man whose been in a coma for nearly two years after he was attacked outside a block of flats in Luton has died.
Henry Huggins who was known as 'Chin' was attacked on the Farley Hill Estate in August 2013 - he'd never regained consciousness.
Last year 40 year old Stuart Docherty was jailed for 17 years for stamping on Henry's head, causing his injuries.
His case has been handed to the Crown Prosecution Service and he could now face a charge of murder.
Bedfordshire Police are urging people to challenge their misconceptions about male sexual assault.
Last year nearly 17 percent of all serious sexual offences in the county involved a male victim.
During Men's health week, the force says it wants to encourage more men to report attacks.
"We have come a long way in debunking many of the common myths about rape and serious sexual offences – however, there is still a lot that needs to change. There is unfortunately a mindset in which people think men cannot be a victim of rape or serious sexual assault – that they are only the perpetrators. We know that these crimes exist between same-sex couples and indeed as male-on-male stranger attacks. Women too can be responsible for serious sexual assaults against men."
– Detective Inspector Jenni McIntyre-Smith
If you have been a victim of sexual assault or rape, you can report the incident to Bedfordshire police on 101 or contact Crimestoppers on 0800 555 111.
Advertisement
Police and bomb disposal officers are investigating a suspicious package in Luton.
Bedfordshire Police have advised that King Street Luton, Stuart Street and George St are also closed.
Luton Airport has had its busiest-ever May.
The Bedfordshire terminal handled more than one million passengers last month, a 15.7% rise on the May 2014 figure.
It is the first time Luton Airport has passed the million-a-month milestone before the start of the busy summer period.
Airlines Thomson and easyJet have just launched new routes from Luton while Hungarian low-fare carrier Wizz Air is opening up three new routes this month.
Luton is embarking on a £100 million redevelopment and investment programme that will see annual passenger numbers climb from 12 million to 18 million passengers by 2026.
Supermodel Kate Moss was escorted off a plane at Luton Airport yesterday afternoon after reports that she was being "disruptive".
Read the full story ›
People in Peterborough are most at risk of losing their home in our region, according to housing charity Shelter.
As many as one in 61 homes in the city are under threat of eviction or repossession.
Shelter suggests other 'hotspots' include: Luton (one in 70), Harlow (one in 78) and Stevenage (one in 92).
In total almost 800 people a week across the East of England face losing their home.
Advertisement
Hospitals are being urged to follow the example of the Luton and Dunstable Hospital and cut down the amount they spend on agency staff.
Read the full story ›
Luton is officially the poorest area in the East of England according to new figures from the Office for National Statistics. They show that the average expendable income in the town is a little over 13 thousand pounds - which is the ninth lowest amount in the UK
The county with the most money to spend in our region though is Hertfordshire - where the average is almost 22 thousand pouds.
An easyJet plane has been forced to return to Luton Airport after several cabin crew members reported feeling unwell.
The EZY 2083 flight was destined for Tel Aviv in Israel but had to perform a u-turn.
The airline said that the crew are currently being assessed as a "precautionary measure".
They also said that the flight will now leave tomorrow.
Melbourn HART team mobilised to Luton Airport for report of multiple persons unwell on a plane. MW http://t.co/cOEJPiCsDr
"easyJet can confirm that flight EZY 2083 from Luton to Tel Aviv today has returned to Luton as a precautionary measure due to cabin crew members feeling unwell.

The crew are currently being assessed by medical staff as a precautionary measure. The flight will be delayed overnight and passengers will be provided with overnight accommodation and meals.

The safety and welfare of our passengers and crew is our highest priority. We would apologise for any inconvenience experienced by the delay."
– easyJet
An easyJet flight destined for Tel Aviv in Israel has had to return to Luton Airport after several people reported feeling unwell on the plane.
Melbourn HART team mobilised to Luton Airport for report of multiple persons unwell on a plane. MW http://t.co/cOEJPiCsDr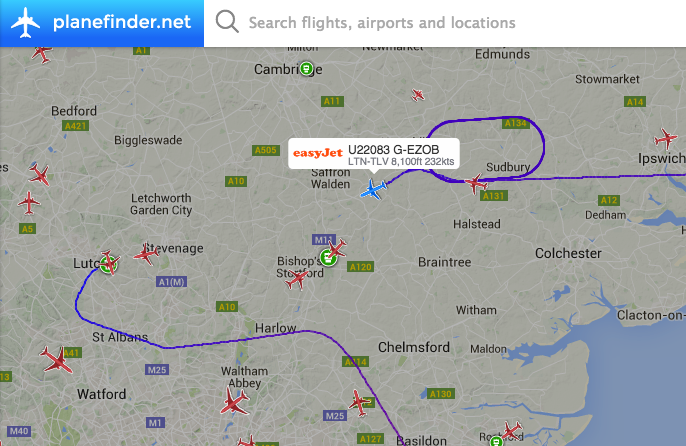 Load more updates