Henry Huggins' family told us the last few years had been a nightmare.
An inquest into the death of a man from Luton who spent two years in a coma after being attacked has found he was 'unlawfully killed'.
Henry Huggins was beaten unconscious in August 2013 when he was visiting his girlfriend on the Farley Hill Estate.
He never woke up, and died in June last year. Stuart Docherty who lived on the estate was jailed for 17 years for the attack.
Another man James Early of Whipperley Ring, Luton, was also convicted for two-and-a-half years for being involved with the assault.
Work to regenerate an infamous Luton estate will officially get underway today.
The £25 million pound project at Marsh Farm will see more than a hundred new homes built alongside shops and offices.
It is due to be finished in 2018.
Advertisement
A mother from Luton has spoken of her anger after her 4-year-old son's nursery school tried to refer him to a counter-extremism programme.
Read the full story ›
International travellers will be hit by plans to close the ticket office at Luton Airport Parkway railway station according to the area's MP.
Gavin Shuker has written to Thameslink saying the decision is short sighted as the airport is currently undergoing a huge expansion.
But the rail operator says selling tickets on the concourse will enable staff to give more help to passengers.
It claims there will be no staff cuts and new "Station Hosts" will have access to the same range of fares on handheld machines that are currently available from the ticket office.
Thameslink says the way people pay for their journeys is changing and many are being purchased online, using pre-payment cards or from machines.
An investigation is underway in Luton after shots were fired at a house in the town overnight.
It happened at approximately 1.30am this morning (Saturday) in Britannia Avenue.
A number of shots were heard and damage has been caused to a window. No-one was injured in the incident.
Detective Sergeant Simon Hancock from Bedfordshire Police told ITV News Anglia "We're appealing for anyone who may have heard or seen something of note in the area in the early hours of the morning to get in touch."
"This is understandably a disturbing incident however I'd like to reassure the community that we're carrying out a number of lines of inquiry to establish a motive and find those responsible. We have also increased our police patrols in the area."
Police in Bedfordshire have closed down a suspected drugs den.
It follows a raid on the property at Raglan Close in the Lewsey Farm area of Luton on Friday March 11.
Officers said they found evidence of drugs use and anti-social behaviour and secured a court order to close it down.
"We absolutely won't tolerate drug use and anti-social behaviour so we're really pleased that this warrant was carried out successfully and that the property has been closed down. Drugs ruin people's lives and can have a serious impact on our local communities."
– Sgt Richard Cunningham, Bedfordshire Police.
Advertisement
The northbound carriageway of the M1 motorway is closed at Luton as firefighters deal with a car on fire.
It follows an accident on the road at Junction 10 for Luton airport but Highways England say no one was hurt.
Traffic is being diverted via the slip roads.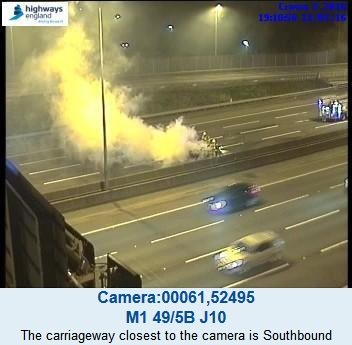 There has been a big rise in the number of passengers at Luton Airport.
Nearly 30% more people (870,000 people) passed through it in February this year than they did in the same period last year.
Luton is currently undergoing a £110 million redevelopment to increase its capacity by 50% by 2020.
Investigators looking into the death of a man whilst in police custody have referred the case to Crown Prosecution Service.
Read the full story ›
A man from Luton accused of planning to travel to Syria to fight for Islamic State has told a court he simply wanted to carry out aid work.
Read the full story ›
Load more updates