Crimstoppers are offering a three thousand pound reward for information after a series of distraction burglaries across Hertfordshire, Bedfordshire and Buckinghamshire. A gang have forced their way into the homes of the vulnerable and elderly across the region.
It's a subject which can be difficult to talk about especially among men - testicular cancer.
ITV's Lorraine Kelly has launched a campaign called 'Check Your Chaps' to raise awareness about the importance of checking for symptoms.
Cancer charities say that getting men to talk about their health problems is the key to saving lives. Watch Serena Sandhu's report and find a link to Lorraine's 'Check Your Chaps' page.
Advertisement
Meet Milly, winner of a competition to find the cutest dog in Suffolk.
Photographer Josh Coulson, from Ipswich, ran the competition last month. Of the 285 entries, only two dogs were chosen by all three judges.
The winner was Milly, a three-legged Boxer rescued as a puppy from a dog sanctuary in Spain by Dominic and Karen Stroud, of Red Lodge, Suffolk, for their seven-year-old son, Liam.
Second place went to Pepper, a six-month-old Great Dane.
Mr Coulson will now use a picture of Milly for his new dog photography business.
Tanya Mercer has been to see Milly and to find out what makes her just that little bit cuter than others. Here's her report:
And if you think your dog is even cuter, email us a photo at anglianews@itv.com or post it to our Facebook page before 1pm Wednesday.
Here are some of the photos you have emailed us - you can see many more on our Facebook page
Many places in the Anglia region have seen snow overnight but most schools are open. Some are extending arrival times.
Read the full story ›
People across the Anglia region have been posting their snow pictures on Twitter as the Met Office extends its weather warning.
Read the full story ›
People across the Anglia region have been posting pictures of the snow in their area on Twitter.
Send your snow pictures to angliaweather@itv.com
Knebworth area near Stevenage in Hertfordshire
St Neots area of Cambridgeshire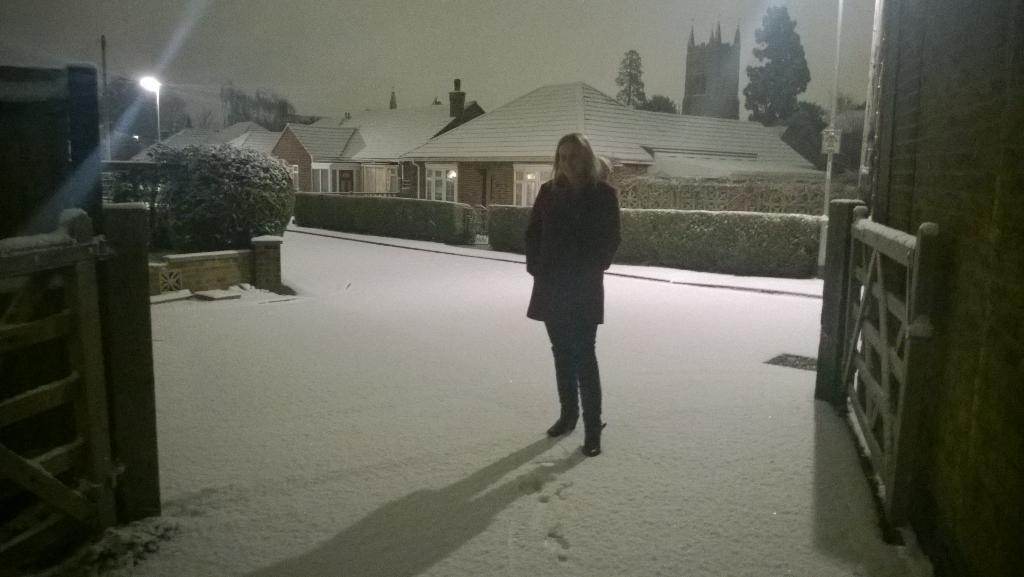 Bedfordshire south of Bedford
Advertisement
The Met Office has extended its yellow weather warning for snow and ice further westwards to cover all parts of the Anglia region.
The warning is in force until 10am on Tuesday 3 February 2015.
Snow has been reported on Monday evening in Norfolk, Northamptonshire and Cambridgeshire.
The Met Office says: "Showers of sleet and snow will affect the area overnight and for a while on Tuesday morning, bringing local accumulations of 1-2 cm, perhaps around 5 cm for the North York Moors. There is also a a risk of ice on untreated surfaces. The public should be aware of locally tricky driving conditions."
"A northerly flow will bring an air mass of arctic origin over the area. Showers will fall as snow inland and over hills, though may remain as rain or sleet near coasts, where the risk of ice may be higher."
– Met Office Chief Forecaster's assessment
Is it snowing near you? Tell us about it and send a picture to angliaweather@itv.com
More than 120,000 people in our region could be living with undiagnosed heart or lung disease, according to medical experts. But there is an important symptom of the diseases that many are overlooking.
Now a new campaign has been launched to encourage people to go to the doctor if they suffer from breathlessness - one of the most telling signs there's a problem.
Click below to watch Tanya Mercer's report:
Islamic leaders in Milton Keynes have condemned the actions of the the so-called Islamic State after the latest murder of a Japanese journalist.
They spoke out as mosques across the country gave people a chance to find out more about the Muslim religion. Organisers hope the national "Visit my Mosque' day will help people realise that most Muslims do not hold extremist views.
Click below to watch the report:
Five men have been jailed for a total of just over 17 and half years today for a series of phone frauds in which they posed as police officers to trick their victims out of thousands of pounds.
Mohammed Miah, 21, of Coopers Lane, Kings Cross, Muhammad Ahmed, 22, of Hemingway Close, Gospel Oak, Motahir Rahman 23 of Kiln Place, Kentish Town, Dedar Ali, 20, of Cressfield Close and NW5, Mohammed Hussain 23, Malden Crescent, NW1 all admitted conspiracy to defraud between March and July 2014.
The group stole more than £40,000 after they tricked 11 people into handing over bank cards and PIN numbers. Some 1200 cold calls to members of the public had been made by the gang.
One of their victims, an elderly woman in Hertfordshire, lost more than £20,000 over the course of 30 days when members of the group kept up the pretence and phoned her every day asking for more money.
In all the offences they posed as police officers or bank staff and told their victims that their bank accounts had been infiltrated by thieves.
They usually claimed to be from the Metropolitan Police and used the names DC Lescott, DC, DS or DI Rogers or DI Maguire.
Load more updates