Police are appealing for help to trace a 23-year-old woman who has gone missing from her Newmarket home.
Dana Creedon was reported missing earlier today, Friday 13 November, and, although she has been missing before there is concern for her well-being.
Police are asking her, anyone who may have seen her or anyone with information about where she is now to get in touch with Suffolk Police by dialling the non-emergency number 101.
Police are hunting a man wanted in connection with an armed bank robbery in Newmarket.
They were called at around 2.45pm today, after reports someone had entered a bank on the High Street with a weapon, and demanded money.
He is described as wearing a black balaclava and dark coloured jeans. The raider ran out the rear of the bank into Fred Archer Way.
Officers are currently investigating and a scene is in place.
Any witnesses should call the police non-emergency line 101
Advertisement
An exhibition is underway ahead of a new racing festival at Newmarket.
The Rowley Mile will host the inaugural Dubai Champions Festival tomorrow and Saturday. Over £2 million worth of prize money is up for grabs.
About 20,000 people are expected to visit the festival over the two days. It features a special interactive exhibition on Racing Excellence and the history of the Arab horse.
"This fabulous festival, spanning across two days, £2 million worth of prize money on offer, and alongside the fantastic racing we've got a whole host of activities for people to come and enjoy. Two fantastic days racing, but also two fantastic days out."
– Amy Starkey, Regional Director of Jockey Club Racecourses
Police are appealing for witnesses after money was stolen from a woman's purse within a café in Newmarket.
The incident happened in High Street around 4.30pm on Friday 2 October.
A 66-year-old woman was sitting in a coffee shop when two women entered the shop. One of the women approached her, appearing to collect money for charity and sat down in front of her asking for donations.
The female victim removed some money from her purse, handing this over to the woman and asked for change in return. The offender then placed a clipboard over the victim's purse. The victim then noticed that an amount of cash was missing from her purse and challenged the woman, who ran out of the café.
She was chased by members of the public and was seen getting into a blue Audi with foreign number plates.
The woman was described as Asian, had long dark coloured hair, approximately 20-years-old and was wearing a purple and grey striped top and dark coloured trousers.
Anyone with information relating to this crime should contact PC Nicholas Chapman from Mildenhall quoting NE/15/1652 on 101 or Crimestoppers anonymously on 0800 555111.
Eighteen horses fathered by champion thoroughbred Frankel are being sold at auction in Newmarket over the next three days.
Tattersalls has catalogued more than 500 lots in book one of their October yearling sale.
A filly by Frankel recently sold in Ireland for €1.7 million.
A 24-year-old man who was found guilty of grievous bodily harm after shaking a baby, causing her life-long injuries including partial blindness, has been jailed for two years.
Mark Spike was found guilty of grievous bodily harm at Ipswich Crown court.
Spike was charged in April 2014 following police enquiries into the injuries sustained by a baby girl in October 2013.
Paramedics had been called to an address in Newmarket in October 2013 to reports that the five-month-old girl was having breathing problems and vomiting.
The little girl is now registered blind and it is uncertain how the brain injury will affect her future development.
"One Consultant Paediatric Ophthalmologist concluded the appearance of the injury was highly suggestive of acceleration-deceleration that could occur with forceful shaking, and that the force required to produce these injuries would be far more than would be expected during normal play or rousing manoeuvres. The consultant concluded that these were the worst injuries seen in their career."
– Detective Inspector Adrian Randall, Suffolk police
Advertisement
A school in our region has become the first in the country to champion a new programme of active movement for children as young as three.
The idea is to get kids standing rather than sitting down as a major step in tackling obesity.
Tanya Mercer has been to the Old School House Nursery near Newmarket to see the children in action.
Click below to watch the report:
There's been travel misery for thousands of commuters today who found themselves stranded on the A14 after an early morning crash.
Two lorries were involved in the collision at junction 37 on the outskirts of Newmarket in West Suffolk.
It meant the road has been closed for a significant part of the day but has now re-opened.
The A14 (westbound) in Newmarket is now reopen following the recovery of two HGVs from an earlier collision.
Delays are still significant and police remain at the scene due to new reports of a broken down lorry blocking one of the lanes.
Police are still advising motorists to avoid the area due to significant delays at this time.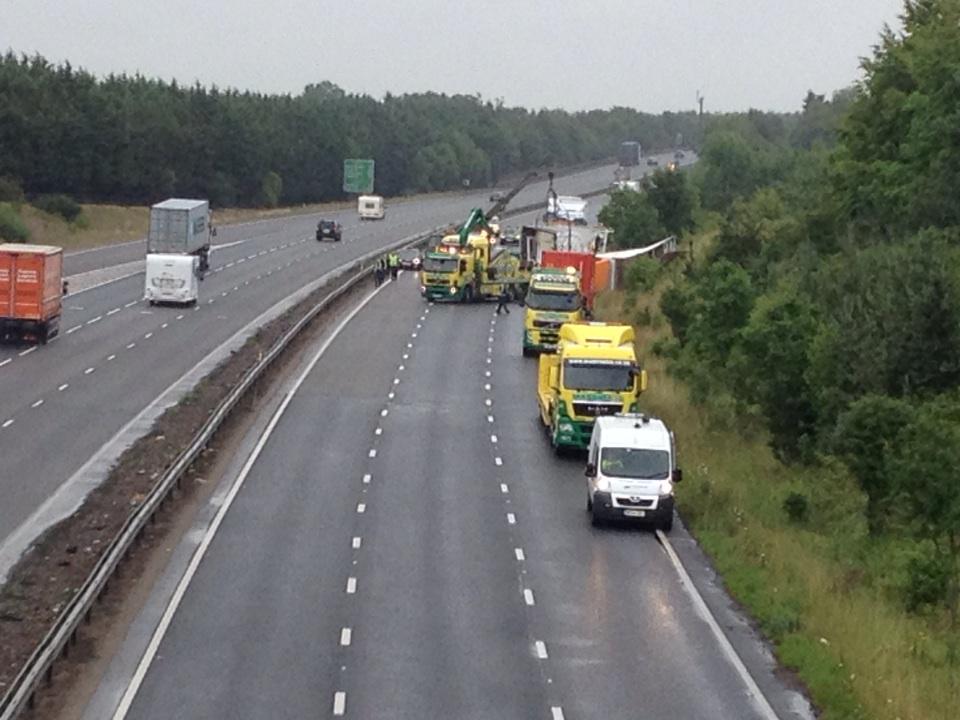 Load more updates