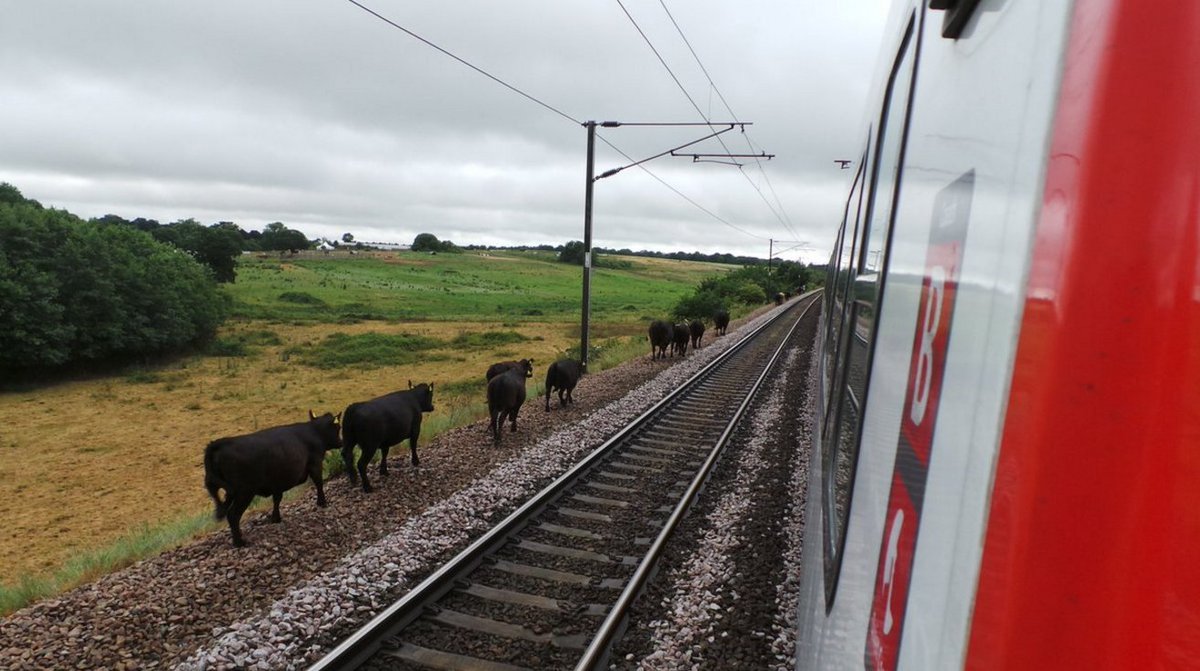 Forget leaves on the line or hot weather causing rails to buckle - Greater Anglia trains have been delayed by a herd of cows.
The bovine bother was caused after the animals got on to the track between Manningtree and Ipswich blocking the lines.
It's meant that many services have been cancelled and delayed.
As a result, trains are unable to run between Manningtree and Ipswich until the cows have been moved.
A summer heatwave has been replaced by a summer soaking with one corner of Suffolk seeing more rain in the past 24 hours than it did during the whole of April and May.
Santon Downham on the edge of Thetford Forest on the Suffolk-Norfolk border has had 78 mm (3 inches) of rain in the 24 hours to 6am on Wednesday 28 June 2017.
That is more than would normally be expected in the whole of June and more than the 75 mm that actually fell during April and May this year.
Rainfall in the Anglia region in the 12 hours to 6am on Wednesday 28 June 2017
48.6 mm in Santon Downham, Suffolk
36.8 mm in Marham, Norfolk
34.0 mm in Houghton, Norfolk
31.6 mm in Holbeach, Lincolnshire
28.0 mm in Higham near Bury St Edmunds, Suffolk
23.8 mm in Tibenham, Norfolk
21.8 mm in Andrewsfield near Braintree, Essex
21.8 mm in Writtle, Essex
21.6 mm in Wattisham, Suffolk
21.4 mm in Cavendish, Suffolk
Advertisement
Heavy rain gradually moves away northwards with largely cloudy but drier conditions will follow.
Read the full story ›
The Environment Agency has issued a flood warning for homes in the village of Oakington north of Cambridge.
As heavy rain continues to fall the Agency says properties and low lying areas around Oakington and Westwick will start to flood from around 4am on Wednesday 28 June.
"Heavy rain is currently falling in the Cottenham Lode catchment and will continue throughout the night (Tuesday 27 June).

"Cottenham Lode is reacting to the rain and is forecast to rise through the night.

"Properties and low lying areas around Oakington and Westwick will start to flood from around 4am Wednesday 28 June. Properties are advised to install their property level protection now.

"Remain safe and be aware of your local surroundings."
– Environment Agency
There are lower level flood alerts in other parts of the Anglia region:
River Stort and Stansted Brook Catchment in Hertfordshire and Essex
Bear Brook and tributaries in the Aylesbury area, including Wendover and Weston Turville in Buckinghamshire
Some parts of the Anglia region have seen nearly a month's worth of rain in less than a day as a deluge breaks a three-week drought.
Read the full story ›
Norfolk Police are urging drivers to take care on the roads on their way home.
Heavy rain has left roads waterlogged and made driving conditions tricky.
This picture shows the Thickthorn roundabout.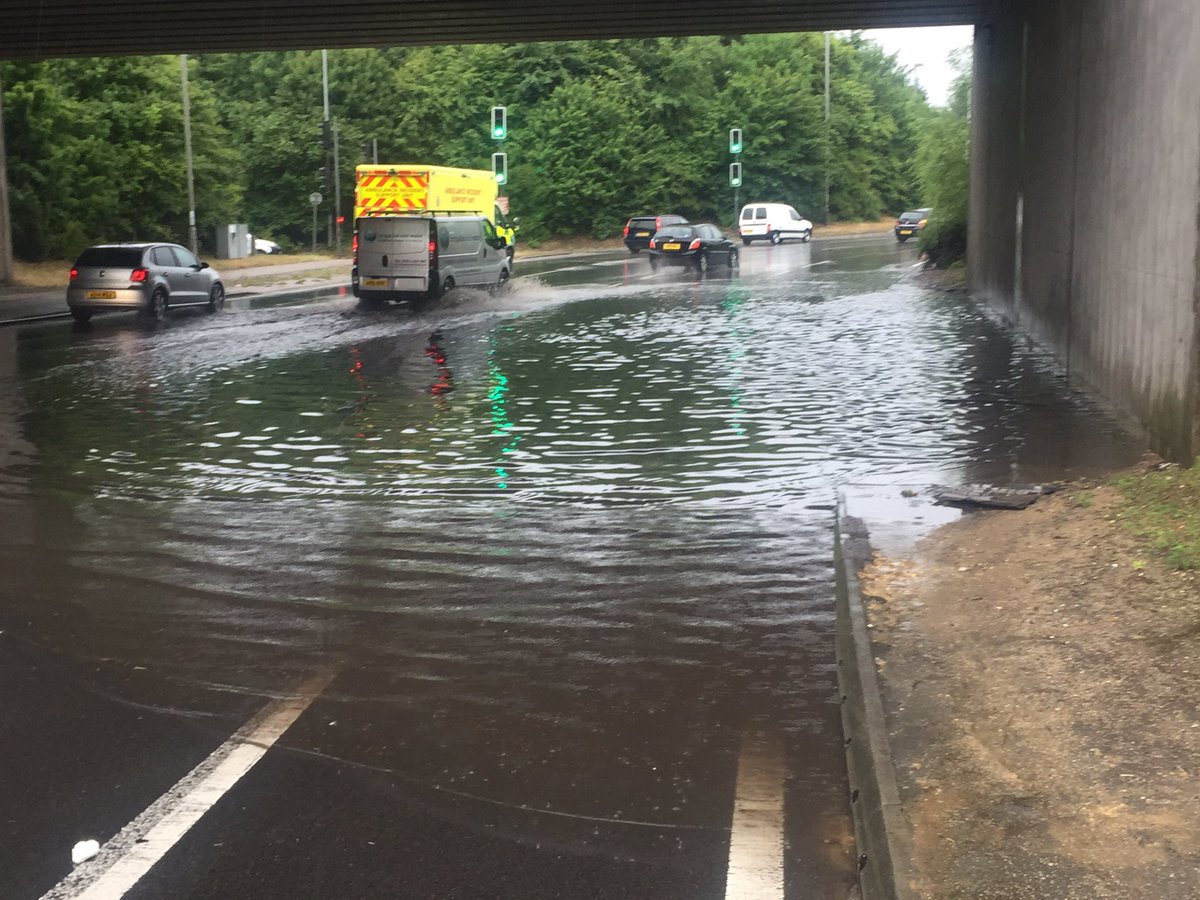 Advertisement
Police are appealing for information after lead was stolen from a church roof in Westwick, near North Walsham.
Thieves targeted St Boltoph Church in Worstead Road between 1pm on Thursday and 4pm on Friday (22-23 June 2017) and stole 29 metres of lead from the roof and damaged the building in the process.
Officers would like to hear from anyone who may have seen any suspicious activity between the times stated to contact them.
Anyone who may have any information about the incident should contact PCSO Rob King at North Walsham Police Station on 101.
Nearly £80 million is set to be invested in arts and culture across the East of England by Arts Council England.
Read the full story ›
Former Essex cricketer Monty Panesar and Norfolk commentator Henry Blofeld are among the stars taking part in a charity cricket match to raise cash for those affected by the Grenfell tower tragedy.
Monty is playing for Lashings, a team described as the Harlem Globetrotters of cricket, against a team of politicians in a T20 game in London. Blowers will be providing match commentary. They hope it'll raise thousands for those caught up in the disaster.
Load more updates