Reporter Olivia Paterson and cameraman Jonathon Stevens have been up, up and away in a hot air balloon to get some fantastic shots of the festival.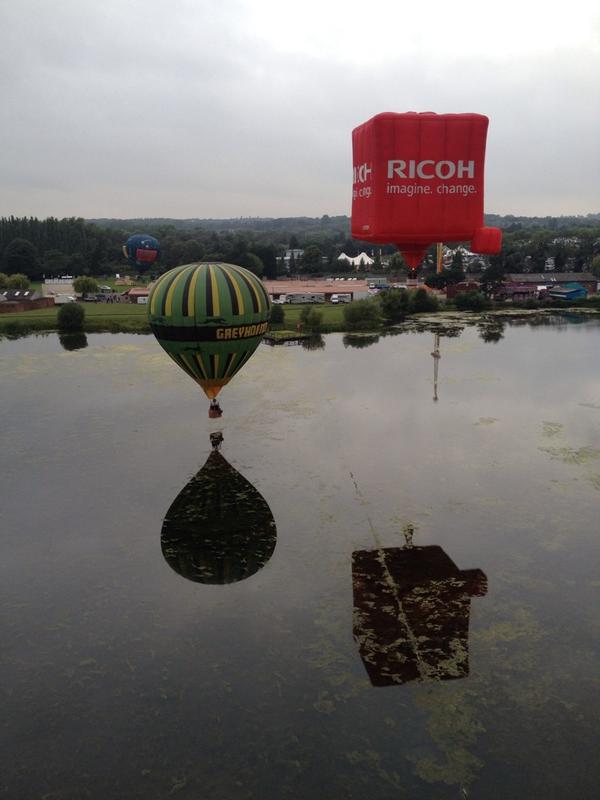 Advertisement
A work of art commemorating the closure of the Northampton to Peterborough railway line will be unveiled today.
The 12-metre high sculpture emerges from Stanwick Lakes near Wellingborough. The railway line was closed as part of the Beeching cuts and is now used by walkers and cyclists in the Nene Valley.
As the family of little Joey Ziadi continue to search for a bone marrow donor, Lynsey Dickson from the Anthony Nolan Trust explains why it's so important - and so easy - for people people to join the register.
A family looking for a bone marrow donor for their seriously ill son will hand out a thousand spit-kits at the Northampton Balloon Festival
Read the full story ›
A thousand "spit kits" are set to be handed out in Northamptonshire this weekend as a family continues its bid to find a bone marrow donor for a seriously-ill toddler.
Joey Ziadi, from Northampton, was diagnosed in February with Diamond-Blackfan anaemia (DBA), a blood condition that affects only 800 people in the world.
So far a matching bone marrow donor is yet to be found - but a campaign being run by his family and the Anthony Nolan stem cell register has seen a boost in the number of people signing up as a potential donor since Joey's plight first hit the media.
On Saturday, mum Kaisha Morris, 35, is hoping to encourage a further 1,000 people to join the register at Northampton Balloon Festival, at Billing Aquadrome, by running a marquee at between 9am and 6pm.
She said most people did not realise how simply the process of donating was.
Advertisement
Shop managers in Northampton are demanding answers after reporting they have lost up to 70 percent of trade during recent roadworks.
Businesses on Derngate Road say they hav been hit hard by road closures which Northamptonshire County Council insists are necessary to ease congestion and provide a more attractive entrance to the town.
Victoria Leggett reports.
Firefighters in Northampton have been damping down after flames tore through a derelict psychiatric hospital.
Around 80 crew members tackled the blaze which broke out late last night at St Crispin's in Duston.
The cause of the fire is not yet known but people living nearby say they think it was started deliberately.
Click below to watch a report by Russell Hookey:
Northamptonshire Police say a multi-agency meeting has taken place at St Crispin's Hospital this morning following a large fire last night.
Emergency services were called just before 11pm to a fire at one of the buildings on the former hospital site.
The road diversions in place at St Crispin's have been lifted, a one way system had been in place to allow fire hoses to lay along the main roads in order to get water to the site.
Now the fire has been extinguished local people are safe to open doors and windows. However, people are advised not to clear away any debris from the fire as it may contain asbestos.
The local authority emergency planning team is organising for specialist cleaners to visit the area and remove the debris as soon as possible.
The new play area at St Crispin's is closed while this work takes place, as debris has fallen in the area.
Northamptonshire Fire and Rescue Service were called to a small fire at the site on Sunday afternoon. Following that incident the Arson Task Force made contact with the developers who own the site on Monday about making improvements to site security.
A multi-agency inspection of the site has taken place this morning, although no one has been able to go into the building which was alight as it is still too hot to enter.
Investigations into the cause of the fire will only be able to take place once access to the site is possible.
Police are conducting an investigation into the circumstances of how the fire started and are appealing for anyone who may have any information about it to contact them on 101 or Crimestoppers anonymously on 0800 555 111.
Northamptonshire Fire & Rescue Service received calls to a fire at the site of the former St Crispin Psychiatric Hospital, Berrywood Road, Northampton late last night.
At the height of the fire 12 pumps, five 'special vehicles' and a total of 80 firefighters were tackling the flames.
ITV News Anglia viewer, Liann Foster, witnessed the blaze.
Click below to watch an amateur video by Liann:
Load more updates