Rugby World Cup winners have come together to support a cancer charity in memory of Northampton Saints former chairman Leon Barwell.
Stars like Jason Robinson and Matt Dawson took to the field for a charity game at the Sixfields stadium.
The game will help to raise money to support the families of other cancer victims.
Leon Barwell died following a battle with cancer in June 2013 aged 46.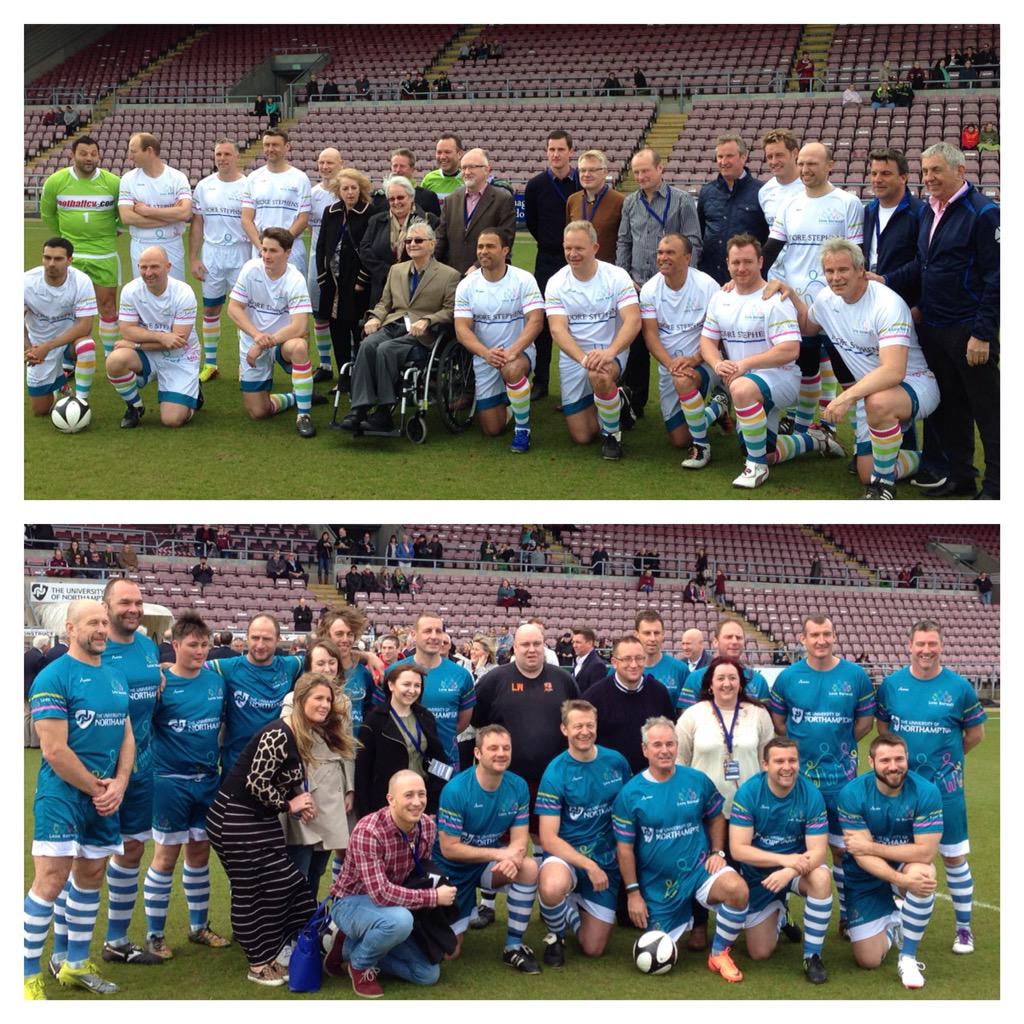 The Met Office has issued a yellow weather warning for the risk of strong winds extending as far south at the North Norfolk coast. The alert says it could lead to some disruption to travel and difficult driving conditions.
"Southwesterly winds will increase this morning with gales developing across north Wales, parts of northern England, the north Midlands and eastern England. Gusts of 50-60 mph are likely for a time, perhaps reaching 65 mph on exposed coasts of Lancashire and north Wales.

Winds should ease from the west later this afternoon."
– MET OFFICE
The weather warning is in force from 9am until 5pm on Sunday 12 April 2015
The Met Office says there is some uncertainty about the southward extent of the strongest winds.
The Chief Forecaster's assessment is: "A small depression is expected to run quickly east northeast today, crossing northern England early this afternoon. A swathe of southwesterly gales is likely to the south of the depression centre, but these should ease later this afternoon as the system moves away over the North Sea."
Advertisement
It was the warmest day of the year so far in the Anglia region on Friday with temperatures reaching 20°C, 7°C above the average for April.
Read the full story ›
You may not have been able to see it, you may not even have been able to feel it... but you were almost certainly breathing it in today.
There were high levels of pollution across the region - bringing warnings to anyone with heart or lung conditions to avoid over-exertion while outside.
It's been caused by a combination of dust from the Sahara Desert, pollutants from the continent and traffic fumes here.
Hannah Pettifer reports from Cambridge on the day when there was definitely something in the air...
Northamptonshire Police have launched a murder investigation following the death of a man in hospital last night.
He was taken to University Hospital Coventry, from an address in Cliftonville Court, Northampton, by air ambulance yesterday/Thurs.
Four people have been arrested and are assisting detectives with their enquiries.
"We are urging anyone in the area yesterday who saw or heard anything suspicious to let us know."
– Detective Inspector Lorraine Gordon
An election "battle bus" thought to have been used by Margaret Thatcher is back on the market in Northamptonshire after an Iranian buyer failed in attempts to export it.
The 28-tonne bus, built in 1983, is believed to have been used by Mrs Thatcher on a trip to Northern Ireland.
T
he bus was sold last year but the deal collapsed when the winning bidder had problems taking it out of the country.
It is powered by a 12-litre Rolls Royce diesel engine and has a top speed of 80mph.
Capable of seating 36 people, the bus has done about 14,000 miles, is bomb-proof and was thought to offer protection from chemical attack.
Aside from former prime minister Mrs Thatcher, previous owners include the Met Police.
Owner Nick Mead, who bought the bus in 2012, keeps it at his business in Helmdon, Northamptonshire.
Advertisement
Ninety three per cent of ambulance staff in the East of England are suffering from stress according to a survey by the union Unison.
The survey – of 228 ambulance workers in the East of England – reveals that 74 per cent (160) are suffering with sleep problems, 72 per cent (156) said they felt irritable as a result and experienced mood swings and 62 per cent (134) suffered with anxiety.
Nearly a half of all staff (100) said they had to take time off sick because of work related stress and more than 52 admitted they were very close doing so.
A 21-year-old man was stabbed in Gold Street, Northampton in the early hours of Monday morning.
He was attacked outside Milleniums Pizza, and stabbed in the stomach at about 5am.
The attacker ran off and the victim gave chase along Gold Street, onto Kingswell Street, around the back of Dominos pizza and to the St Peter's Way roundabout where he stopped and called for help.
The wanted man was black or of mixed race, in his early 20s, of muscular build, with dark hair and about 5ft 10ins to 6ft tall. He was wearing a grey tracksuit or blue hooded top.
The victim was taken to hospital and is in a stable condition.
Dodging polar bears and enduring freezing temperatures may not be your normal running hazards but they will be for Northampton's Chis Petrie.
The 47-year-old is competing in the North Pole Marathon. The race is due to start today, weather permitting.
It's not the first time a runner for the region's taken part Essex runner Fiona Oakes won the race back in 2013. You can see Fiona's win on the official race video below.
A veteran of the Falklands war who has struggled with nightmares, heavy drinking and the breakdown of his relationship says more needs to be done to help those suffering from combat stress.
Ken Campbell, a former Royal Engineer from Northamptonshire, says he has managed to turn his life around. Now he is determined to help others who have served their country.
Click below to watch an ITV News Anglia report:
Load more updates