The Prime Minister David Cameron is visiting Norwich today to announce a new Government push on apprenticeships.
Mr Cameron was joined by Chloe Smith, the MP for Norwich North during his tour of KLM engineering at Norwich airport.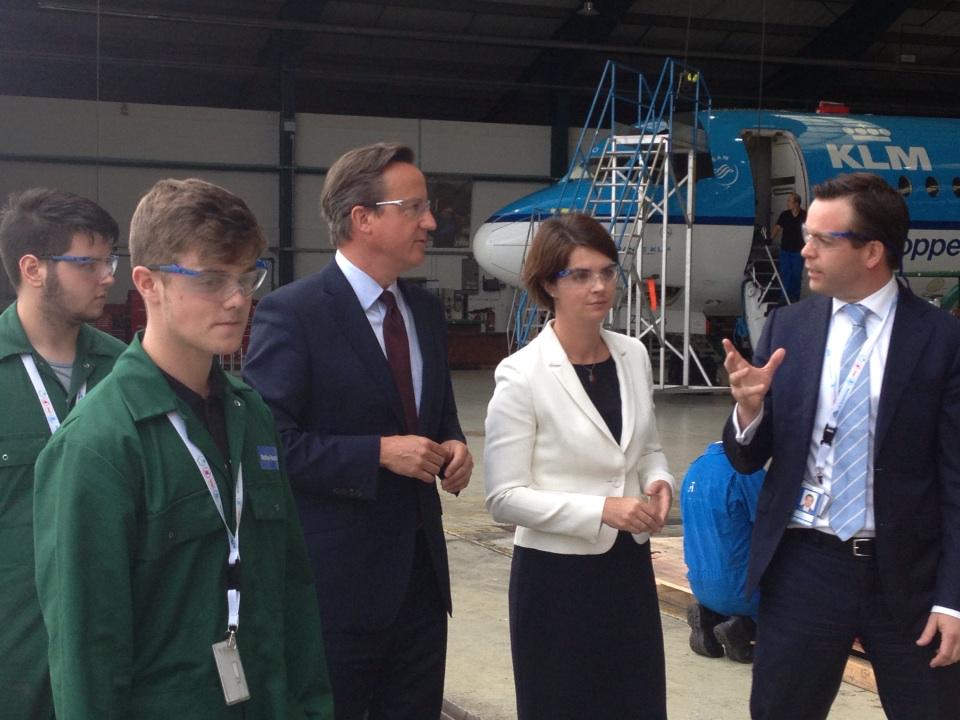 David Cameron wants to create 3 million extra apprentices over the next 5 years, with around 270,000 of them in the East of England.
He said any firms wishing to bid for Government contracts worth more than 10 million pounds, would have to sign up to the plans.
Championship side MK Dons have signed attacker Josh Murphy on a season-long loan from Norwich City.
The 20-year-old, who recently agreed a new deal at Carrow Road until 2017, has scored four goals in 29 appearances for the Canaries.
Murphy will train with his new team-mates this week and could be included in the squad for the Dons Championship clash at Reading on Saturday.
Murphy follows in his twin brother Jacob's footsteps, who made the switch from The Canaries last week, moving to Coventry City on a season-long loan.
Both were part of City's FA Youth Cup-winning team in 2013.
Advertisement
The mothers of the two teenagers who drowned nearly a week ago at a Norwich beauty spot have been paying tribute to their children ahead of their funerals on Saturday.
They've also released mobile phone footage of the last days of Stella Kambi who was 17 and Bonheur Musungay, the 14 year old cousin she was trying to save.
Stella's mother Angele Kasampilo said Stella was not only her daughter but her best friend.
Here is Natalie Gray's report:
The funeral of two teenagers who drowned at a nature reserve just outside Norwich last week is due to take place on Saturday.
Read the full story ›
BMX riders will pay a special tribute to their friend and fellow rider Ben Forwood when his funeral takes place
Read the full story ›
The friends and family of a teenager who died trying to save her friend from drowning have praised her as the sort of girl who wanted to help everyone.
14-year-old Bonheur Musungay and 17-year-old Stella Kambi, who were both Congolese, died at St Andrews Broad in Thorpe St Andrew on Wednesday evening.
Today those who knew them described them both as 'bright' and 'brave' people.
Advertisement
Norfolk Police has released the results of the post mortem examinations on two teenagers who died at a nature reserve just outside Norwich on Wednesday.
The official cause of death is confirmed as drowning.
The Director of the Congolese Community Association in Norwich says the families of two teenagers who drowned in a nature reserve on Wednesday are in 'serious shock'.
Elvis Beya, who is also a close friend of the families says the situation is 'beyond imagination.'
17-year-old Stella Kambi had tried to help 14-year old Bonheur Musungay who had got into difficulty in the water at Thorpe Marshes.
A huge search and rescue operation was carried out, but there bodies were later found that night.
Click below to watch an interview with Elvis Beya.
It's emerged that warning signs about the dangers of swimming had been removed at a beauty spot near Norwich where two teenagers drowned.
The youngsters aged 14 and 17 died in a lake at Thorpe marshes yesterday afternoon despite a massive rescue operation.
17-year old Stella Kambi and 14-year-old Bonheur Musungay, from Norwich had been enjoying a day out.
Today the mother of 14-year old Bonheur Musungay released a statement through the Norfolk Congolese Association.
"Bonheur was a very good child heavily involved in the local community and the church. He was very good at school and one day hoped to become a lawyer. This is a tragedy and it is devastating."
– Statement from Bonheur's mother
Click below to watch a report by ITV News Anglia's Kate Prout.
Norfolk police have named the two teenagers who died following an incident at a nature reserve on the outskirts of Norwich yesterday.
The teenagers who are close friends have been named as 14-year-old Bonheur Musungay and 17-year-old Stella Kambi.
The families of the two teenagers are being supported by specially trained officers from Norfolk Police.
Load more updates