Police in Peterborough have tweeted pictures of a cannabis factory they've dismantled.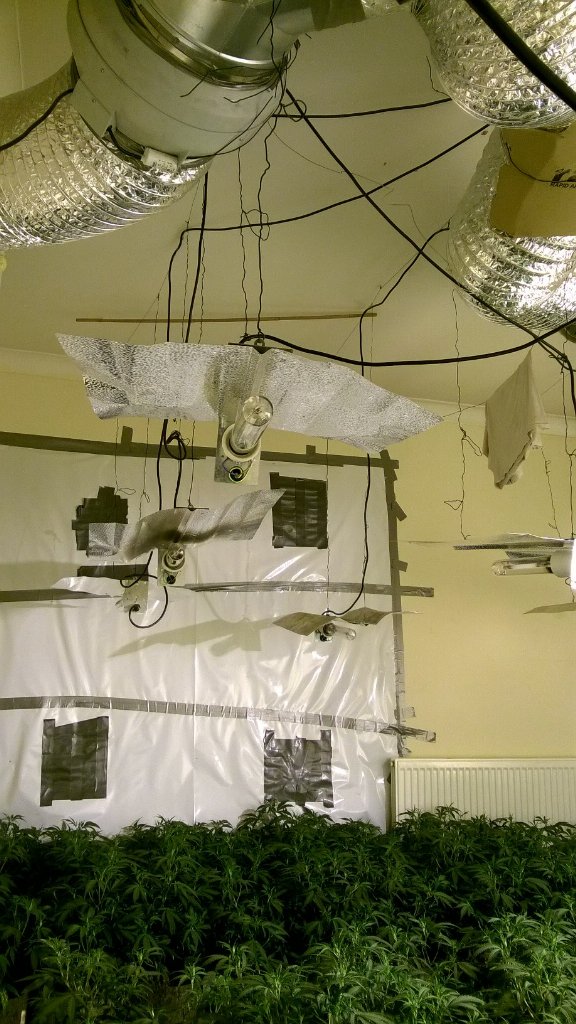 Police are appealing for information after a woman was robbed at knifepoint in Peterborough.
The victim, in her 40s, was followed by a man then who chased her and threatened her with a knife. He stole stole her handbag and ran off.
It happened at 1pm on 26 November in the Viersen Platz and Wharf Road area of town.
The man was described as being:
20-years-old
average build
around 5"6
olive skin
black hair
He was believed to wearing a grey hooded top, black jumper and dark coloured trousers and was carrying a red flip knife with a 10cm blade.
"This was a particularly frightening experience for the victim and is all the more concerning as the offender was armed with a knife."
– DC James Whitehead, Cambridgeshire Police
Advertisement
Video report by ITV Anglia's Stuart Leithes
A pupil counselling service run by YMCA is aiming to improve mental health in schools across Cambridgeshire.
The charity launched the pilot scheme last year to offer support to children and says existing services are overwhelmed.
One counselling service is set up at Gunthorpe Primary School in Peterborough. It encourages youngsters to talk about their feelings in play therapy sessions.
Video report by ITV Anglia's Matthew Hudson.
Peterborough hospital is among those now asking patients to bring their passport with them before some operations.
The idea is to help the NHS recoup any money it is entitled to for treating foreign nationals who need medical attention while in this country. It doesn't apply to A&E cases.
The project was disclosed at a session of the Public Accounts Committee.
The scheme has been criticised in some quarters but could end up being rolled out across the whole country.
"If you've paid in, if you're a taxpayer and a British citizen then for non-elective, non-emergency care you should have to prove that you're entitled to that care because health tourism can cost many hundreds of millions of pounds, that's money that we're not spending on frontline health care and I think it's absolutely right and I think every civilised country in the world does have these kind of checks."
– Stewart Jackson MP, Peterborough, Con
Almost 150 knifes have been recovered in amnesty bins in Cambridgeshire during a week long campaign.
Over the last year there has been a 37% increase in the number of people carrying weapons.
Police have been teaching young people about the risks of carrying knives.
Officers in Peterborough took mobile bins out into the community in an effort to reach more people.
I'm pleased with the response from the public and with the educational work that was carried out as part of the campaign. Taking more than 100 knives off the streets plays a part in making the county safer.

Our messages have been clear throughout this campaign. Knives ruin lives. Those who carry knives not only put people's lives at risk, but also face a lengthy prison sentence and a hefty fine.
– Inspector Mark Rogers, Cambridgeshire police
A winter livestock show which attracts exhibitors from across the country has been taking place in Peterborough.
The annual two-day East of England Smithfield Festival is a chance for famers to exhibit their best cattle and sheep for the judges to scrutinise.
It's a modern take on a show first held at Smithfield Market in London more than 200 years ago.
"It's a long history, it came here about 5 years ago, so it's running partnership with the East of England Agricultural society. We're continuing with the showing, to show off to other farmers the best in livestock, the best in technology, but we're also introducing activities for young people through the agricultural colleges to help them be better farmers in the future."
– William Haire, Festival organiser
Advertisement
A former Peterborough doctor has been jailed for more than two years after admitting seven charges relating to indecent images.
52-year-old Dr Michael Kennedy from Peakirk near Peterborough was arrested in March after police received information that someone at his address was downloading indecent images of children.
Dr Kennedy has been sentenced to two years and eight months in prison. He has also been placed on the Sex Offenders Register for life
Dr Michael Kennedy, a former doctor at Millfield Medical Centre in Peterborough, was suspended by the General Medical Council (GMC) after he was arrested.
In total, more than 80 electronic devices have been examined which uncovered more than 800,000 indecent images.
"While there was no evidence of any contact offending, nor first-generation images; ones which Dr Kennedy had taken himself, it is clear from what was uncovered that Dr Kennedy has an unhealthy interest in indecent images of children and extreme pornography.

"Never in my time as a police officer have I seen such an extensive collection of such images; more than 800,000 individual images all stored, filed and categorised like a library. The quantity of imagery recovered in this case makes this the biggest investigation of this type in Cambridgeshire."
– Detective Chief Inspector Neil Sloan, from the Public Protection Department (PPD)
A rare mushroom fly has been found in Peterborough. It is the second ever recorded find of the six-spot flat-footed fly in the UK.
The six-spot flat-footed fly is one of the mushroom flies, a group of flies that lay their eggs in specific fungi, Bjerkandera fumosa, a type of bracket fungus in this case often found on willow.
"One of the great things about studying invertebrates is the chance you may stumble on something rare even on your own doorstep. We can all take pride in the rare species found in our areas it is just a matter of going out and finding them."
– Alan Stubbs, Buglife Vice President
Three men who threatened to kill a family as they smashed into their home - armed with a stun gun and pepper spray - have been jailed.
Read the full story ›
CCTV images have been released of a man police would like to speak to in connection with a sexual assault in Peterborough.
The incident took place at Sprignall bus stop in Bretton at around 5.30pm on Monday 10 october when a woman in her 40s was approached by a man she did not know who sexually assaulted her.
The victim then got onto a bus and the man followed her. He sat next to her and assaulted her again. She then got off the bus at Oxclose bus stop and the man followed her until a friend met her.
Anyone with information should call the police on 101 or Crimestoppers anonymously on 0800 555 111 or through their anonymous online form at www.crimestoppers-uk.org.
Load more updates