A Peterborough man who groomed a teenager on Facebook before raping her in a hotel has been jailed for 16 years.
Imtiaz Baig, of Straight Drove, Farcet, had spent months messaging and calling the 16-year-old girl after first contacting her in late 2014.
The 37-year-old eventually convinced her to meet him at a hotel in Newark in August last year. He gave her alcohol before raping her.
The victim grabbed Baig's clothes and ran from away after persuading her attacker to go to the bathroom.
Baig was convicted following a trial last month and was sentenced at Wolverhampton Crown Court.
"I would like to pay tribute to the courage of the victim. Despite the trauma of the incident and the effect of the alcohol he had persuaded her to drink, she had the presence of mind to take his clothing and other belongings to prevent him from fleeing the hotel. "
– Det Insp Nikki Smith, Nottinghamshire Police.
The army is hoping to find its new generation of soldiers in Peterborough this weekend.
Potential recruits will get a chance to challenge themselves with a series of physical and mental tasks - including taking part in a simulated parachute jump and a hand-eye co-ordination test.
The event is aimed at the so-called Generation Z - young people aged 16 to 24 - and will take place at Queensgate Shopping Centre today and Sunday.
It comes as the army launches its new recruitment campaign called A Better You.
'It will encourage young people and those who influence them to notice the Army, and start having open conversations with real soldiers and their friends and relatives.

"They can discuss any reservations they may have about joining head on and take the opportunity to consider how much the Army has to offer them and whether it is the right career for them."
– General Chris Tickell, Army Recruiting and Training Division.
Advertisement
When Craig David made his comeback at the end of last year, the pop world erupted with excitement. And now, it looks like his fanbase is getting even younger!
A video of a girl from Peterborough, dancing away to Craig David's new song has received more than four million views on Facebook.
Craig David found the video "so amazing", he posted it on his Twitter.
The music fan can be seen bopping away in the car with her father, who encourages her to showcase her moves.
Police have released a picture of a man they want to trace in connection with a serious assault in Peterborough.
Detectives want to speak to Valerijs Pudovs, 48, about an assault on a 27-year-old woman at a property in Brynmore, Bretton, at about 10.30am on Monday 25 January 25.
The victim was taken to Peterborough City Hospital with serious but not life threatening injuries and has since been discharged.
Members of the public are asked not to approach Mr Pudovs but to call police if they see him.
Anyone with information should call police on 101 or Crimestoppers, anonymously, on 0800 555111.
Bagpipes aren't everyone's favourite, but for one little boy from Ramsey near Peterborough they may well be helping with his health.
Vincent Forkner is eight and has cystic fibrosis and cerebral palsy. And puffing on the pipes has improved his lung function.
He fell in love with the instrument during a family holiday to Stirling and thanks to a charity he now has his own set.
Click below to watch a report from ITV News Anglia's Liz Summers
Police have stopped a driver on the A1 near Peterborough after they were seen driving with a badly damaged windscreen.
Officers tweeted pictures of the car from outside and the driver's view from the inside.
They described it in one word "dangerous".
Can't believe this driver was driving on the A1, Peterborough. View of outside and from drivers seat Dangerous.1208 https://t.co/6UD24dEqo6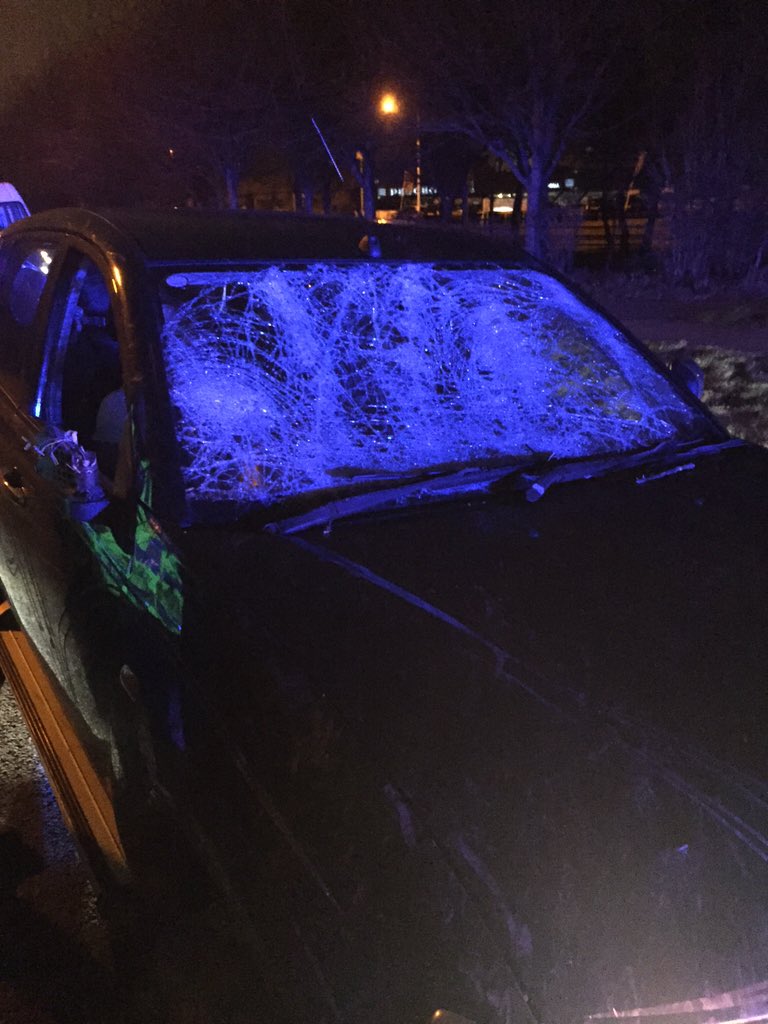 Advertisement
Police are hunting robbers who raided a fish and chip shop in Peterborough have released security camera video of the attack.
Read the full story ›
Approximately ten thousand people are expected to attend the East of England showground in Peterborough today for the country's largest farm machinery show.
The LAMMA event started at 6am this morning and goes on until 6pm tomorrow evening.
Motorists are being warned they face long delays around the area.
A man who seriously injured five people when he crashed his car at an illegal 'cruise' event in Peterborough has been jailed.
Anthony Francis, 21, lost control of his Mercedes while trying to do a manoeuvre called a 'drift' and ploughed into a large group of spectators.
Francis admitted five counts of causing serious injury by dangerous driving and one count of dangerous driving.
At Peterborough Crown Court Francis was given 18-month prison sentences on each count, to run concurrently, and disqualified from driving for two years.
PC Paul Nisbet, who investigated, said: "This was an horrific crash for those injured and for the many people watching and it is only luck that no-one was more seriously hurt or killed.
"The case should send out a clear message that those taking part in illegal events of this kind run a significant risk of being seriously injured, or worse, and if you happen to be driving, a prison sentence."
A project's been launched to find the relatives of First World War soldiers who left a series of poignant letters at Peterborough station.
Read the full story ›
Load more updates