The Conservative MP for Huntingdon, Jonathan Djanogly has been reacting to the news that bosses of two Cambridgeshire hospital trusts are recommending that they merge.
The trusts behind Hinchingbrooke Hospital and Peterborough City Hospital want to join together. Both have been plagued with financial problems and say becoming one trust would save £9 million a year.
Mr Djanogly told ITV News Anglia that the recommendation to merge goes against the opinion of the vast majority of his constituents.
Watch a short clip below.
Thousands of charity walkers took to the streets of London to raise money for breast cancer research in the annual Moonwalk
Read the full story ›
Advertisement
Students have found a parachute from a high altitude balloon they sent into the Near Space region of the earth's atmosphere.
Pupils at Fakenham Academy in Norfolk launched the balloon from Elsworth in Cambridgeshire, and it rose to more than 26,000 metres.
The balloon burst, as planned, when it reached high altitude and the parachute with a computer and camera attached came down at Bourne near Peterborough.
A woman from Peterborough who nearly died in a car crash as a child is raising money to support the charity that helped save her life.
Read the full story ›
Students from Fakenham Academy in Norfolk have launched a high altitude balloon nearly 30,000 metres into near space.
A previous attempt in February had to be postponed because of poor weather but today's conditions were perfect.
The balloon took off from Elsworth in Cambridgeshire with a computer and a camera attached.
It was hoped they would be safely parachuted down after the balloon burst on reaching high altitude.
But they lost sight of the parachute over Peterborough. A search is currently being carried out near Bourne where they thought the parachute would land.
Click below to see Steve Randall's pictures of the launch
David Cameron has arrived in Peterborough to celebrate his party's victory in the local elections.
Read the full story ›
Advertisement
The Conservatives have gained control of Peterborough City Council by winning an narrow overall majority after boundary changes increase the number of councillors.
The Tories lost power on the unitary authority in 2014.
A47 Bretton Peterborough eastbound closed. RTC investigation. Expect heavy delays. 351407/352454 https://t.co/nSPIq9mwM0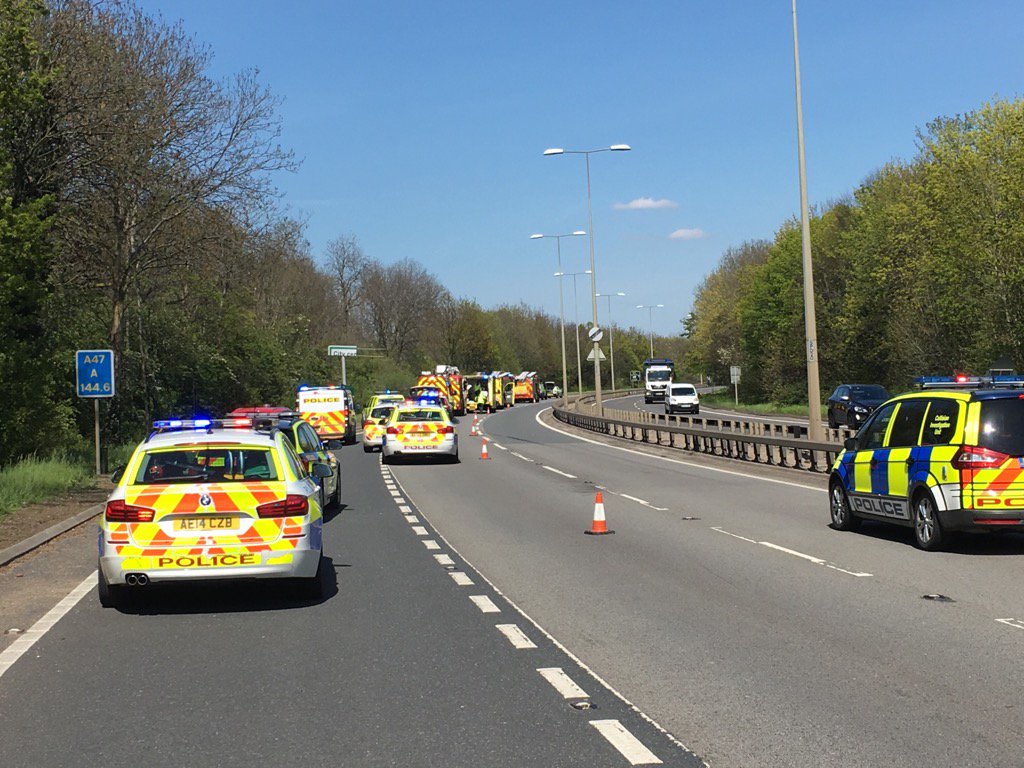 The A47 is shut in Peterborough following a serious crash on the city's Soke Parkway.
It happened close to Peterborough City Hospital.
The road is shut between junction 15 at Nene Parkway and junction 16 Bretton Gate and motorists have been earned to expect heavy delays.
Video report by ITV News Anglia's Mike Pearse
Celebrations have been held to mark the 40th anniversary of the High Speed Train.
When they were introduced they brought a new generation of faster travel all over the country and of course on the East Coast mainline.
The event was attended by locomotives from all over the country.
A man who caused a coach carrying around 70 passengers to overturn into a ditch in Cambridgeshire has been banned from driving.
Read the full story ›
Load more updates