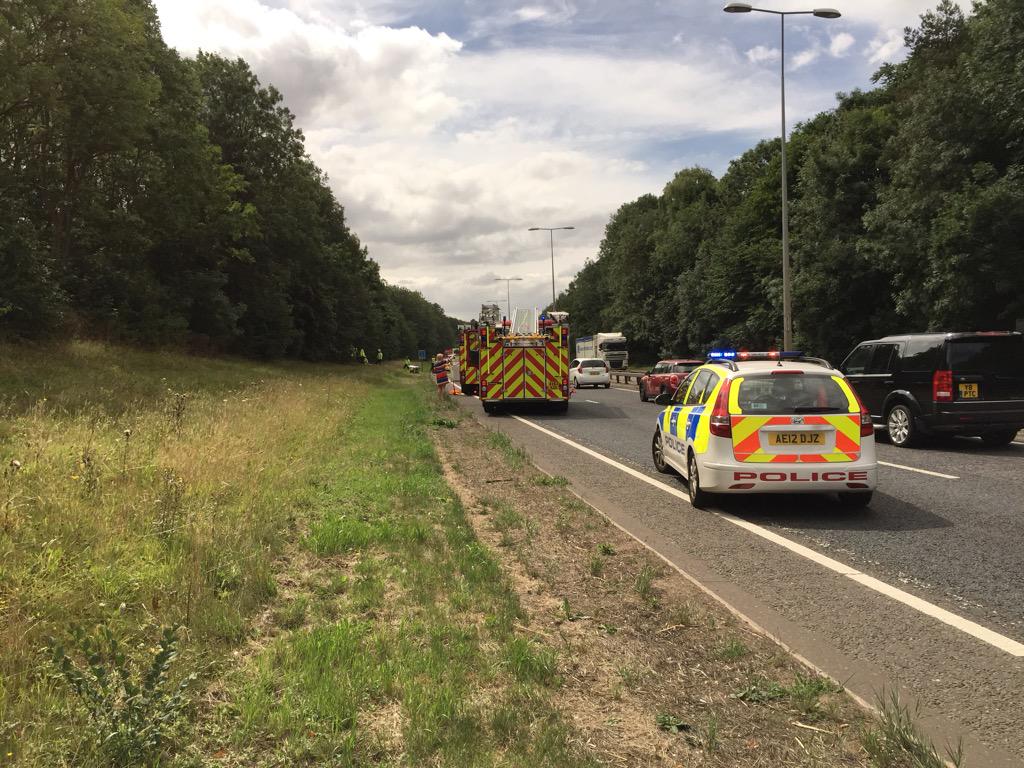 Lewis Kerr's brother has tweeted to say the family are hoping for good news from Addenbrooke's Hospital today.
Thanks for all your messages to Lewi and the family. Back up hospital today praying for some good news! Toughest bloke I know! Come on bro?
Advertisement
The joint boss of Peterborough speedway has added an emotional message to the flood of well-wishes for injured star Lewis Kerr.
The Newcastle and King's Lynn ace was airlifted to hospital following a horror crash in the Final of the Premier League Fours at the East of England Showground yesterday.
Specialist medics were flown in to treat Kerr at the track before he was taken to Addenbrooke's Hospital in Cambridge in an induced coma.
Dale Allitt, joint boss at Peterborough and promoter of King's Lynn Young Stars, said Lewis would have wanted tonight's meeting between Wolverhampton and King's Lynn Stars to go ahead.
He discovered Lewis Kerr as an up-and-coming speedway rider graduating from moto cross.
So wake up this morning first thing I think about is @lewiskerrracing. Cmon mate please wake up we all luv you fella.
The thoughts and prayers of everyone connected to Peterborough Speedway – and I'm sure the sport as a whole – are with Lewis.

"He is a great guy who I have known since he took his first steps in the sport with the Young Stars at King's Lynn.

"We can only hope for good news in the coming days. Lewis is a fighter and, if anyone can pull through adversity, it is him."
– Dale Allitt
Meanwhile British Speedway has announced it'll postpone the draw for the Premier League Riders' Championship which is due to take place in Sheffield next month.
Out of respect to Lewis Kerr and his family, we have taken the decision to postpone today's scheduled PLRC draw.
The wife of injured King's Lynn Stars speedway rider Lewis Kerr has tweeted her thanks for the support she's getting
Read the full story ›
A speedway rider from the King's Lynn Stars is in an induced coma after suffering head injuries in a crash at Peterborough
Read the full story ›
It's got to be up there as one of the most annoying sounds in modern life - the voice at a self-service check out - telling you there's an unexpected item in the bagging area.
To try and improve things, some Tesco stores in Peterborough are trialling a different voice - which is supposedly "friendlier and more helpful".
This time it's a man, rather than a woman - and it's got mixed reviews...
Click below to watch a report from ITV News Anglia's Sarah Cooper
Advertisement
There's some good news for supermarket shoppers in Peterborough because the frustration of being at a self-service checkout and hearing that dreaded phrase "unexpected items in the bagging area" is about to be a thing of the past.
Tesco is revamping all its machines and rolling out a new voice that's "friendlier, more helpful and less talkative."
It's now being trialled in Peterborough, but will be in all stores by the end of October.
Click below to compare the previous voice to the new one
It happened in a car park off St Mark's Street in the city centre at about 2am this morning (July 31).
The man, who was in his 20s, suffered serious injuries - although they're not thought to be life-threatening.
He was taken to Peterborough City Hospital.
Rail users on the train line between Peterborough and Ely could be given more say in how its run after the government announced plans to turn it into a community rail service.
The Hereward Line runs for 29 miles through Manea, March and Whittlesey.
If it is designated a community service, local people could have more say over the design and operation of passenger services.
"By designating the Hereward line as a community rail service, we can breathe new life into this route, ensure its long term future, and improve connections that will help grow the local economy."
– Claire Perry, Rail Minister
Nineteen rail lines around the country have been designated as community lines since 2005 including the Wherry Lines services between Norwich, Great Yarmouth and Lowestoft and the East Suffolk Lines between Ipswich, Felixstowe and Lowestoft.
Cambridgeshire Police are reminding fans to act respectfully at the forthcoming Chris Turner memorial game involving Cambridge United and Peterborough United.
The former Peterborough United and Cambridge United Manager passed away in April following a battle with dementia.
The game will be played at Peterborough's ABAX Stadium on August 1 (3pm kick-off).
Football fans can expect friendly and fair policing at the forthcoming derby match.

The police operation has been developed to ensure everyone has a great day out and the vast majority of fans will enjoy the event in the right spirit.

We can no doubt expect passionate and healthy rivalry between these two family-friendly clubs and their supporters and our focus will be on those whose behaviour has the potential to spoil everyone else's enjoyment.
– Chief Inspector Karen Newton
Load more updates