Police in Norfolk have seized these electric mini motos after they were seen being ridden through King's Lynn.
Officers tweeted this pictures with the hashtag "madness".
They said the riders of the miniature bikes did not have insurance or a driving licence.
An elderly man was threatened with what is thought to have been an iron bar when two men forced their way into his home in West Norfolk.
It happened at Wisbech Road in Tipps End, near Welney, last Thursday, January 28th, between 5.10pm and 5.30pm in the evening.
The men stole cash before running away.
The victim was not hurt.
Advertisement
Police have stopped a driver on the A1 near Peterborough after they were seen driving with a badly damaged windscreen.
Officers tweeted pictures of the car from outside and the driver's view from the inside.
They described it in one word "dangerous".
Can't believe this driver was driving on the A1, Peterborough. View of outside and from drivers seat Dangerous.1208 https://t.co/6UD24dEqo6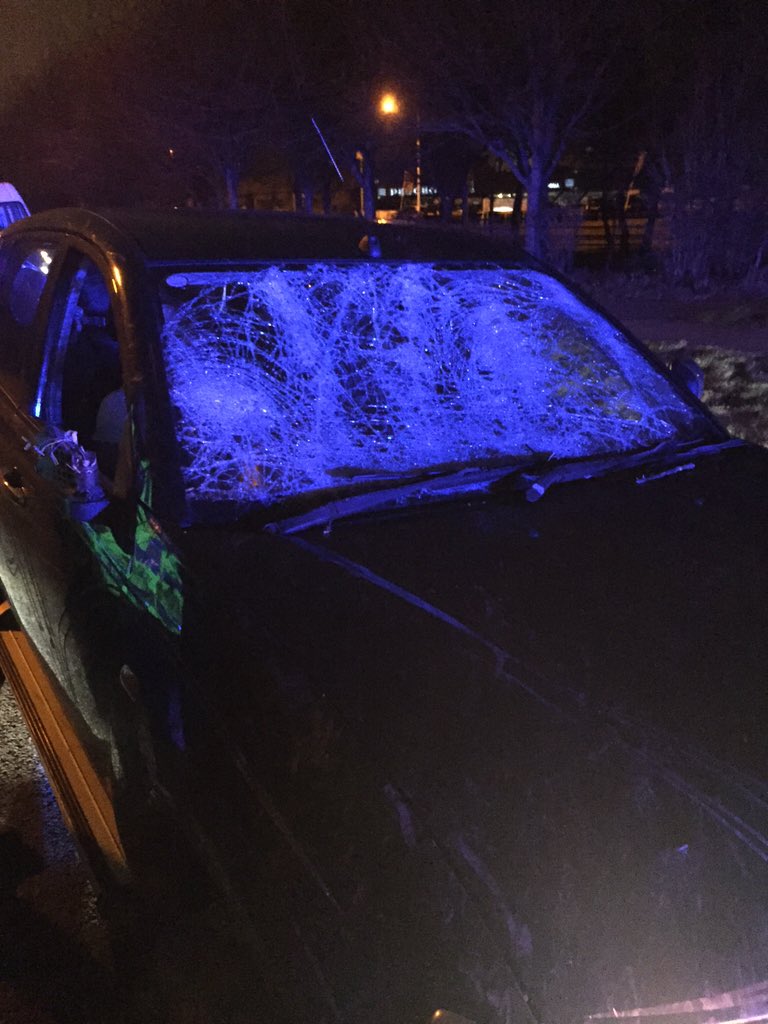 A man has been charged after 40kg of suspected cocaine was recovered from a van on the M1 in Bedfordshire.
Officers from the Roads Policing Unit stopped a Ford Connect at Junction 9 for Luton just after midday yesterday (January 19).
When they searched the vehicle they discovered suspected class A drugs thought to be worth up to £2 million.
Officers carried out further searches at an address in Borehamwood, Hertfordshire, where a substantial amount of cash and three firearms were seized.
Malcolm O'Halloran, 50, of no fixed address, has been charged with possession of cocaine with intent to supply. He was due to appear at Hatfield Remand Court today (Wednesday).
Hertfordshire Police is one of just two UK forces using a Polygraph machine. So how accurate can it be? One of our Reporters took the test.
Read the full story ›
A man has been arrested after police chased a stolen tractor for 15 miles across the Norfolk-Cambridgeshire border.
The police chase included a helicopter and they tailed the tractor for half an hour.
Officers were first called to a farm at Tilney St Lawrence, near King's Lynn, just before 8pm on Saturday.
They chased the vehicle to Oakroyd Crescent in Wisbech - around 15 miles away - where the driver jumped out and ran off.
The tractor - a Case Puma 160 - was abandoned just in front of homes on the residential street but police said no damage was caused.
Officers confirmed a man in his 20s had been arrested in connection with the theft.
Advertisement
Bedfordshire Police have released details of two cars stolen after burglars broke into a home in Flitwick and stole keys as the occupants slept.
Offenders broke into the home in Pipit Close in the early hours last Wednesday (December 23) and rifled through the homeowners belongings whilst they were fast asleep upstairs
They also took a wallet, mobile phone, leather appearance handbag and purse with butterfly pattern before making off in the vehicles - a black Audi and silver Ford Focus.
"This was obviously a very distressing crime in which two cars were stolen while the victims were asleep in the house.

"I would urge anyone with any information, or has seen either vehicle since the break in, to call police."
– PC Jonathan Gordon
The cars taken were a black Audi A4 registration YL07 MVR and a silver Ford Focus registration Y951 KGM which were parked outside.
Anyone with any information should call PC Gordon on 101 or Crimestoppers, anonymously, on 0800 555111.
A woman from Wisbech remains in hospital after being rescued from a submerged car after it came off the road in Lincolnshire and flipped upside down.
The 21-year-old was pulled from her Renault Clio by police and members of the public after it crashed into a water filled dyke by the side of the road last Sunday evening (December 27).
She remains in hospital.
Officers are appealing for anyone who saw the incident to come forward.
Twenty per cent more drink drivers have been caught in Northamptonshire this Christmas than at the same point last year.
The force launched its latest crackdown at the beginning of December and so far 69 people have been arrested for being over the alcohol limit.
At this time last year, just 58 people had been caught.
PC Chris Gray said the figures were worrying.
"It's bad enough to find one person who is willing to get behind the wheel of a car after drinking alcohol, but to have more than we did this time last year is very disappointing."
– PC Chris Gray, Essex Police.
Of the 69 people arrested so far this year, all but six were men. Those found guilty of drink driving face up to six months in prison, a fine, or a driving ban of at least one year.
The leader of Conservative-controlled Essex County Council has warned of big cuts and difficult choices after the government announced its funding settlement for local authorities across the country.
Cllr David Finch called the announcement 'more dismal than expected.'
Across the Anglia region, councils face a reduction in their spending power of £153 million.
"The settlement is even more dismal than expected. We are going to be around £50m worse off in grant cuts. This is going to be incredibly tough on Essex residents, and will mean difficult decisions ahead for the Council.

"It is particularly disappointing that not only is the Government cutting spending, but it has also looked to redistribute grants away from councils like Essex, despite us facing some of the biggest challenges affecting the most vulnerable in society such as Social Care provision.
– Cllr David Finch, Leader, Essex County Council
Load more updates