A man from Suffolk was cut with a knife after confronting a burglar in his home.
It happened at about midday on Thursday March 3 at a house in Water Street in Lavenham.
The victim returned home and found the burglar in his kitchen. The offender grabbed a knife from the worktop and cut the homeowner, causing a minor injury.
A robber who threatened staff with a six-inch knife at a travel agent's in Newmarket - five days after pointing a gun at cashiers in one of the town's banks - has been jailed for 11 years.
Joseph Walker, 52, of Marys Square, pleaded guilty to both robberies which took place in November last year, as well as possessing an imitation firearm and having a knife in a public place.
He was caught after workers at the travel agency at The Guineas Shopping Centre locked him in the foreign currency booth.
Walker later escaped after forcing police to withdraw by telling them he had a gun. But officers praised the staff for their actions which succeeded in slowing down the robber.
"I would like to comment the bravery of all those who were threatened by Walker and in particular the quick actions of the staff at the travel agency for locking him in the foreign currency booth, thereby hindering his ability to make an easy getaway."
– Det Ch Insp Barry Byford, Suffolk Police.
Advertisement
The police helicopter base at Wattisham airfield in Suffolk has been given a stay of execution.
The National Police Air Service, which runs the service, plans to close it as part of a project to cut the overall number of bases in the country.
Wattisham - which provides cover for Norfolk and Suffolk - will now stay open until April 2017 because of delays to the delivery of four lower-cost fixed-wing aircraft which were due to replace some of the fleet's helicopters.
A drug dealer from Wickford in Essex has been jailed for three years.
Daniel Hands, 34, of Long Meadow Drive was arrested after plain clothed officers spotted him dealing drugs in Church Road, Basildon on September 10 last year.
He was found in possession of 60 wraps of heroin and cocaine and arrested him on suspicion of possession with intent to supply class A drugs.
He was later charged with possession with intent to supply cocaine, possession with intent to supply heroin and possession of criminal property.
Hands pleaded guilty to all offences at Basildon Magistrates' Court and was sentenced to three years' imprisonment.
A number of police forces in the Anglia region have been told by the Inspectorate of Constabulary that they need to make improvements.
Read the full story ›
The Police and Crime Commissioner for Essex has met with the county's Fire and Rescue Service to discuss closer collaboration.
The government says that amalgamating emergency services and sharing resources will increase efficiency.
But the Fire Brigades Union says it's about cost cutting and could put the public at risk. The argument is that fire and rescue and police services work well together already.
It's looking at how, through closer collaboration - like shared buildings and management structures, this could be improved. But the fear is to what extent that amalgamation goes and whether it should be done under the governance of a Police and Crime Commissioner.
Click below to watch a report by ITV News Anglia's Tanya Mercer
Advertisement
Police in Norfolk have seized these electric mini motos after they were seen being ridden through King's Lynn.
Officers tweeted this pictures with the hashtag "madness".
They said the riders of the miniature bikes did not have insurance or a driving licence.
An elderly man was threatened with what is thought to have been an iron bar when two men forced their way into his home in West Norfolk.
It happened at Wisbech Road in Tipps End, near Welney, last Thursday, January 28th, between 5.10pm and 5.30pm in the evening.
The men stole cash before running away.
The victim was not hurt.
Police have stopped a driver on the A1 near Peterborough after they were seen driving with a badly damaged windscreen.
Officers tweeted pictures of the car from outside and the driver's view from the inside.
They described it in one word "dangerous".
Can't believe this driver was driving on the A1, Peterborough. View of outside and from drivers seat Dangerous.1208 https://t.co/6UD24dEqo6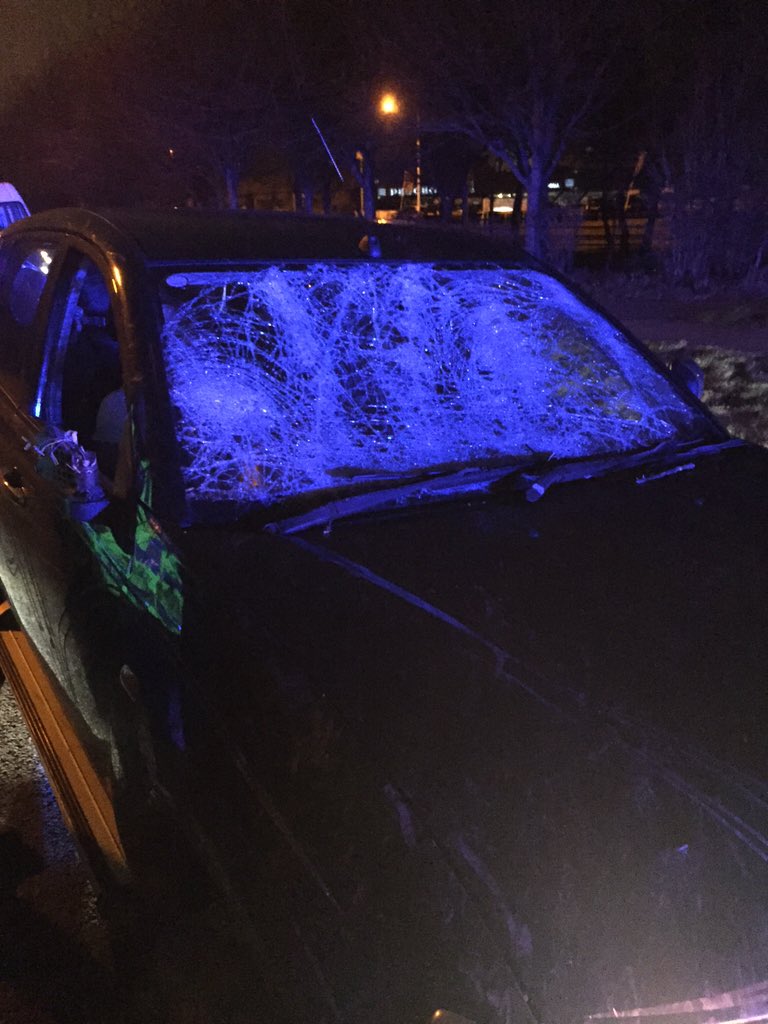 A man has been charged after 40kg of suspected cocaine was recovered from a van on the M1 in Bedfordshire.
Officers from the Roads Policing Unit stopped a Ford Connect at Junction 9 for Luton just after midday yesterday (January 19).
When they searched the vehicle they discovered suspected class A drugs thought to be worth up to £2 million.
Officers carried out further searches at an address in Borehamwood, Hertfordshire, where a substantial amount of cash and three firearms were seized.
Malcolm O'Halloran, 50, of no fixed address, has been charged with possession of cocaine with intent to supply. He was due to appear at Hatfield Remand Court today (Wednesday).
Load more updates