Live updates
Queen opens new hospital scanner
The Queen is in relaxed mood as she opens a new hospital scanner: Natalie Gray reports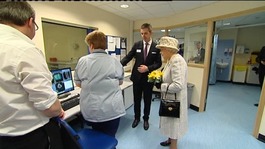 The Queen has visited the Queen Elizabeth Hospital at King's Lynn to open a new MRI scanner
Read the full story
Advertisement
Wintry weather hits region
Busy time for hospital A&E departments
Doctors at the Queen Elizabeth Hospital in King's Lynn say the snow has resulted in a steady stream of accident victims arriving at the hospital.
There are warnings to both drivers and those on foot that they should take care during this wintery weather. Doctors say that they don't usually get a sudden influx during heavy snow, but when the snow starts to melt and then turns into ice, that's when the problems start.
Sadie Bailey's son Ned was born prematurely last year. He lived for an hour and a half.
She claims the Queen Elizabeth Hospital in King's Lynn was negligent - a claim it denies. Malcolm Robertson reports
Back to top