Live updates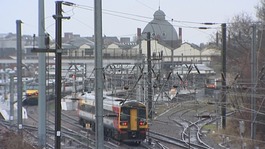 The mid-winter will be bleaker for millions of rail travellers today as rail fares rise by an average of 4.2%.
Read the full story
Rail fares set to rise
Rail commuters across our region will pay hundreds of pounds more to travel by train next year.
The government's allowed operators to increase fares by the rate of inflation - 3.2 per cent - plus another 3 per cent.
Advertisement
Rail fares set to rise
Cambridge MP Julian Huppert, co-chairman of the Liberal Democrat Parliamentary Party Committee on Transport, has hit out at plans to increase the cost of rail travel in order to finance rail improvements. He said:
The coalition is, quite rightly, investing more in our railways than any Government since the Victorian era in an effort to sort out the mess we inherited.

But we can't just pass on the cost to commuters. Liberal Democrats in the coalition, along with the Transport Secretary, managed to negotiate an RPI-plus-1% fare rise for 2012, much lower than planned by some Conservatives.

But people are struggling to make ends meet against a backdrop of wage freezes and rising utility bills.
– – JULIAN HUPPERT, LIBERAL DEMOCRATS
Back to top