Fire crews have thanked callers for information after a fire broke out at an agricultrual building in Hertfordshire. Royston and Stortford fire crews were called to the scene at Hare Street. It was eventually brought under control but the building was severely damaged.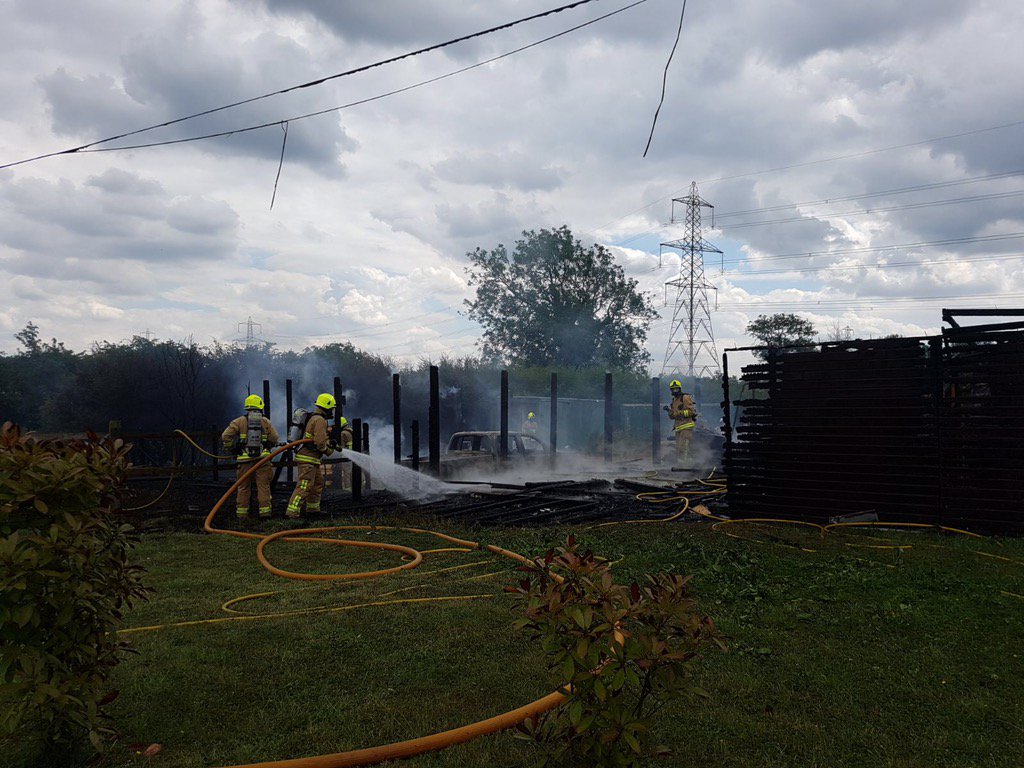 Residents were evacuated from part of Royston this lunchtime after two unexploded WW2 shells were discovered.
The shells were found by workmen in a garden in Kneesworth Street.
The cordon was lifted at a quarter past four after specialist Herts Police officers and Bomb Disposal experts took the shells to open ground in the north of the county for a controlled detonation.
Advertisement
A tiger ravaged by arthritis has had to be be put down by vets at a Hertfordshire zoo.
Read the full story ›
A judge branded the partner of the children's author Helen Bailey a 'real danger to women' as he handed him a minimum 34 year sentence for her murder.
Judge Andrew Bright said Ian Stewart had committed a long planned murder before telling a 'callous series of lies', and that Helen Bailey's family would have to live with the consequences of his 'wicked crime'.
He said it was likely Stewart would die behind bars.
Click below to watch a report by ITV News Anglia's Chloe Keedy
The nature of Ian Stewart's killing of his fiancee Helen Bailey and plot to evade detection raised doubts about the death of his wife Diane.
Read the full story ›
Cesspit killer Ian Stewart has been jailed for at least 34 years after being convicted of murdering his fiancee, the children's author Helen Bailey in Royston in Hertfordshire.
Stewart, 56, had always protested his innocence - for three months he lied to police and Helen's family and friends in an effort to make it look as though she had gone missing.
He spent weeks poisoning Helen Bailey with prescription sedatives before smothering her in a "heinous" plot motivated by greed.
Following a seven-week trial at St Albans Crown Court, Judge Andrew Bright sentenced the murderous computer expert, who refused to attend the hearing, to life with a minimum term of 34 years.
"I am firmly of the view that you currently pose a real danger to women with whom you form a relationship."
– Judge Andrew Bright
Advertisement
As Ian Stewart is sentenced for the murder of his partner Helen Bailey, we look back the case.
Read the full story ›
We look at the man who created an elaborate web of lies to cover up Helen Bailey's murder.
Read the full story ›
This is the moment Ian Stewart was arrested on suspicion of murdering his partner Helen Bailey.
The 56-year-old was still in bed when police entered the couple's home in Royston last July.
He then came downstairs in his dressing gown, and reacted with surprise when officers told him he was being arrested.
The whole incident was captured on a bodycam worn by one of the officers present.
The following day Helen's body was found in a cesspit under the garage.
The man who led the investigation into the murder of children's author Helen Bailey's has described her killer Ian Stewart as a "particularly wicked individual."
56-year-old Stewart was found guilty of drugging and killing Ms Bailey in a murder plot driven by money.
Speaking outside St Albans Crown Court, Detective Chief Inspector Jerome Kent said he was glad to see Stewart behind bars.
"He must be a particularly wicked individual," Mr Kent said.
"He purported to love her, and yet not only can he kill her, but then he can dispose her body into a cesspit and eventually tell lies in open court.
"It's the mark of a very wicked by quite calculated individual."
Load more updates