The Conservatives won the Rutland & Melton constituency at the 2010 General Election with a majority of 14,000 votes.
Read the full story ›
A young woman from Oakham in Rutland who was the victim of a homophobic attack has spoken about her ordeal.
Kerry Byrnes was assaulted in Oakham town centre last weekend. She was knocked unconscious and left with a number of facial injuries. Police are investigating.
Advertisement
The Rutland and Melton MP Alan Duncan is leaving the government in David Cameron's reshuffle. He has been International Development Minister since the General Election in 2010.
Mr Duncan was elected MP for Rutland in 1992 replacing Sir Michael Latham and held a number of Shadow posts before the coalition came to power.
In a letter to Alan Duncan, the Prime Minister wrote: "You have continued your service on the Conservative Front Bench with a number of significant portfolios, making an outstanding contribution. This has been a perfect fit and your enthusiasm and commitment to the role has shone through.
"In particular, I have greatly admired the passion and expertise you have brought to our work in the Middle East, which has done much to enhance the UK's reputation in the region. It is a legacy to be proud of."
A couple say they may have to cancel a trip of a lifetime because of delays processing passports.
The Home Office has admitted a backlog of more than 450,000 applications.
Andrew and Annette Bangs from Oakham near Rutland say they've already been waiting for weeks and are worried months of planning might go to waste.
Parts of the region were hit by another earthquake today, the second in as many days.
The British Geological Survey says it happened in the Rutland area, and has been felt in parts of Cambridgeshire and Northamptonshire.
Today's earth tremor was more powerful, at 3.5 on the Richter scale and it took many people by surprise.
Click below to watch a video report by Lauren Hall: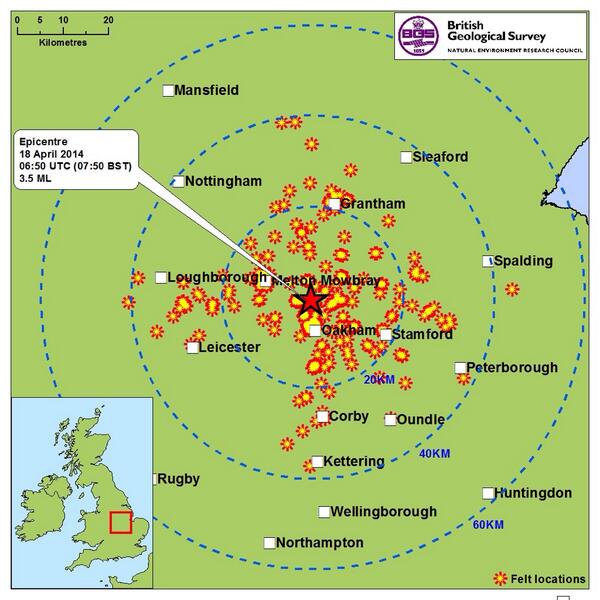 Advertisement
The British Geological Survey has reported a second earthquake in Rutland in 24 hours.
Read the full story ›
Yes another #RutlandEQ today. 200+ felt reports already. We're analysing data from our seismic network to get you accurate info asap
There are reports of another earthquake in the Rutland area this morning.
Many people took to social media sites to say that they felt a tremor shortly before 8am today.
Yesterday, an earthquake measuring 3.2 magnitude hit the same area.
People have been speaking out about an earthquake that has shaken a normally peaceful Rutland town.
Residents in Oakham describe hearing what sounded like an explosion, others say they thought a lorry had crashed into their house.
The 3.2 magnitude tremors, which came from 2.5 miles underground, were also felt throughout much of north Northamptonshire. Olivia Patterson reports.
Load more updates