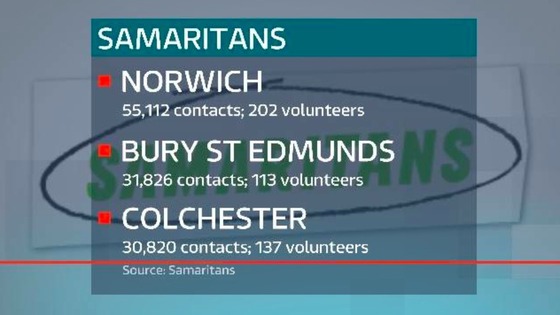 Samaritans volunteers in this region were contacted more than 490,000 times last year from people in distress.
That includes more than 55,000 thousand calls, emails and text messages dealt with by 202 volunteers in Norwich, just under 32,000 answered by 113 volunteers in Bury St Edmunds, and 137 volunteers contacted more than 30, 000 times in Colchester.
The new figures were released as part of Volunteers' Week.
Nationally, the charity says its number of volunteers is at a 10-year high but the number of calls for help it received last year is also growing and is currently at a five-year high.
Nine of the Samaritans branches in the Anglia region saw a rise in the number of times it was contacted in 2013 by up to 24pc.
At the end of last year, there were a total of 1,829 volunteers giving up their time in the region to support the charity.
To contact the Samaritans, call 08457 90 90 90.