This picture sums up the power of the North Sea surge.
Even though homes were not flooded, the sea left a pile of debris all along the road fringing the Norfolk coast. Parts of it are still underwater.
Police have defended the decision to ask people to leave their homes despite the fact that the storm surge did not cause serious flooding
Read the full story ›
Advertisement
The North Sea surge may not have overwhelmed defences, but it has left parts of the coastline underwater.
The A149 is closed at Old Woman's Lane in Cley, while the road at Salthouse is covered in debris.
George Baldock tweeted this picture saying the water had dropped overnight but the main road is still flooded.
1am: High tides have passed through Jaywick and Clacton-on-Sea in Essex this morning without any major reports of flooding so far.
Around 200 residents in Jaywick had gathered overnight at a rest centre after villagers were advised to evacuate their properties following warnings the sea water could rise by up to a depth of three metres.
But by one o'clock on Saturday morning the sea wall in the Essex village had still not been breached.
Suffolk Police say residents evacuated in Lowestoft can now return to their homes after the high tide passed without major issues.
However there remains the risk of flooding in areas south of Lowestoft, and residents in those areas are being asked to await further guidance before returning.
Norfolk Police have thanked residents and volunteers across the coast tonight as the floods passed without any major incident.
Read the full story ›
Advertisement
Good news flood waters have subsided + the #BasculeBridge on the #A12 in #Lowestoft is now open in both directions. Thanks for your patience
Lowestoft's new portable flood defences have held up during tonight's high tides.
It was the first major test of the defences which protect the town side of the bascule bridge.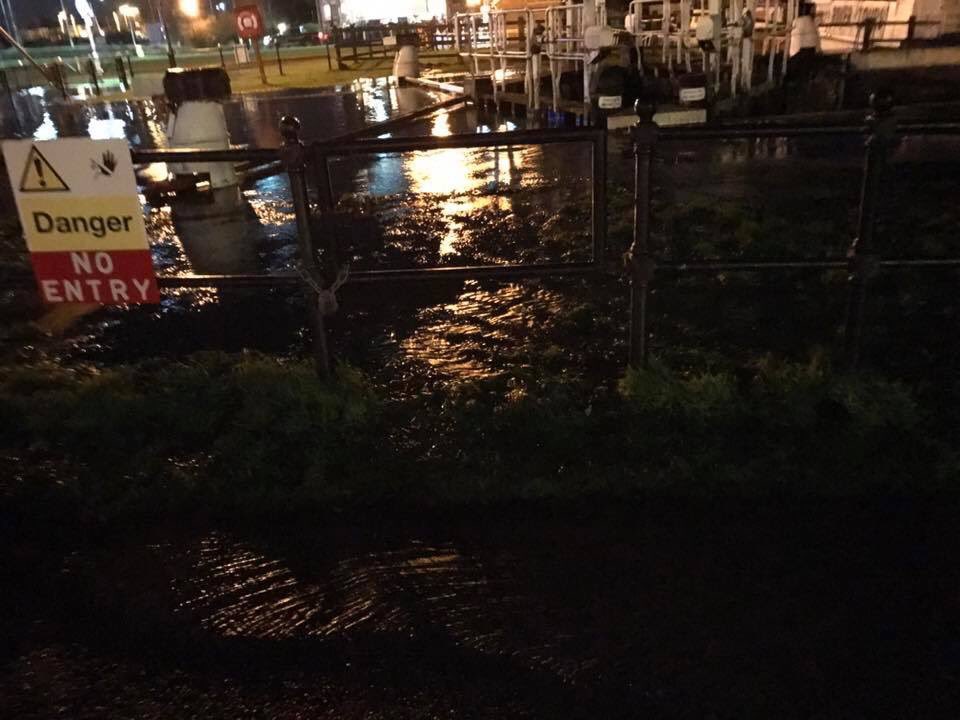 High tides have arrived in North Suffolk where the Wherry Hotel in Oulton Broad tweeted water levels are rising.
A severe flood warning is in place for Oulton Broad.
The Norfolk town of Great Yarmouth has escaped from the threat of flood tonight.
Whilst water levels on the River Yare were higher, the tide has passed off peacefully.
Throughout the day thousands of people were told to evacuate their homes because of the flood risk.
However flood defences seem to have held firm against one the biggest tidal surge to hit the east coast since 2013.
Load more updates