An 18-year-old man is appearing in court charged in connection with an alleged incident in Southend during which a 17-year-old boy was stabbed.
Nes Kisoka, of Eastern Esplanade, Southend, has been charged with wounding with intent and possession of an offensive weapon in a public place.
Two boys were stabbed following a disturbance between a large group of people at a party at The Kursaal, just after 1am on Saturday.
A 16-year-old boy was taken to hospital and treated for minor injuries, while a second victim, aged 17, was taken to hospital in London. He remains in hospital but his injuries are no longer considered life threatening.
Detectives continue to seek witnesses to the disturbance. Anyone with information is asked to contact the Kent & Essex Serious Crime Directorate on 101 or Crimestoppers anonymously on 0800 555 111.
Police are investigating a serious sexual assault in an underground car park close to Wood Grange Drive in Southend at approximately 2.30am this morning.
An 18-year-old woman was approached by a group of men close to a roundabout near to the Kursaal along the seafront.
She got into a black car belonging to one of the suspects who tried kissing her, she was then assaulted, knocked unconscious and attacked.
Detectives would particularly like to talk to three male cyclists in the area who helped the victim shortly after the attack.
The suspect is described as having tanned skin, aged in his early to mid-20s with dark black hair and was wearing a black tracksuit.
Anyone with information is asked to call the Adult Sexual Assault Investigation Team on 101 or Crimestoppers anonymously on 0800 555 111.
Advertisement
After flowing down the walls of the Tower of London, the iconic poppy sculpture has made its way to Essex.
It has taken two weeks to installed the flowers at the Barge Pier in Shoeburyness, near Southend.
The area was chosen to host the exhibit because it was one of the first towns in the country to be targeted by German airshops during the First World War.
Called Wave, the installation is one of two sculptures touring the country. They were both part of the Blood Swept Lands and Seas of Red exhibit that drew millions of people to Tower of London in 2014.
The iconic poppy sculpture that went on display at the Tower of London in 2014 is coming to Southend.
People will be able to see it at the Barge Pier in Shoeburyness from this week until June.
Southend was chosen because it was one of the first town's in the country to be targeted by German Zeppelin airships in the First World War.
The sculpture will be on show until 25 June.
Robbers went on a crime spree through Southend in a Ford Fiesta.
Police were first called to reports of a theft at The Broadway just before 1.45am on Sunday (April 9).
Two men forced their way into a shop and stole cash from the till.
They went on to use the car to reverse into a shop front at Shaftesbury Avenue, where they attempted to steal a till, before crashing the vehicle on Northumberland Crescent and fleeing.
The Fiesta has been recovered by police and officers are appealing for witnesses.
Lilli Troisi was suffering from schizophrenia when he used petrol to start the fire in Essex last May.
Read the full story ›
Advertisement
Southend's iconic pier has had to temporarily close due to heavy snowfall in the town.
The local Borough Council tweeted the news this morning.
Southend Pier is the longest pleasure pier in the world, stretching 1.3 miles into the Thames estuary.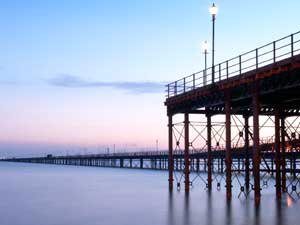 Plans for a major business park have taken a step forward after Southend-on-Sea Borough Council received nearly £20m from Government.
The news was announced this morning by Local Growth Minister, Andrew Percy, who announced a government cash injection of £102 million for capital projects for the South East.
The money will go toward the Airport Business Park Southend. The project is expected to attract firms from the medical technology, aviation, advanced engineering and manufacturing sectors.
Police are appealing for help to find a wanted man from Essex.
Mark Bradford, 47, is wanted in connection with four shop lifting offences at the Asda store in Priory Lane, Rayleigh.
He is described as:
5ft 6ins tall
Medium build
Short, brown thinning hair
Stubble
Cuts and scars on face
He is unemployed and has contacts in Southend.
Multi-million pound plans to upgrade some of the Essex road system will be unveiled later this month.
Essex County Council is upgrading the Fairglen Interchange, where the A127 meets the A130.
It connects towns such as Basildon, Chelmsford, Southend and Thurrock.
They are hoping to make it suitable for use until 2045.
Load more updates