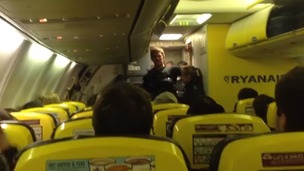 Ryanair has defended itself after passengers claimed they called the police following an 11 hour delay at Stansted Airport.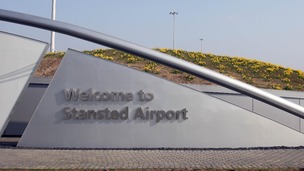 Inspector are warning illegal drugs, endangered species and black market cigarettes could be entering the UK undetected at Stansted Airport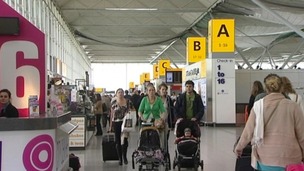 Stansted Airport enjoyed its busiest December in four years after nearly 1.32 million passengers passed through the airport.
Live updates
Man admits taking explosive flares on to plane
A Cypriot student is facing a possible jail term after admitting taking eight explosive flares on to a plane at Stansted Airport and possessing a terrorist manual.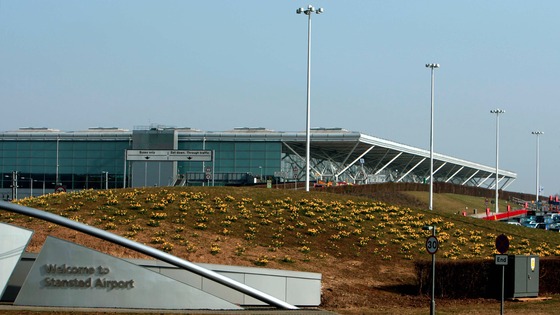 22-year-old Andreas Pierides from Finchley, London was stopped on the gangway as he was about to board a flight to Cyprus on 15 May.
Police were alerted to Pierides after a member of the public spotted him on a train reading an electronic publication with instructions on how to make a car bomb on 19 January.
As they arrested him, officers seized a box of distress signal mini-flares which they found inside luggage which had already been stowed on the plane, a court heard.
But they handed them back in error after Pierides was charged for having a terrorist manual.
Five days later, police went to his bail address in north London to ask for the flares back and arrest him again, this time under the Aviation Security Act 1982.
At a hearing at the Old Bailey, Pierides pleaded guilty to a charge under the 2000 Terrorism Act of possessing an electronic version of the Anarchist Cookbook, he also admitted having a dangerous article in an airport.
The judge Mr Justice Sweeney ordered a pre-sentence report and adjourned sentencing to 27 October.
Border Force officers at Stansted Airport have seized counterfeit "Disney" children's clothing and accessories worth more than £10,000.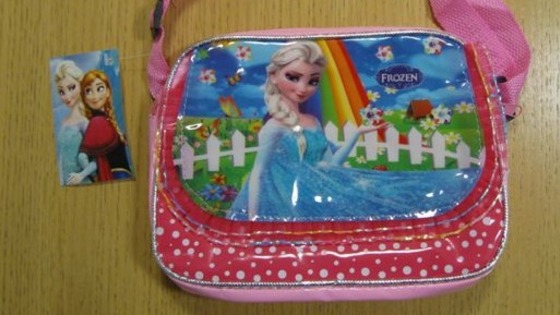 The dresses and bags arrived at Stansted from China earlier this month.
Officers discovered 490 dresses and three bags carrying images of the popular Disney 'Frozen' film.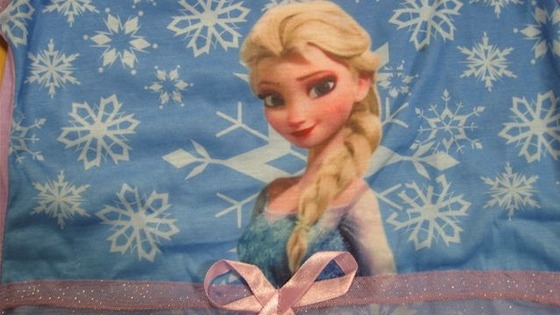 An investigation was launched by Border Force's International Trade Team which specialises in recognising counterfeit products and works with the owners of big brands to establish whether or not goods are genuine.
Disney have confirmed that all of the goods are counterfeit and they will now be destroyed.
As the rights holders, Disney can now decide whether or not they wish to prosecute the importer privately.
Everyone loves a bargain, but if the price appears too good to be true, either at a car boot sale, a market stall or online, it probably is.

The international trade in counterfeit goods is linked to serious and organised crime and undercuts honest traders, damaging our economy.
– James Morgan, Assistant Director in charge of Border Force at Stansted.

Anyone who has been sold counterfeit goods or knows someone who is selling them should contact Action Fraud on 0300 123 2040.
Advertisement
Flight paths from Stansted airport could change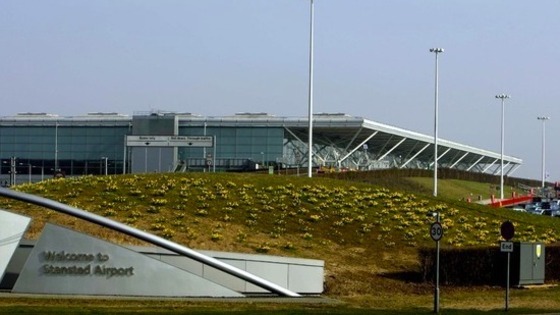 People living near Stansted Airport have just four weeks to get their views heard on planned changes to its flight paths.
National Air Traffic Services - which is known as NATS - is proposing to direct the majority of flights which currently head south from the airport to go east instead.
NATS insists there will not be any new routes - just new ways of using the existing ones.
The consultation ends on September 8.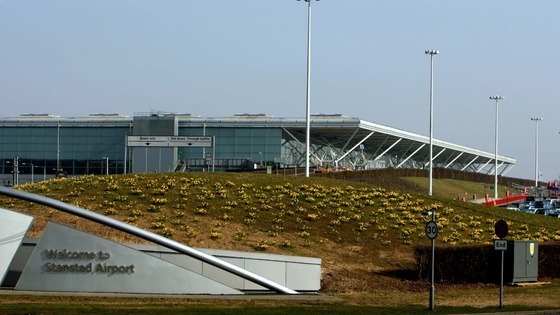 More trains will begin running between Cambridge and Stansted Airport as part of plans to provide more frequent services to airport users.
Abellio Greater Anglia and Cross Country will run the extra trains.
They will operate Monday to Friday, providing half-hourly services during off peak times.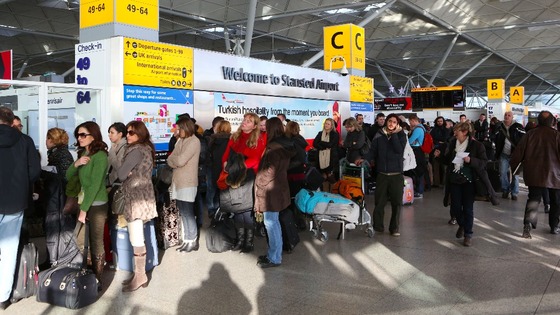 Stansted airport has seen a 7.6% rise in passenger numbers with nearly 1.82 million people passing through the airport last month compared with May 2013.
The announcement of passenger levels came as the Whitehall-appointed Airports Commission published its latest discussion paper entitled Utilisation Of The UK's Existing Airport Capacity.
The commission reaches no conclusions in its paper and is now seeking the views of interested parties.
The commission is also studying the so-called "Boris Island" option of a new airport in the Thames Estuary - a project favoured by London mayor Boris Johnson.
The commission is due to make its final recommendation to ministers in summer 2015 but at a date after the general election in May.
'Serious' crash on the M11 in Essex
It has emerged that a brother and sister died in yesterday's pile up on the M11 in Essex.
The 53-year-old man from Holland and his 45-year-old sister from Kent were in one of five vehicles involved in the crash on the northbound carriageway near Stansted Airport.
Advertisement
'Serious' crash on the M11 in Essex
An ITV News viewer recorded this footage of the aftermath of yesterday's M11 crash which claimed the lives of a brother and sister.
'Serious' crash on the M11 in Essex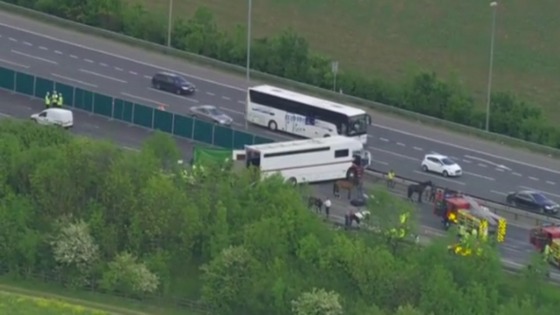 Police said the two people killed in a crash on the M11 yesterday were a brother and sister.
The crash happened near junction 8 at Birchanger yesterday afternoon. The dead pair are believed to be a 53-year-old man from the Netherlands and a 45-year-old woman from Kent.
Their family has been informed but they have not been formally identified.
They were in a Toyota car that was struck by other vehicles and collided with the rear of a Mercedes horse box, with five horses on board. The car caught light with the impact. They died at the scene.
Two people were taken to hospital. Their injuries are nor believed to be life threatening.
The driver of a lorry was arrested on suspicion of causing death by dangerous driving. The 49-year-old man from Staffordshire was questioned and later released on police bail until September 15.
'Serious' crash on the M11 in Essex
Two people have been killed in a motorway pile-up involving a horse box from the famous trainer Brian Meehan's stables.
A man has been arrested on suspicion of causing death by dangerous driving following the crash on the M11 near Harlow.
The trailer carrying five horses collided with three cars and a lorry shortly after 2.15pm in a smash that left the northbound carriageway closed between junctions seven and eight.
Essex Fire and Rescue said it had to free three people trapped in cars.
Two people in a car have died and the driver and passenger in another car have been taken to hospital in Cambridgeshire.

A woman has serious internal injuries and was flown by air ambulance and a man was taken by ambulance with a head injury.
– Essex Police spokesman

It is not yet clear if they were hurt in the crash or if any of the animals will need to be put down, but the trainer's three intended runners at Newmarket on Thursday evening were withdrawn.

The road remains closed
'Serious' crash on the M11 in Essex
#M11 two people died in collision including lorry, horsebox + 3 cars. 1 arrested. N bound remains closed into evening. Witness pls call 101
Load more updates
Back to top