The stormy winds last night created many problems for motorists and homeowners, including ITV News Anglia Tim Vernon.
A tree uprooted, narrowly missing his house in Northampton but smashing through his conservatory.
A motorist is counting the cost of the heavy winds after an outbuilding collapsed on top of a car in Cambridgeshire.
Emergency services were called to East Park Street in Chatteris around two o'clock this morning (Saturday 15th Feb.)
When they arrived they searched the building and car but thankfully no-one was injured.
Advertisement
Hertfordshire Fire Service have tweeted a picture showing the Hemel Hempstead sinkhole under the road.
Police are currently investigating a sink hole which has appeared in Wood End Lane in Hemel Hempstead. Avoid area. http://t.co/mZwgHrYGkc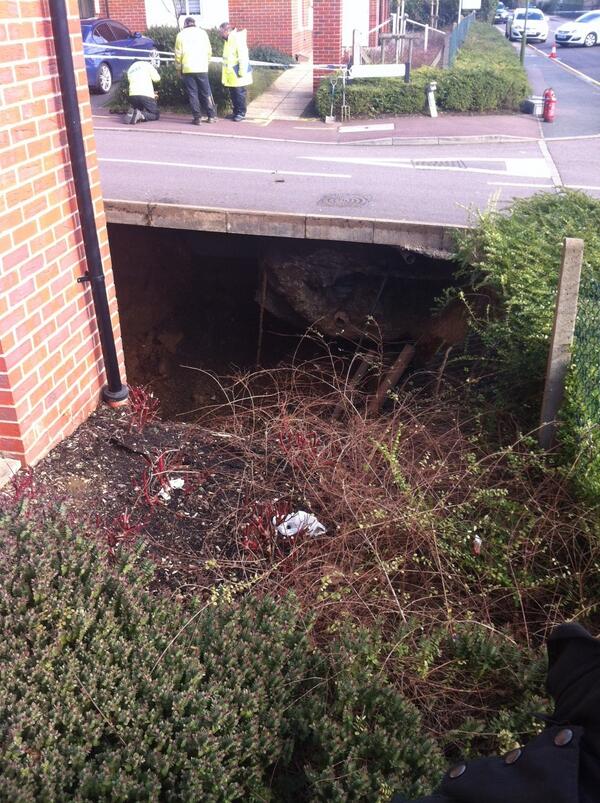 Winds gusting to 70 mph have brought down trees and power lines across the Anglia region.
Read the full story ›
A fallen tree in the Lexden area of Colchester after gale-force winds struck the region overnight.
Seventeen homes have been evacuated after a 35-foot-wide and 20-foot-deep sinkhole opened in Hemel Hempstead, north of London this morning.
Pictures of what is believed to be the sinkhole have already appeared on Twitter:
Advertisement
Many people have woken up across the East to find trees down following last night's strong winds.
This picture was taken by Chloe Spencer at Centre Parcs in Eleveden on the Norfolk/Suffolk border.
The Environment Agency has three flood warnings in force in the Anglia region along with 19 flood alerts.
The flood warnings are:
North Bank Road alongside the River Nene to the east of Peterborough and the West of the Dog-in-a-Doublet Sluice
River Nene at Cogenhoe Mill Caravan Site in Northamptonshire
B1040 Thorney to Whittlesey Road to the South of the River Nene in Cambridgeshire
Send your pictures of any high rivers or flooding to angliaweather@itv.com
Winds in the Anglia region peaked around 70 mph on Friday night into Saturday bringing down trees, causing travel disruption and leaving thousands without power.
A Met Office amber weather warning for strong winds expires at 10am on Saturday although a yellow warning for rain lasts until 8pm.
These were the highest wind gusts in the Anglia region overnight:
69 mph in Holbeach, Lincolnshire on The Wash
68 mph in Wittering, Cambridgeshire near Peterborough
68 mph in Weybourne, Norfolk
66 mph near Braintree, Essex
65 mph at Southend Airport, Essex
61 mph at Stansted Airport, Essex
57 mph at Norwich Airport
52 mph in Cambridge
Send your weather pictures to angliaweather@itv.com
Thousands of homes are without power across the east this morning after strong winds brought down power lines.
Around 9,000 homes in our region are without power and UK Power Networks says it has engineers working to restore power in the affected areas.
Below are the number of properties affected:
3,400 in Essex
1,500 in Norfolk
1,770 in Hertfordshire
880 in Bedfordshire
870 in Buckinghamshire
640 in Suffolk
460 in Cambridgeshire
Send your pictures of the stormy weather to angliaweather@itv.com
Load more updates