Police in Suffolk are asking for the public's help in finding a missing man from Sudbury.
39-year-old Dylan Provis was last seen at his place of work on the Chilton Industrial Estate in the town early on Sunday morning (9 November).
Both his family and the police are concerned for his welfare because they say his disappearance is out of character.
Anyone who believes they may have seen Dylan, or who has any information about his whereabouts, is asked to contact the duty sergeant at Sudbury Police Station on 101.
Advertisement
The clear-up after the fire that devastated Sudbury town centre in Suffolk is continuing
Read the full story ›
One of the most dramatic images of the fire that devastated Sudbury was a firefighter battling flames and smoke to save a trapped woman
Read the full story ›
A public meeting is being held in Sudbury today to work out how best to help those who have been left homeless by Sunday's fire.
The council says donations of clothes and toiletries have been pouring in for those affected.
Fire crews have spent another dampening down and ensuring damaged buildings are safe.
One of them has also been hailed a hero after saving a woman trapped by the flames.
"I went up the ladder and got to the lady, she was very emotional, I tried to calm her down and just said to her listen nothing is going to happen, I'm going to get you out whatever."
– Pat Ince, Suffolk Fire & Rescue Service
Historic Sudbury in Suffolk has spent the day coming to terms with a fire that ripped through a town centre street yesterday evening.
Three people were injured, 20 forced to leave their homes and businesses were destroyed.
Today, as the community pulled together to help those most seriously affected, stories have been emerging of dramatic escapes.
Click below to watch the full report from ITV News Anglia's Kate Prout
Advertisement
After a devastating fire destroyed parts of Sudbury town centre last night, some residents have been left homeless.
But the community has rallied round and donations have already started coming in for those in need.
Click below to watch the full report from ITV News Anglia's Malcolm Robertson.
Burnt-out buildings are still smouldering in Sudbury after a devastating fire last night.
Read the full story ›
Eye witnesses watched as fire crews rescued people from the burning building in Sudbury town centre.
The fire started at around 6.25pm Sunday 6th September on Friars Street.
Eye witness Claire Kuczma posted video of the fire in Sudbury on Twitter.
"Oh my god, get her out, come on get her out."
– Claire Kuczma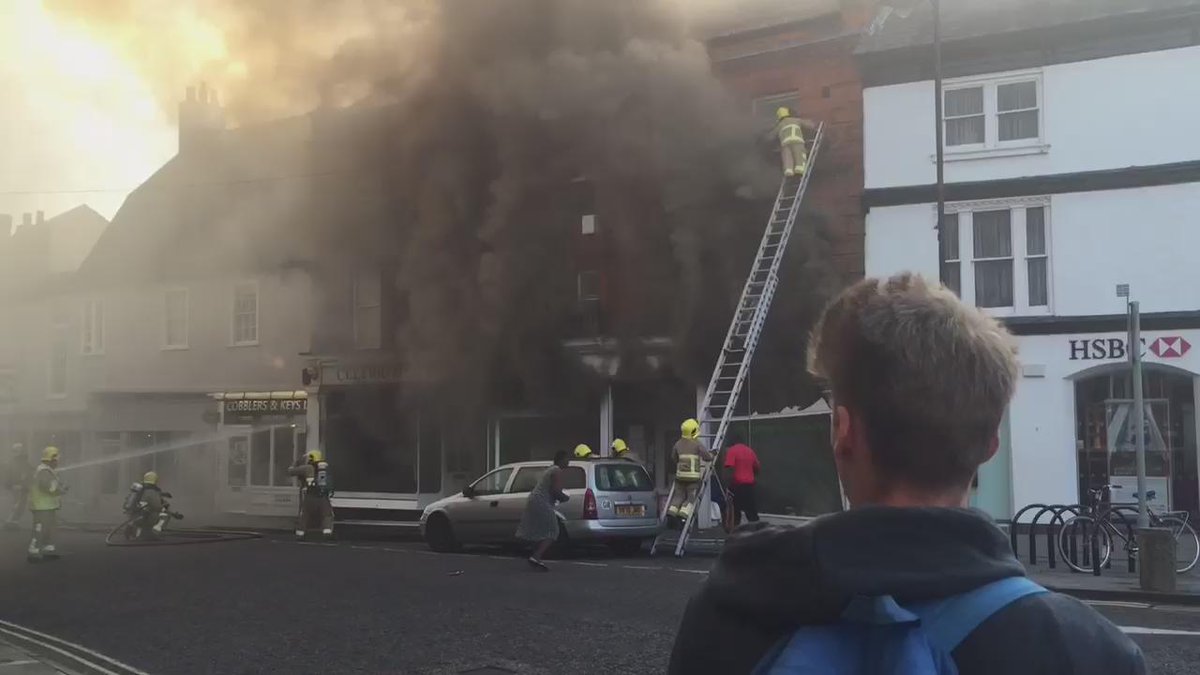 Part of Sudbury town centre remains closed off after a major fire last night.
Around 20 people were forced to leave their homes in the area after the fire service evacuated nearby buildings.
Three people were taken to hospital with minor injuries.
Friars Street is closed between Station Road and Market Hill/A131 Gainsborough Street.
Load more updates