One of the most dramatic images of the fire that devastated Sudbury was a firefighter battling flames and smoke to save a trapped woman
Read the full story ›
A public meeting is being held in Sudbury today to work out how best to help those who have been left homeless by Sunday's fire.
The council says donations of clothes and toiletries have been pouring in for those affected.
Fire crews have spent another dampening down and ensuring damaged buildings are safe.
One of them has also been hailed a hero after saving a woman trapped by the flames.
"I went up the ladder and got to the lady, she was very emotional, I tried to calm her down and just said to her listen nothing is going to happen, I'm going to get you out whatever."
– Pat Ince, Suffolk Fire & Rescue Service
Advertisement
Historic Sudbury in Suffolk has spent the day coming to terms with a fire that ripped through a town centre street yesterday evening.
Three people were injured, 20 forced to leave their homes and businesses were destroyed.
Today, as the community pulled together to help those most seriously affected, stories have been emerging of dramatic escapes.
Click below to watch the full report from ITV News Anglia's Kate Prout
After a devastating fire destroyed parts of Sudbury town centre last night, some residents have been left homeless.
But the community has rallied round and donations have already started coming in for those in need.
Click below to watch the full report from ITV News Anglia's Malcolm Robertson.
Burnt-out buildings are still smouldering in Sudbury after a devastating fire last night.
Read the full story ›
Eye witnesses watched as fire crews rescued people from the burning building in Sudbury town centre.
The fire started at around 6.25pm Sunday 6th September on Friars Street.
Eye witness Claire Kuczma posted video of the fire in Sudbury on Twitter.
"Oh my god, get her out, come on get her out."
– Claire Kuczma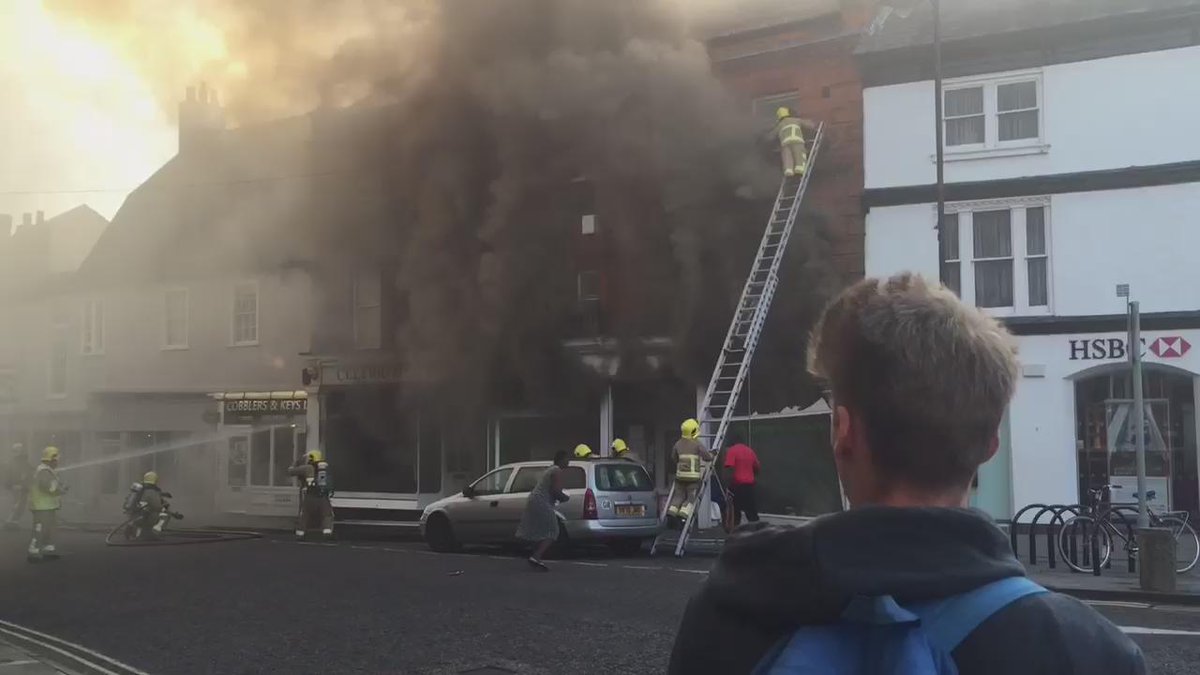 Advertisement
Part of Sudbury town centre remains closed off after a major fire last night.
Around 20 people were forced to leave their homes in the area after the fire service evacuated nearby buildings.
Three people were taken to hospital with minor injuries.
Friars Street is closed between Station Road and Market Hill/A131 Gainsborough Street.
More than 70 firefighters are currently trying to put out a fire the middle of Sudbury.
Emergency services were called at 6.25pm to reports of a fire and people trapped in a flat at Market Hill. The fire service began rescuing people from the building as police and ambulance personnel attended to assist.
Shortly after 7pm police began a full-scale evacuation of the immediate area as the fire spread. As of 7.30pm up to 20 people had been moved from their homes. Police have also begun contacting business keyholders where possible.
The fire service are believed to have 15 appliances at the scene in a bid to get the blaze under control.
The cause of the fire is currently unknown, with the priority being public safety, and arrangements being made to house those who have been evacuated.
Suffolk police say there is severe disruption to traffic in Sudbury.
Officers were called at 9am after an HGV needed assistance to avoid a low bridge on Cross Street.
Drivers coming into Sudbury from Essex are advised to avoid using the A131.
HGVs joining the A131 after Braintree are currently advised to pick up the A120 at Braintree signed towards Colchester, and from that point to follow directions to Sudbury on the A134. They should not take the B1508, which is currently closed for roadworks.
Police say traffic is moving slowly and is expected to stay the same until 4pm today.
Police are investigating an armed robbery at a shop in Sudbury, Suffolk.
Officers were called just before 3.20pm yesterday to reports that a man had gone into the store on Ballingdon Street with a knife and stolen items.
Police immediately attended and began a search of the area. A short time later the 18-year-old was arrested.
Anyone who saw anything in the area around this time is asked to call Suffolk Police on 101, quoting CAD 226 of Wednesday 1 April.
Load more updates