People living in the quiet market town of Beccles claim peacocks are destroying gardens and even damaging cars
Read the full story ›
Two 18-year-old men have been arrested on suspicion of criminal damage after more than 20 cars in Sudbury were damaged.
Police were called around 4.40am on Saturday, 14 May, to reports of two people knocking wing mirrors off cars in the Ballingdon Street area.
One of the 18-year-olds, from Sudbury, was arrested in the area before 5am, the other, from the Halstead area of Essex, handed himself in a short time later.
Both have been interviewed and released on bail.
Advertisement
Managers at Ipswich Hospital have taken over the running of Colchester Hospital after managers there stepped down.
Read the full story ›
Police found themselves looking after a puppy after arresting the owner.
The specials unit tweeted this picture of the pup after its owner was arrested by traffic cops.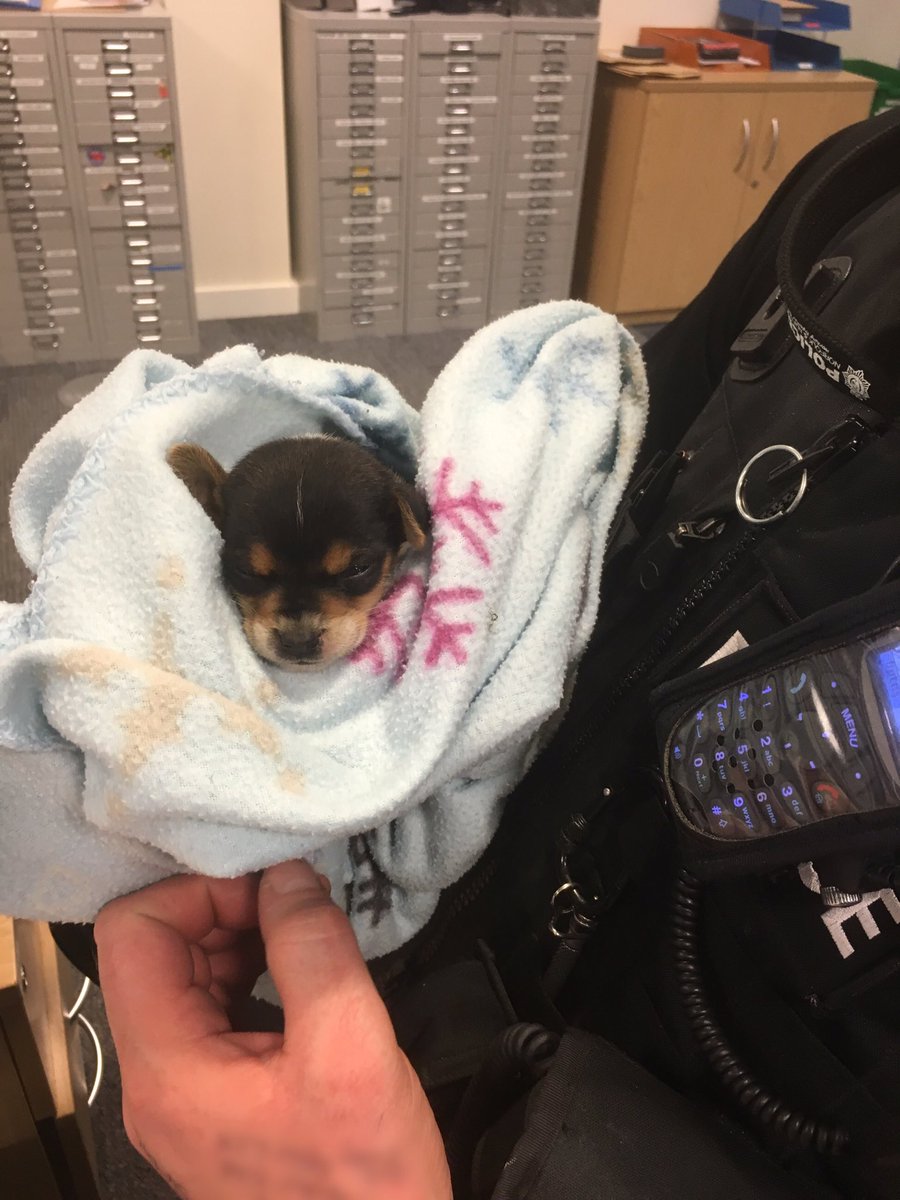 The family of a 56-year-old man who died following a collision on the A143 Haverhill Road in Little Wratting have paid tribute to him.
Robert Grocott of Hudson Close in Haverhill died following the collision between the Land Rover Freelander he was driving and a Vauxhall Vivaro van around 6pm on Saturday 7 May.
Robert was a much loved father of two sons and husband for 36 years; originally from Nottingham but was a popular member of the Haverhill community for 30 years. He served with the Grenadier Guards for 6 years and 6 years with the 13th/18th Royal Hussars.

As a dedicated father he partook in refereeing football matches for children and adults alike.

Amongst other things he was a member of the Haverhill Golf Club for many years. Robert was an enthusiastic sportsman and had many friends within an assortment of clubs not withstanding golf, judo clubs etc.

Over the course of his varied career he has spent the majority of his life employed as an experienced HGV Driver working for companies such as Culina and XPO Logistics in Bury St. Edmunds.

Robert's character was larger than life, a very popular man who was always supportive of his friends and family who are saddened and shocked at his sudden demise.

His friends used to say if anything was needed Robert would always be there for you.
– Family tribute
Police are continuing to appeal for any witnesses.
Three of four other people injured in the collision remain in Addenbrooke's Hospital where they are recovering from their injuries.
The A14 in Suffolk is closed eastbound due to police incident between J45 (Rougham) and J46 Thurston Road (Thurston / Beyton Green).
There have been reports of congestion on the A14 to J43 A143 Compiegne Way (Bury Central Interchange / Sugar Beet Roundabout).
The incident has been ongoing since around 17:00. It happened near to the Thurston turn off (J46).
Westbound is also shut but from J47 as traffic cannot enter the carriageway from J46.
Advertisement
Residents of a Suffolk market town are demanding action against speeding motorists after the death of a man in a hit and run crash.
Forty-two-year-old Shane Lay was fatally injured as he walked his dog.
It happened in the early hours of Friday morning in Bridge Street in Bungay. Tonight the police are urging the driver of the car that struck him to come forward.
Click below to watch a report by ITV News Anglia's Malcolm Robertson.
A new four and a half million pound cancer treatment unit opened at Ipswich Hospital today.
A group of staff, patients and volunteers fundraised alongside Macmillan Cancer Support to help pay for the unit.
The centre will help patients undergoing chemotherapy, oncology and haematology treatment. Fundraising is still ongoing for the unit, which features consulting rooms, more treatment chairs and private bays.
"The environment that we now see here provides a much more spacious area for patients. What was only 12 treatment rooms is now 30."
– Neil Maloney, Chief Operating Officer, Ipswich Hospital
"We used to sit and joke about it and dream about having a big space like this to have our treatment in and my two very close friends that are no longer here, who would have absolutely loved to come here and have their treatment in this space. Would just have made such a difference."
– Nisa Heys, patient
"It just makes it a lot easier. It's bright, it's cheerful, which is what you want. It just makes it a lot more pleasant."
– Brian Heffernan, patient
Suffolk police investigating a suspected 'hit and run' in Bungay where a 42-year old man died are making a fresh appeal for witnesses to come forward.
Shane Lay from Broome was taken to hospital with multiple injuries but died the next day.
Police say Mr Lay had been walking his dog on Thursday afternoon and had then been to a pub in the town. He was walking home when he was struck by a car in the early hours of Friday morning.
Witnesses have told police they were woken up the sound of screeching tyres and a large thud. Mr Lay was then found unconscious on the ground.
Watch an interview with Inspector David Giles from the Norfolk & Suffolk serious collision investigation team.
People living in Bungay say the road is 'an accident waiting to happen'.
Click below to watch their reaction.
The world famous explorer Sir Ranulph Fiennes has been in Suffolk to reminisce about one of his most challenging adventures.
In 1979 he took part in the first ever transglobe expedition, journeying from Pole to Pole.
He was in Suffolk for a children's book festival and he took the chance to meet up with an old travelling companion from Saxmundham and swap stories of their epic journey together.
Click below to watch a full report by ITV News Anglia's Serena Sandhu.
Load more updates