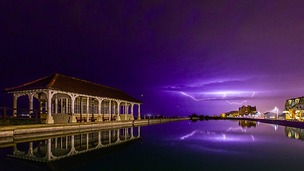 Last night's storms have been followed by torrential downpours and flash flooding today. Here are some more of your photos.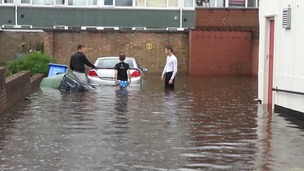 The dramatic weather has continued. Fire services have been inundated with reports of flash floods after the afternoon's downpours.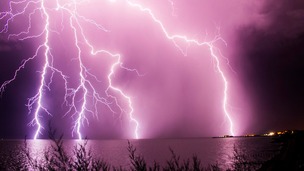 Warm sunny spells with scattered thundery showers later.
Live updates
Heatwave triggers storms and flash floods
Temperatures have been soaring throughout the Anglia region, and a group of Lemurs in Cambridgeshire have been keeping cool in the scorching conditions by tucking into a frozen fruit smoothie.
Boomer and friends are some of the star attractions at Shepreth Wildlife Park near Cambridge, and staff are working hard to ensure the animals can cope with the hot weather.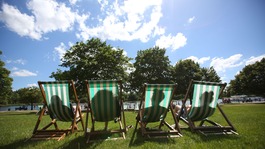 Britain is set to bask in the sunshine in the next few days with health officials issuing guidance on how to stay safe in the sunshine.
Read the full story
Advertisement
Anglia Weather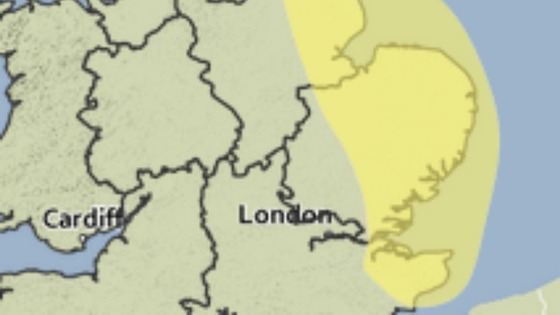 The Met Office has issued a yellow weather warning for further heavy rain in Cambridgeshire, Essex, Norfolk, Suffolk and Lincolnshire.
The warning is in force from noon on Sunday 13 July until 7pm
The Met Office says: "Heavy showers and isolated thunderstorms are likely to develop across some eastern parts of England during Sunday afternoon.
"The public should be aware that localised downpours could lead to temporary surface water flooding, such impacts perhaps most likely where heavy thundery showers have occurred during the previous 24 hours."
The Chief Forecaster's assessment: "Rain will clear from the east this morning, but as the cloud thins and breaks to allow some sunshine, so heavy showers and isolated thunderstorms are likely to develop for the afternoon.
"Some of the showers may be slow-moving with the potential for a few places to see around 20 mm of rain within an hour. Showers should die out more rapidly this evening than on Saturday evening."
Read more: The latest weather forecast for the Anglia region
Picture gallery: Your spectacular images of the weekend storms
Anglia Weather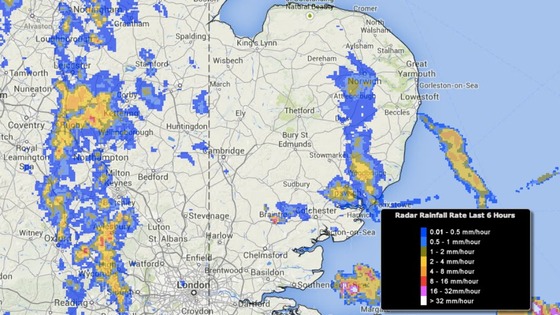 Read more: Fire in two homes struck by lightning
Picture galley: Dramatic lightning storms captures over the Anglia region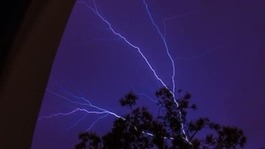 The warm conditions on Saturday afternoon triggered a series of thunderstorms and heavy downpours in some parts of the Anglia region.
Read the full story
Anglia Weather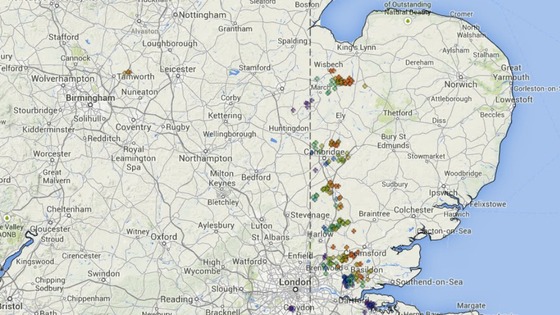 Latest Anglia Weather forecast
Met Office yellow weather warning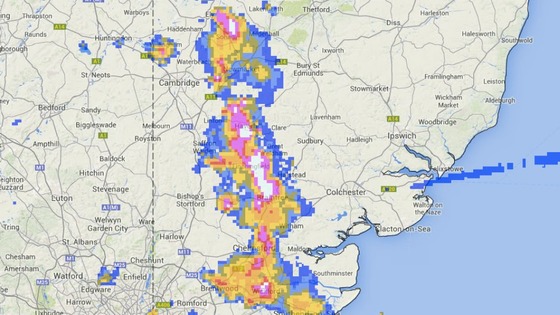 Advertisement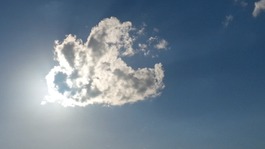 Scattered heavy or thundery showers this evening will become more widespread at times after midnight. More showers on Sunday.
Read the full story
Anglia Weather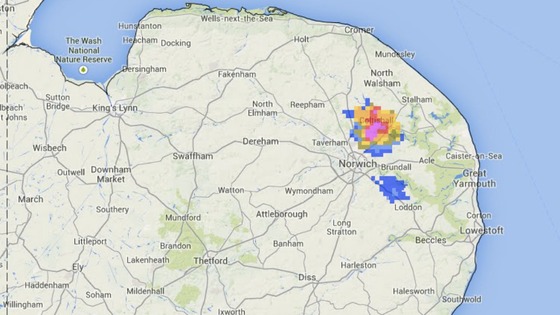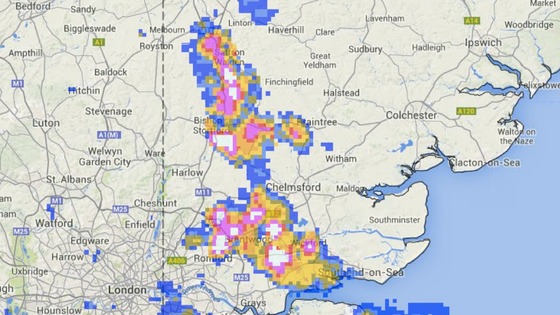 Saturday's warm temperatures have sparked a number of heavy showers and thunderstorms across the Anglia region.
These downpours could produce a large amount of rain in a short period of time creating localised flooding and the Met Office has issued a yellow weather warning valid until 10pm.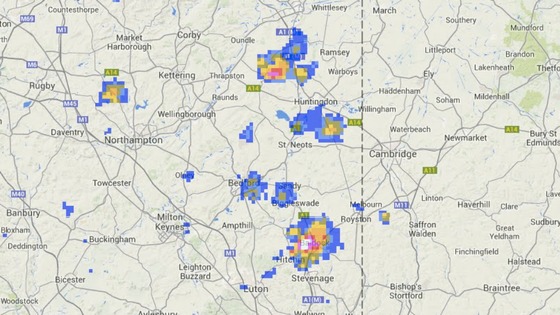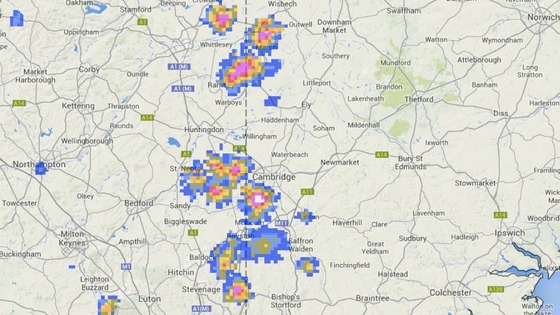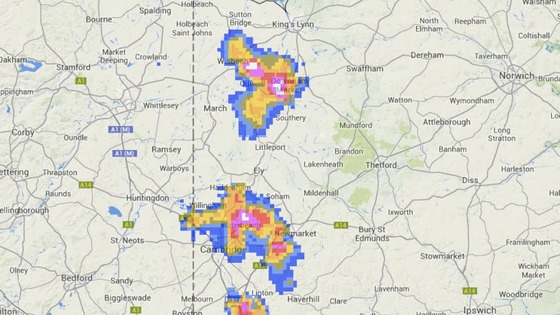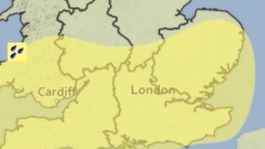 The Anglia region is included in a Met Office yellow weather warning for the risk heavy rain and localised downpours on Friday and Saturday.
Read the full story
Anglia Weather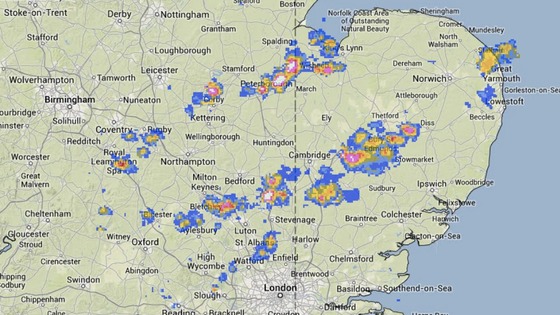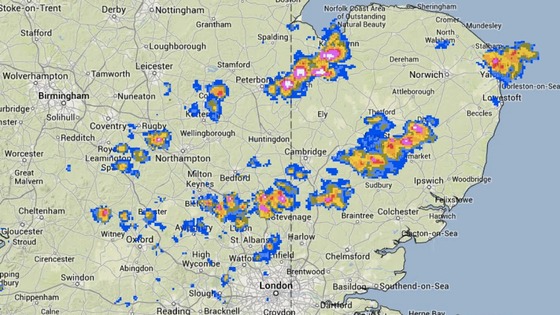 If it's safe to take pictures - please email them to angliaweather@itv.com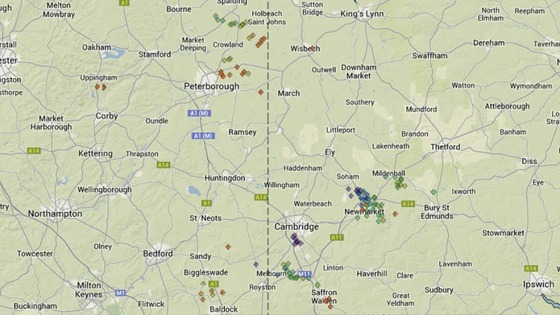 Load more updates
Back to top