Plenty of sunshine across the region. Temperatures well above average.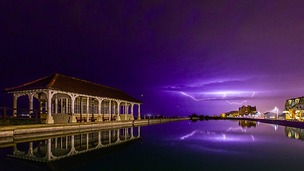 Last night's storms have been followed by torrential downpours and flash flooding today. Here are some more of your photos.
Live updates
Advertisement
Anglia Weather
A torrential downpour in the early hours of Monday morning made Santon Downham in Suffolk the wettest place in the UK.
Between 1am and 11am, the site in Thetford Forest had 51.2 mm (2 inches) of rain which is close to the amount it receives during the whole of an average July. During just one hour at 5am, the weather station had 33 mm (1.3 inches) of rain.
The deluge was isolated and most places in the Anglia region had little or no rain by 10am Monday morning.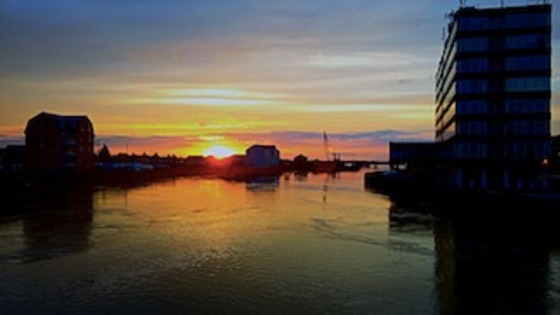 Norwich had 48.6 mm (1.9 inches) of rain on Sunday 20 July.
Rainfall totals averaged across the Anglia region during July have reached 56 mm (2.2 inches) which is 25% more rain than normal. But that average hides wide variations in the totals. Norwich has so far had 95 mm (3.7 inches) of rain during July while Bedford has had just 35 mm (1.4 inches).
The Anglia region is not as wet as July 2012 when there was 107 mm (4.2 inches) making it the second wettest July on record.
Anglia Weather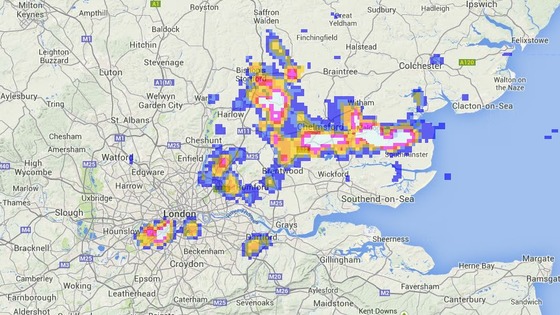 Torrential, thundery downpours are currently moving south through Essex, having developed this afternoon near Braintree. Rainfall rates greater than 32mm per hour are highlighted in white on the rainfall radar map. The Met Office issued a yellow warning earlier today for the risk of disruption due to localised heavy rain.
Read more: Met Office warns of localised heavy downpours this afternoon
Anglia Weather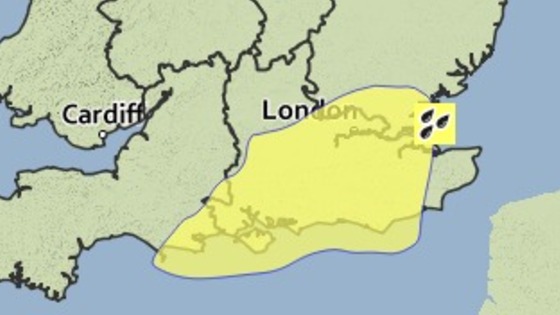 The Met Office have issued a yellow warning for southern parts of Essex, Hertfordshire and Bedfordshire this afternoon because of the risk of heavy showers or thunderstorms.
Although the majority of the Anglia region is expected to stay dry and largely sunny, some torrential downpours are possible in the south, accompanied by hail and thunder.
According to the Met Office Chief Meteorologist:
An unstable airmass across the south-east of England and with another very warm day expected, coupled with high humidity, some heavy showers or thunderstorms are likely to develop this afternoon within the warning area. As is always the case with showers, some places may see no rainfall at all, whilst others receive 20 mm or more in an hour. Hail and thunder may be an additional hazard. Showers will gradually die out this evening as temperatures decrease.
– Met Office Chief Meteorologist
Heatwave triggers storms and flash floods
It's been a day of clearing up for hundreds of people after flash flooding hit the region over the weekend.
In Essex more than 200 homes were affected - while the storms and sudden downpour also caused problems for more than 60 homes in and around Norwich.
In both cases residents are calling for action to prevent a repeat.
Click below to watch a report from ITV News Anglia's Tanya Mercer
Advertisement
Heatwave triggers storms and flash floods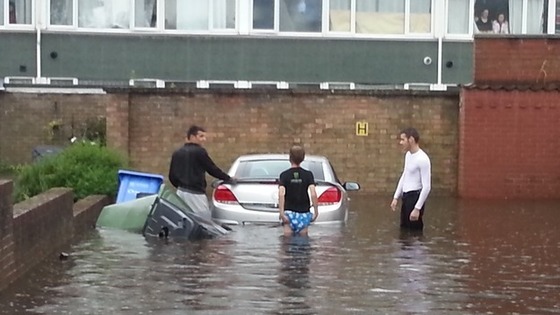 People are beginning the clear-up after flash flooding caused damage across the region yesterday.
In Essex there are calls for an investigation after 200 homes were flooded on Canvey Island.
More than two inches of rain fell but at the same time the pump system that takes water out into the Thames Estuary failed because of a lightning strike.
Meanwhile, Norwich was the wettest part in the UK and several homes were flooded.
Residents want to see more done so the city can cope better with flash flooding in future.
"The last few summers, they've been fairly dry.

So, they seem to have left the drains and not serviced them, but not just in this area, it seems around the city as well.

What they are now doing is reactive.

If it was preventative, maybe it would never have flooded in the first place."
– Colin Hymers, Resident
Heatwave triggers storms and flash floods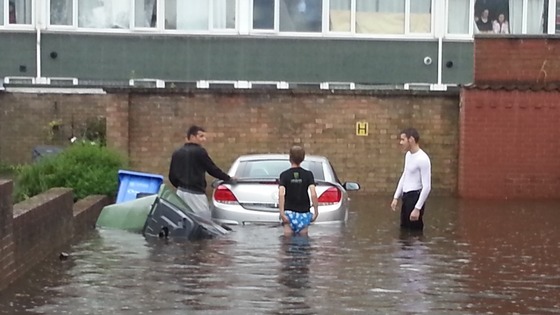 Parts of Norwich saw a month's worth of rain falling in a hour on Sunday causing flash flooding in some parts of the city. Norwich was the wettest place in the UK.
Norwich airport recorded 46 mm (1.8 inches) of rain between 3pm and 4pm which is more than normally falls in three weeks.
An unofficial reading in the Carrow Road area reported 57 mm in half an hour.
The torrential downpours were isolated with some areas in the Anglia region escaping with very little rain.
Rainfall totals between 10am and 10pm on Sunday 20 July 2014
48.6 mm at Norwich airport
29.4 mm in Shoeburyness, Essex
23.6 mm at Monks Wood near Sawtry, Cambs
13.2 mm in Wittering, Cambs
5.0 mm in Cavendish, Suffolk
2.8 mm in Bedford
2.6 mm in Cambridge
1.4 mm in Writtle, Essex
0 mm in Marham, Norfolk
0 mm in Northampton
0 mm in Woburn, Beds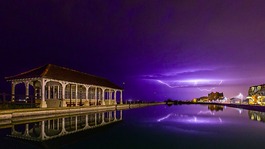 Last night's storms have been followed by torrential downpours and flash flooding today. Here are some more of your photos.
Read the full story
Heatwave triggers storms and flash floods
A Flood Warning has been issued by the Environment Agency for Spixworth Beck from, and including Horsham St Faith to Crostwick to the north of Norwich.
Flooding is expected for Beck Lane Ford at Horsham St Faith.
The Environment Agency says the general area is also covered by a Flood Alert.
"We are seeing high river levels on the Spixworth Beck due to localised heavy thunderstorms. River levels are likely to continue to rise. Over the next 12 hours the forecast is for further thunderstorms. We are continuing to monitor the situation closely, working alongside partners including the Met Office and local authorities."
– Environment Agency
Load more updates
Back to top