More than sixty firefighters have spent much of the day dealing with a large blaze at a recycling plant in Northamptonshire.
The fire at the Leyland Industrial Estate in Wellingborough started at around 8 o'clock this morning.
People living nearby were told to keep their windows and doors shut.
Click below to watch a report from ITV News Anglia's Olivia Paterson
14 fire engines and 60 firefighters are still trying to bring a major fire under control at a recycling plant in Wellingborough.
Police are warning people to stay indoors and several roads have been closed.
Advertisement
Several roads have been closed as a result of a major fire at a recycling plant in Wellingborough.
Northamptonshire Police are assisting firefighters to bring the blaze under control at the Leyland Industrial Estate.
The Senwick Road junction with Irthlingborough Road is closed to all traffic in the direction of Irthlingborough and the Leyland Trading Estate.
The Sidegate Lane junction with Irthlingborough Road is also closed to all traffic in the direction of Wellingborough.
Police also say that those living near the fire should keep their windows and doors closed.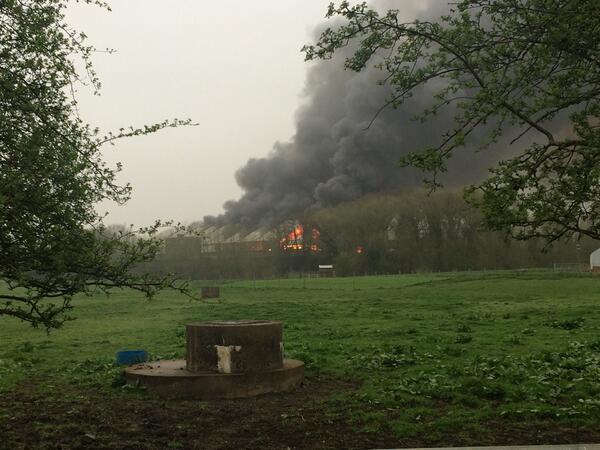 Substantial fire at Leyland industrial estate, Wellingborough. Avoid the area folks. 12 fire engines in attendance.
Prosecutors say Conservative MP Peter Bone and his wife will not face any charges over fraud allegations.
Northamptonshire police investigated the Wellingborough MP and his wife over claims that assets belonging to his mother-in-law were concealed so Northamptonshire County Council would fund her care home fees.
The CPS says there's insufficient evidence to pursue a criminal charge and no element of dishonesty could be proved.
Mr Bone says he and his wife are relieved their 'nightmare' is at an end.
Advertisement
Investigations will continue today into a fatal fire at a disused hotel in Wellingborough near Northampton.
A 48-year-old man was pronounced dead after emergency services were called to the property in Midland Road at about 9am on Tuesday.
A man has been arrested on suspicion of murder.
Wellingborough MP Peter Bone has called on the Prime Minister to speed up the decision on a £50 million retail development in Northamptonshire.
Last month the Government delayed the decision on whether or not to approve the Rushden Lakes development.
The proposals, which include shops and leisure facilities, have already been agreed by East Northamptonshire Council but the final decision rests with the Secretary of State for Communities and Local Government.
Speaking in the House of Commons, Peter Bone MP asked the Prime Minister:
"I've never known of a development that has so much public support. Could the Prime Minister use his best efforts to ensure that the outcome of the public inquiry is announced as soon as possible?"
In response, David Cameron said:
"I know my honourable friend campaigns vigorously for his constituents and for local businesses and for job-creating developments like this one.
"As I'm sure he is aware, I'm not able to get involved in specific planning decisions but I understand that a decision on this application will be made as soon as possible."
Wellingborough MP Peter Bone has published a detailed account of his "nightmare at the hands of the police" after his home was raided over benefit fraud allegations.
He said he was first made aware of the visit by officers in March last year by a series of "frantic messages" from his wife.
He said: "What was causing the upset was that three police officers had raided our home without any warning."
MP Peter Bone insists he is "totally innocent" of allegations of benefit fraud, after his home was raided by police.
Read the full story ›
Load more updates