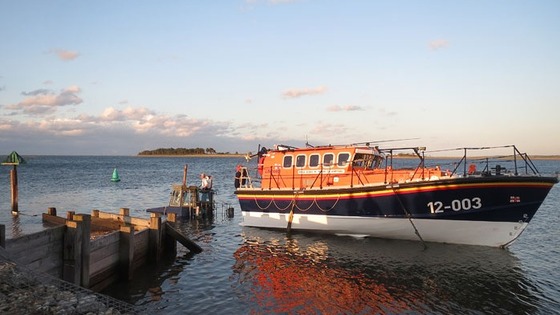 The lifeboat from Wells on the North Norfolk coast was launched yesterday evening (Saturday) to help a 28 foot yacht which had run into difficulties. The bilge keel Yacht "Amigo" with 2 persons on-board, was on its way towards Grimsby on a Northerly heading when it ran into mechanical difficulties and was not making any headway. The yacht then reversed its course and started to proceed toward the 'safe port' of Wells.
At 17:20 Humber Coastguard requested that the Wells all-weather Lifeboat be launched, as they were uncertain that the yacht would be able to make a safe landfall and navigate to the safety of the port. The crew were paged at 17:20 and the Lifeboat left the Boathouse at 17:30. The Lifeboat launched in Holkham Bay at 17:50 and proceeded toward the casualty which was about 40 mins to the Northward in the vicinity of the Docking Shoal. The Lifeboat arrived on scene at 19:25 and escorted the vessel toward Wells.
At 20:50 in the outer approaches to the harbour a crew member was placed on board the Amigo and a towline was attached. The lifeboat entered the harbour channel at 21:00 and towed the yacht to the safety of the outer harbour.