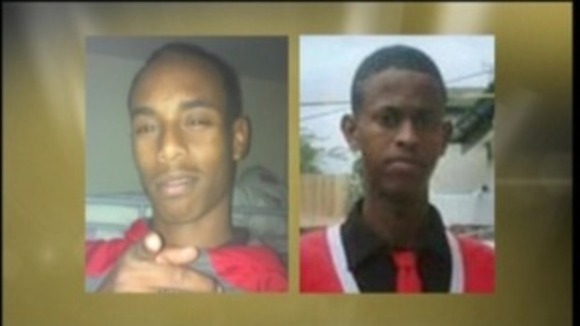 A pair of drug dealers who murdered two teenagers in an execution style shooting over a 'drug turf' grievance have been jailed for life today.
Fuad Awale, 25 was told he will have to serve a minimum of 38 years in prison and his accomplice, Sharmake Abdulkadir, 22 will serve a minimum of 32 years.
The two Somalians shot fellow countrymen Mohamed Farah,known as Moh, and Amin Ismail in an alleyway between houses on Fishermead Boulevard, Milton Keynes on May 26 2011.
Justice Nicol told Awale; "I am sure it was you who pulled a gun from your pocket and shot Amin through the head.
"Amin had done nothing to you. Your purpose in shooting him seems to have been twofold. First, so that he should not live to see what you were about to do to Moh. Second to make Moh scared, very scared about what was to happen to him.
Before the killings Awale and Abdulkadir had travelled together to Holland where the murder weapon - a Belgian automatic pistol - was obtained.
Abdulkadir was no stranger to firearms. He had three convictions for gun related crime in Holland.
Awale, of Cranesbill Place, Conniburrow and Abdulkadir of The Fleet, Springfield both went into the witness box and blamed each other.
They were both found guilty of two charges of murder and Abdulkadir was found guilty of possession of a firearm.
A third man, Yahya Harun, 22 from Fishermead Boulevard pleaded not guilty to both murders and was cleared by the jury.