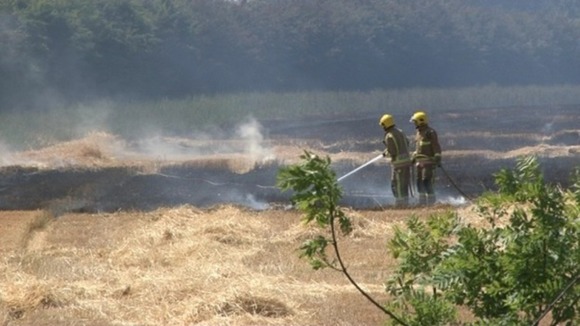 Tinder dry conditions have caused outbreaks of fire across the county. In Hertfordshire the number of grass and crop fires this month is almost four times as many compared to last year.
Fire officers say small fires can soon become large ones, and putting them out is becoming a drain on their fire fighting resources.
Hertfordshire Fire and Rescue Service have been called to 111 incidents involving crops, grass and the open countryside since the start of July 2013.
Chief Fire Officer and Director of Community Protection, Roy Wilsher said: "We want people to have a great summer. However, I'd like to remind people to take care and think about fire safety while enjoying the warm weather.
"The ground is currently very dry and, in conditions like this, it doesn't take much to start a fire.
"Every year acres of countryside and wildlife habitats are destroyed by fire and the risk increases considerably during dry weather.
"Although outdoor fires are rarely life-threatening to people, they can cause long-lasting damage to our surroundings and fires of this sort are easily preventable if you take sensible precautions."
Click here to read the Governments Heatwave Plan for 2013